A few weeks ago a friend took me to Alice's Tea Cup for perfectly brewed cups of tea and fabulous pumpkin scones. I can't wait to go back this summer, but until then I'll just keep baking from the Alice's Tea Cup Cookbook.
Last night I made the pumpkin scones.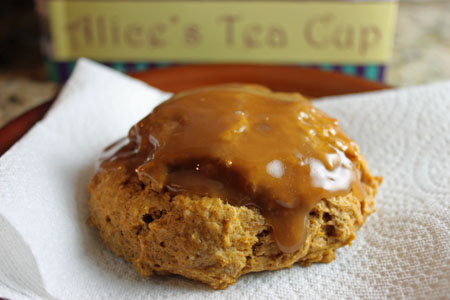 The recipe uses the same basic proportions as the cookbook's other scone recipes but with the addition of pumpkin. Like another recipe from the book which called for fruit, the dough was pretty sticky and seemed much softer than the dough described in the book.  That is, stiff enough to cut with cutters. I'm wondering if Alice's bakers use a little more flour by weight per cup. For instance, they may use 5 oz while I use 4.5 oz weight. Or maybe it's something else.  Either way, the scones still tasted like Alice's despite the soft, dropped dough. The rich butter flavor comes from the glaze on top and the punch of holiday flavor comes from 1/4 cup EACH ground cinnamon and ground ginger. I'd like to meet whoever was daring enough to add that much ground spices to scone batter. What a great idea.
Since there are only 3 of us here, I made a half batch and frozen them in a large freezer bag. I tried a couple of different methods of re-heating, but the best was just to let them thaw naturally and and then use the defrost setting of the microwave to complete the thaw and warm them a little. Heating them up in the oven is another option, but the glaze melts into the scone. If you don't want to make the scones from start to finish early in the morning, you can make the scones, freeze them, thaw them, re-heat them and make the glaze fresh or your could probably freeze the dough (I've done it with a lot of scone doughs), let it thaw for a few minutes and bake the scones fresh.
Alice's Tea Cup Pumpkin Scones
Half Batch Alice's Tea Cup Pumpkin Scones
Ingredients
1 1/2 cups all-purpose flour
3 tablespoons granulated sugar
1/4 teaspoon baking soda
1 1/4 teaspoons baking powder
3/8 teaspoon kosher salt (I used Morton)
2 full tablespoons ground ginger
2 full tablespoons ground cinnamon
6 tablespoons unsalted butter, cut into 1/2-inch pieces (mine was cold)
5 oz buttermilk
1/2 cup canned pumpkin puree (all pumpkin, not pumpkin pie filling)
1 tablespoons pure vanilla extract
Caramel glaze:
1 stick (4 oz) unsalted butter
1/2 cup firmly packed light brown sugar
1/4 teaspoon freshly squeezed lemon juice
1/8 teaspoon kosher salt
1/4 cup heavy cream
Instructions
Preheat the oven to 425°F. In a large mixing bowl, combine the flour, sugar, baking soda, baking powder, salt, ginger, and cinnamon. With clean hands, work the butter into the dry mixture until it is thoroughly incorporated and has the consistency of fine breadcrumbs.
Make a well in the center of the dry ingredients, and pour the buttermilk, pumpkin, and vanilla extract into the well. Still using your hands (I did this with a spatula scraper), combine the ingredients until all the dry mixture is wet, but do not knead!
Turn the mixture onto a floured surface and gather the dough together. Gently pat the dough to make a disk about 1 1/2 inches thick.(My dough was pretty soft, so I used about a 1/3 cup measure and made drop scones) using a 3-or 3 1/2- inch biscuit cutter, cut out as many scones as you can and lay them on a nonstick baking sheet. Gather the remaining dough together lightly to cut out more scones—just don't knead the dough too much (Again, I bypassed all that and made drop scones.
Bake the scones for about 12 minutes, or until lightly browned. Let the scones cool slightly on the baking sheet (about 20 minutes) before glazing them.
While the scones are cooling, prepare the caramel glaze: Place the butter, brown sugar, lemon juice, and salt in a saucepan over medium heat and whisk gently until the mixture is smooth. Just as the mixture comes to a light boil, add the heavy cream and reduce the heat to low. Whisk well for 2 minutes, or until the glaze is thickened and smooth; then remove the pan from the heat.
To glaze a scone, hold it by the bottom, dip the top in the warm caramel glaze, and place it back on the baking sheet. Makes 5 o 6
Related posts: