I've been making tons of scones this year, and so far this is my favorite recipe. These are the lightest, flakiest, buttery scones. They aren't soft and muffin-like, but rather rich and crumbly. They can be made with any add-in you like. So far I've tested with blueberries, raspberries & white chips, hazelnuts and chocolate chips and cinnamon chips. The version is with mini chocolate chips.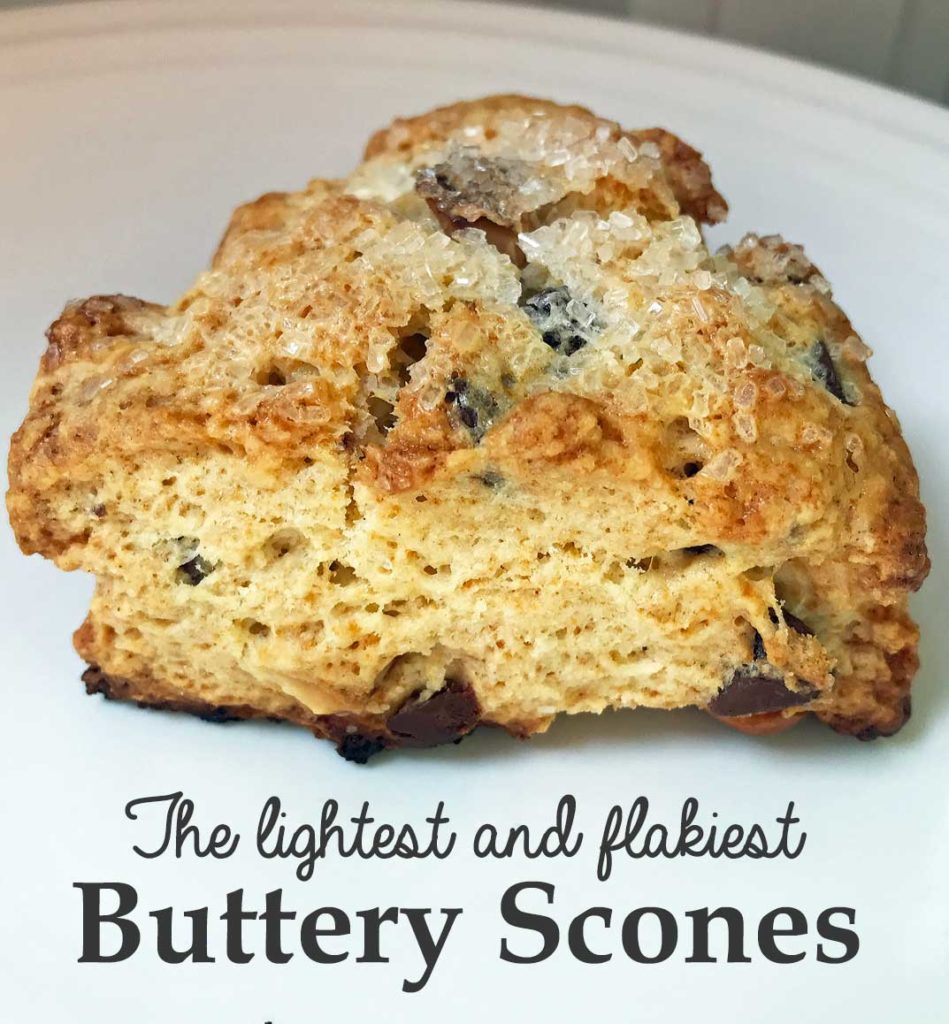 Best Butter for Scones
Since these are buttery scones, you can't go wrong using the best quality butter. There are lots of options. Lately I've been using a brand called Truly Grass Fed which is pretty good, and of course there's always KerryGold or Land o Lakes. I think using the premium butter enhances the flavor and texture. However, regular everyday butter is great too.
Buttery Scones Sweetness Level
One reason the scones are flakier is because they have less sugar. Without any added fruit or chocolate, they are delicious, but not very sweet and best served with some sort of preserves. To kick up the sweetness but not mess up the texture, use plenty of add-ins. And if you have some, sprinkle with coarse sugar before baking.
Type 00 Flour
Lately I've been making scones with Type 00 flour, which I keep on hand mainly for pizza dough. The Type 00 flour sold in the USA (usually Caputo) which is very finely ground and soft. It gives the scones a very soft interior and a slightly crispy, defined shell. You definitely don't have to use Type 00 flour for this recipe, but if you just want to try something new or change up the texture a bit, you can use it instead of AP. You can also use bread flour for scones. The interior won't be quite as light, but they'll have a crusty shell.
Small Batch
This recipe gives you six decent sized scones, but if you want to halve it and make only three, that's an option. I do it all the time. To make three scones, just halve everything using your scale. Instead of shaping the dough into a circle, shape it into a semi-circle and slice it into three triangles.
Recipe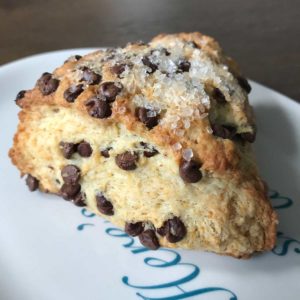 Lightest and Flakiest Buttery Scones
Not too sweet, but rich and crumbly with chunks of chocolate, fruit and nuts
Ingredients 
1 ½

cups

all-purpose flour or Type 00 flour

(200 grams)

2

tablespoons

sugar

(30 grams)

2

teaspoons

baking powder

¼

teaspoon

baking soda

¼

teaspoon

salt

1

stick

very cold butter, you'll only use 7 T.

(100 grams)

6

tablespoons

buttermilk, plus more as needed

(84 grams)

½

teaspoon

vanilla

cream, sugar, melted butter for topping

Use whichever one what you have
Add-Ins — Use any combination
1/3

cup

toasted hazelnuts (or any other nut)

chopped

1/3

cup

chocolate chips

1/3

cup

frozen blueberries or raspberries

1/3

cup

white chips, or another flavor
Instructions 
Preheat oven to 400 degrees F. Line rimmed baking sheet with parchment paper.

In a mixing bowl, stir the flour, baking powder, baking soda, and salt together.

Grate 7 tablespoons of butter on large holes of a grater directly into flour mixture, stopping after about every 2 tablespoons to toss. You want to distribute the butter throughout and not let it clump up, which is why it should be very cold or frozen to begin with.

Add the 2 tablespoons of sugar and stir until evenly blended.

Add vanilla (or a different extract if you choose) to just a tablespoon of buttermilk and add to the flour mixture.

Continue adding buttermilk to flour mixture 1 tablespoon at a time and stirring — do it gradually rather than dumping it all in. Fold with a heavy duty scraper until dough is moist enough to hold together, but still looks kind of dry. Transfer dough to a pastry mat. If dough is very dry, don't add any flour to the mat yet.

Press dough into a rectangle about 6 by 9 inches — it doesn't have to be exact, just big enough so that you can easily fold it into thirds. If dough seems powdery on the mat and won't hold together, work in a little bit more milk. If it seems to wet, use more flour. Starting with short side, fold into thirds using bench scraper or metal spatula to pry from mat. Turn dough 90 degrees. Repeat rolling into rectangle, folding into thirds, and turning clockwise 2 more times. Press dough down again into a rectangle and stick frozen blueberries (or chocolate chips, nuts or add-ins you've chosen) in the dough. Fold again into thirds. Repeat one last time.

Shape into a 6 inch circle that is a little over 1 inch thick. The dough circle should still be very cold. If for some reason it has gotten warm or butter has gotten really soft, throw the whole circle in the freezer for 10 minutes.

Transfer dough to lightly floured cutting board. Using sharp, floured chef's knife, cut into six triangles. Brush tops of dough with heavy cream. Alternatively, melted butter. Sprinkle generously with sparkling sugar.

Bake at 400 until tops are golden brown, 18 to 20 minutes. Let cool for 15 minutes before serving.
Notes
You will only use 7 tablespoons of butter in the dough. You can melt the remaining tablespoon and use it to brush the tops, or if you have heavy cream on hand you can save the tablespoon of butter and brush the tops with a little heavy cream.