This week I posted a link to an article in The Atlantic. I guess a lot of people read The Atlantic because after I posted that one, a few people mentioned another baking article in that magazine – an article with an outstanding chocolate chip cookie recipe! I made the dough Saturday night and baked a batch Sunday morning.
This recipe is from pastry chef Joanne Chang of Flour Bakery in Boston, and in the article she tells how she came up with it. It evolved from the Toll House recipe, but Joanne Chang uses part bread flour, adds a combination of milk chocolate and the best semi-sweet chocolate available, lets the dough rest and scoops it out by quarter cups so the cookies are nice and big.
Here's the chocolate chip cookie recipe verbatim from the Atlantic.
Atlantic took out the full article, so here's a link to Joe's version of the recipe.
If the link goes away, let me know and I'll email it to you. These cookies have a great texture with crispy edges, soft centers and brown sugar flavor. They're up there with the best chocolate chip cookies I've made, which means I'm going to have to start keeping bread flour on hand again.
UPDATE: Be careful what type of chocolate you use. I love Lindt, but it melts fast and might cause these cookies to spread. Some other smooth, high quality, melting chocolates will also give you more spread.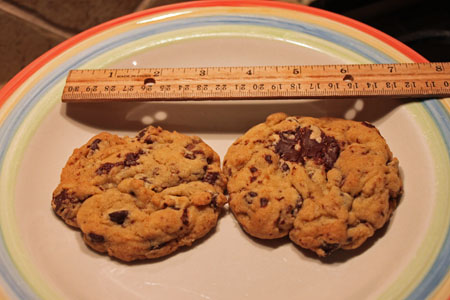 Related posts: