I was reading a forum recently and came across the topic of who has the best cookies in town. It wasn't my town; it was Dallas, and a few people said the best cookies were the sugar cookies from Potbelly Sandwiches. Interesting. There's a Potbelly store not too far from my house, but I'd never been in and of course, had never tried their sugar cookies. Guess what I bought that very afternoon?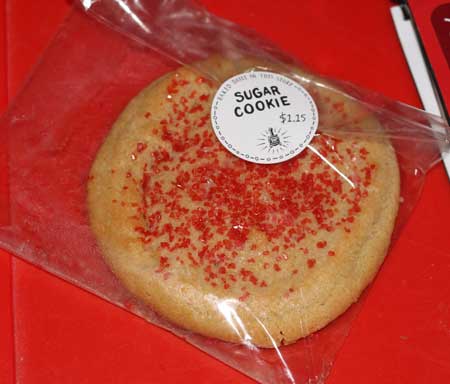 Potbelly sells their cookies at the front register. They have sugar cookies, dream bars and oatmeal cookies, but since the sugar cookies had the most Internet raves, I bought one of those. It was about 4 inches in diameter, weighed a little over 4 oz, was wrapped in a cellophane bag, kind of flat but not too flat, and covered with red sprinkles. As for the taste, it tasted a bit like artificial butter flavoring, vanilla and almond and it kind of reminded me of the flavor of refrigerated Pillsbury or Nestle dough. The texture was interesting. When you pick the cookie up, you can feel it give a little — like it's going to bend and break. It's doughy in the middle (which is an attribute people seem to like) and really dense. I prefer a crispy cookie myself, but since this is one of those cookies with a cult following, I figured it would be worth trying to to make here at home.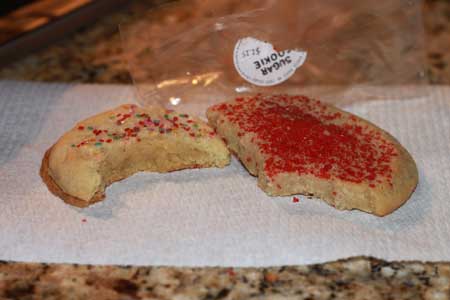 Potbelly's cookies didn't come with an ingredient label, so to get started I used a cookie recipe with similar flavors — the Perfect Chewy Sugar Cookies from Fine Cooking. Using that recipe as a starting point, I made a half batch using a little butter flavored shortening in place of the small amount of shortening in the cookies. I also made the cookies very large, and made sure to under-bake them a little.  The large cookies were good, but not quite like Potbelly's. While the flavor was definitely close (I think Potbelly uses some sort of artificial butter flavoring or possibly butter flavored shortening), Potbelly's were softer, slightly sweeter and a little darker. Plus, they didn't crack as much and had a more uniform texture — less contrast between the "shell" and the interior. And Potbelly's were still heavier. When I tried to bake a 4 oz blob of Perfect Sugar Cookie dough, it spread into a large, flat cookie. Potbelly's cram a lot of dough into 4 inches.
So I made some adjustments. Many. And after several half batches and two days of feeling very unhealthy, I decided to look at some other base recipes. Why I didn't think of this sooner, I can't say, but the Otis Spunkmeyer clone seemed a better jumping off point. It had more fat (for the density), was browner (more brown sugar) and I noticed the recipe clone on the Internet used half butter and half butter-flavored shortening, which I already suspected was key since there was a hint of artificial butter flavoring in Potbelly's.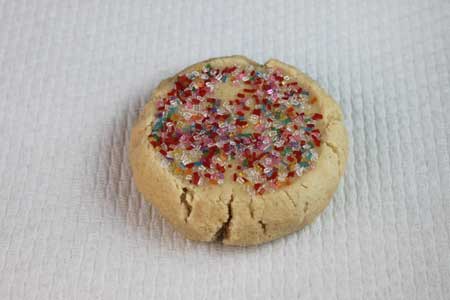 But I had to make changes to the Otis recipe as well. To make the cookies softer, I used cake flour.   Because Potbelly's cookies were darker, I incorporated some baking soda and cut down on baking powder.
The dough started out very soft, but after a 10 minute chill it was extremely easy to handle and easy to mold into little puck-like shapes above. I baked at 350 for 15 minutes and didn't get the doughy effect (plus the cookies spread more), then tried 375 for 12 minutes and got just what I wanted. The cookies still spread a little more than Potbelly's and I wouldn't call them identical, but they're very close.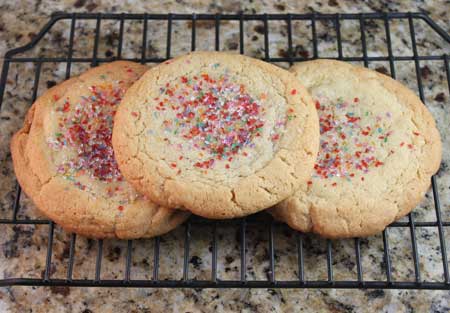 Kind of Like Potbelly's Sugar Cookies
6.25 oz cake flour (1 ½ cups plus 2 tablespoons)
1/2 teaspoon baking powder
1/4 teaspoon baking soda
4 tablespoons unsalted butter (57 grams), room temperature
4 tablespoons Butter Flavor Crisco shortening (48 grams)
1/2 cup light brown sugar, packed (104 grams)
1/4 cup granulated white sugar (49 grams)
1/2 teaspoon salt
1 large egg (46 grams)**
1 teaspoon vanilla extract
1/4 teaspoon almond extract
Thoroughly mix together the cake flour, baking powder and baking soda; set aside.
With an electric mixer, beat the butter and shortening until creamy. Add the granulated and brown sugar slowly and continue beating on high speed until light and creamy.
Reduce speed to medium/low and beat in the salt, egg, vanilla and almond extract.
On lowest speed of mixer or by hand, add the flour mixture stirring just until it's incorporated. Dough will be pretty soft. Put bowl in the refrigerator for about 10 minutes to make it easier to handle.
Divide dough into 4 balls (each one should weight a little less than 4 oz). Using the bottom of a glass, press each ball in the center to make a round disk about 2 ½ inches side with an indentation in the center (see photo above). Put the round disks in the refrigerator, cover with some plastic wrap and chill thoroughly – about 3 hours.
To bake, preheat oven to 375 degrees F and line a heavy duty cookie sheet with parchment paper or non-stick foil. Arrange dough pieces about 3 inches apart on cookie sheet and sprinkle centers with sprinkles.
Bake for 12 minutes. Remove from oven and let cool on cookie sheet for about 5 minutes. Transfer to a rack and let cool completely. Cookies should be lightly browned on the outside and slightly doughy on the inside.
If you do over-bake, the cookies will be great but less like Potbelly's. Let the cookies cool on the sheet for at least 5 minutes before transferring to a wire rack to cool completely.
Makes 4 giant cookies
**If you like your cookies really doughy or are concerned about the egg not being cooked enough, use a pasteurized egg.
Related posts: