It had been a while since I'd eaten a Lofthouse cookie, but they came up in conversation so I picked up a box to refresh my memory. Given the rave reviews, I was excited about re-trying them since I'd completely forgotten how they tasted. I chose the ones with blue frosting and Fuzz approved.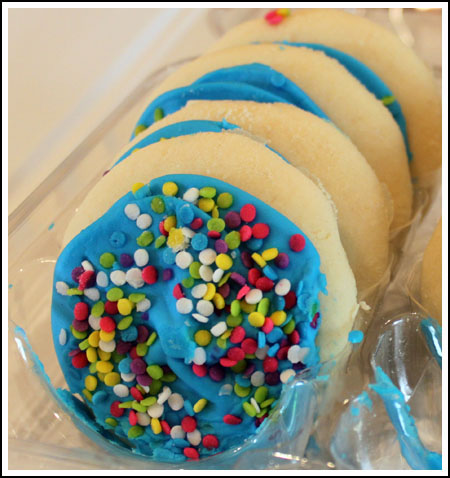 One thing I'd heard about Lofthouse cookies is that they are addictive, so Fuzz and I held off sampling until after we'd eaten a healthy protein packed lunch to offset the urge to eat the whole carton. Fuzz noted the serving size was "one cookie" and said she would eat only eat one.   That worked for her, but it was harder for me because the cookies were better than I'd remembered. They were white as snow, soft, almost as crumbly as polvorones, and had a lot of flavor from whatever blend of extracts they used. I figured they'd be difficult to clone at home and I was right.

First, I made a batch of the old Recipe Goldmine Lofthouse clone which I'd made in the past. Those cookies were delicious, but they were too puffy, cakey and yellow.  Still, they were really good — especially after sitting frosted in a closed container overnight.  They were more like mini iced yellow cakes.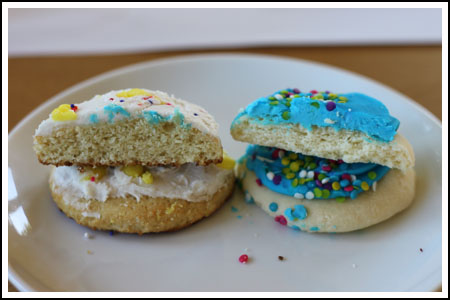 Next I tried a few recipes in a thread by some ladies who were doing their own cloning, including one who claimed she had the original ingredient list. I tried her recipe plus a few others in the thread (none of the ones including cake mix, though) and didn't feel the cookies were very tasty.  They were definitely denser than the previous, cakey & yellow clone, but just not as flavorful.
Finally, I tried going off on my own. I tried a few recipes with heavy cream, a few more with sour cream, and because rice flour was an ingredient on the label of the original cookies, I tried incorporating it into a few recipes. None of my cookies were as good as Lofthouse or even the original cakey recipe (first one I mentioned).
In the end, and I'm sorry to have such boring results, the old original clone version — the one on Recipe Goldmine was the best tasting of the bunch. Of course that's partially due to the icing. I tried lots of variations. Italian Meringue wasn't sweet enough and neither was a marshmallow butter cream. The basic butter cream recipe on the side of the powdered sugar box was delicious, but I hate to say that the most delicious, best textured frosting was one from a scrapbookers thread that was made with egg whites, shortening, butter, powdered sugar and flavorings. I liked the flavor and loved how it crusted over like the original Lofthouse frosting. What I didn't like was that it had raw egg and shortening. The raw egg problem had an easy fix – pasteurized egg whites did the trick. As for the shortening, I tried substituting butter. That worked just fine, but the version with half shortening and half butter had a more ethereal texture. In the end, here's the final recipe. It's not quite a Lofthouse clone, but it makes really tasty sugar cookies that taste better on day 2.
By the way, Fuzz decorated the cookie. She insisted on squeezing some of that yellow decorating icing, the kind that comes in a tube, on top.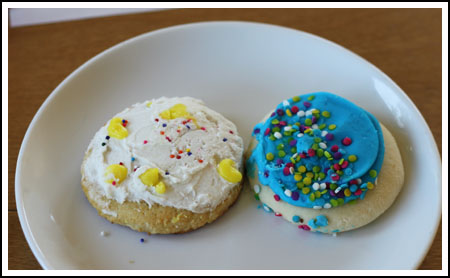 Print Recipe
Lofthouse Cookie Clone
Cookie similar to Lofthouse cookies
Ingredients
2

sticks

8 oz salted butter, room temperature

2

cups

granulated sugar

3

large eggs

1

teaspoon

vanilla extract

1

teaspoon

baking soda

1

teaspoon

baking powder

1 1/2

cups

sour cream

room temperature

5-6

cups

flour

until desired consistency for rolling -- I used 6
Frosting
2

large egg whites

large, pasteurized

4

oz

salted butter

softened

1/2

cup

shortening

softened

4 ½

cups

of powdered sugar.

3/4

teaspoon

vanilla

1/4

teaspoon

almond extract
Instructions
Preheat oven to 400 degrees F.

In a large mixing bowl, beat butter until creamy. Add sugar and continue beating until creamy and light.

Add eggs one by one, beating until incorporated. Beat in vanilla, baking soda and baking powder.

Stir in the sour cream.

Add the flour and mix until incorporated.

Put half the dough in the refrigerator until ready to use. Roll the remaining dough about 1/4 inch thick and cut into small circles. Arrange on a parchment lined cookie sheet and bake for 12-15 minutes or until cookies are lightly brown around the edges. Bake one sheet at a time until dough is gone.

Frosting: Put the whites in the bowl of the standing mixer and begin beating. You can use the paddle or the whisk attachment for this. Add the butter and shortening and beat on high. Stir in half of the sugar. Beat until creamy, then add remaining sugar and flavorings. Continue beating until light and creamy. Spread on cookies
Notes
For best results, weigh your flour. 1 cup should be about 4.5 ounces on a scale, so if you use 5 cups you'll use about 22.5 ounces of flour. I used 6 cups, which was 27 ounces. If you don't have a scale, make sure to stir and fluff up your flour before using. If you pack it into the cup, you'll use too much and the cookies might be a little dry.