It's starting to feel like Spring around here, so how about a nice lemony dessert? Er, sort of. This "Lemon Lush" doesn't contain any actual lemons, but rather a box of instant lemon pudding, Cool Whip and cream cheese. In other words, it's my husband's favorite type of dessert.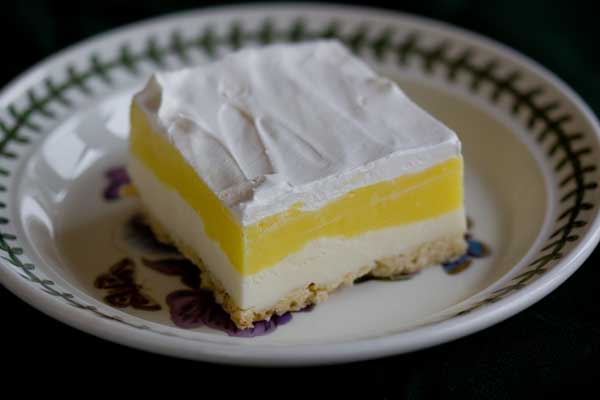 The recipe is called Lemon Lush and the original source is Allrecipes.com.  However, I might have missed it if I hadn't seen it in a sample of the new All Recipes magazine which came bundled with the latest issue of Family Circle.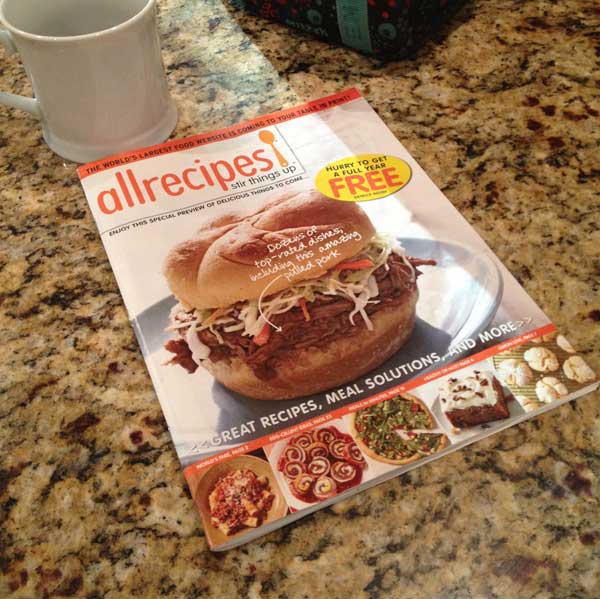 It reminds me of a cross between Taste of Home and Food Network Magazine, with articles written especially for the magazine as well as recipes and tips pulled straight from allrecipes.com. They've done a nice job laying out sidebars and blurbs with reader tips, recipe recommendation and quotes you might not have noticed while scrolling through the reviews.  This being just a preview, I'm anxious to see how they will fill a full magazine.  Food Network has all their Food TV celebrity features, so maybe allrecipes.com will make readers the stars and feature more everyday people kind of like Taste of Home does.  We shall see.
Anyway, because Todd's pretty much the only person who will be eating this, I halved the recipe and made it in an 8 inch metal pan. To slice it neatly, I lined the pan with nonstick foil, froze the entire dessert, lifted it from the pan while frozen, and cut into squares a few hours before serving.  That step is completely optional, but I like things to look nice on a plate.
UPDATE:  I made this again with a few changes.  The original version does not call for sugar in the crust, but I added a little and think it tastes much better.  So the revised version has sugar in the crust, but you can leave it out if you wish.  I also made the crust slightly thinner.

Lemon Lush from All Recipes Magazine
An easy lemon dessert made with instant lemon pudding mix, cream cheese and a shortbread crust
Ingredients
Crust:
6 tablespoons butter, softened**
3 tablespoons granulated sugar
3/4 cup all-purpose flour
Filling
1 (8 ounce) package cream cheese
1/2 cup granulated sugar
1 (3.4 ounce) package instant lemon
pudding mix
1 3/4 cups milk
1 (8 ounce) container frozen whipped
topping, thawed
Instructions
Preheat oven to 325 F if using a glass dish or 350 F if using a metal dish. Grease the 8 inch square dish.
In a medium bowl, beat the butter until creamy. Beat in the sugar. Add the flour and stir until well mixed. Press into bottom of pan and bake on center rack for 25 minutes or until the edges are just slightly golden. Let cool completely.
In a medium bowl, beat the cream cheese and 1/2 cup sugar with a handheld mixer until smooth and well blended. Spread evenly over the cooled crust.
Wipe out the bowl and add the pudding mix and milk. With the mixer on low speed, beat for about 3 minutes or until slightly thickened. Pour over the cream cheese layer. Chill until set, then spread whipped topping over the top.
Notes
If using unsalted butter, add a large pinch of salt to the crust mixture when creaming the butter and sugar.

To loosen the crust from a glass pan, put the cold dessert on a rimmed baking sheet and fill the rimmed baking sheet with hot water. The heat from the water will loosen the crust somewhat and you'll be able to scoop it out with a metal spatula. Another trick is to bake and assemble the dessert in a metal pan lined with parchment paper. When it's very cold, lift from pan by grasping and lparchment from pan, set dessert on a cutting board and cut into squares. You lose the aesthetic appeal of the glass pan, but the dessert is so much easier to cut when you lift the whole thing out. If you want a really neat cut like the one in the photo, freeze it before lifting from the pan. Cut it into squares while frozen and let the frozen squares thaw in the refrigerator.
Related posts: