This recipe is a scaled down version of one of my favorite types of brownie — a rich fudge brownie swirled with big gobs of peanut butter. In the past I've used a few different methods for keeping the peanut butter swirl from drying out in peanut butter swirl brownies. For a sweeter swirl, sturdier, swirl, I've mixed it with melted peanut butter chips to make peanut butter ribbons; and for a smooth and creamy but less- sweet peanut butter swirl, I've mixed it with a little vegetable oil. But this recipe is different. To keep the peanut butter from drying out and to add a little sweetness, you stir in a bit of corn syrup.

Loaf Pan Peanut Butter Swirl Brownies
Small batch of peanut butter swirled brownies made in a loaf pan
Ingredients
1/3 cup unsalted butter
1 cup plus 2 tablespoons semisweet or dark chocolate chips
1 large egg
1 teaspoon vanilla extract
1/3 cup granulated sugar
2 tablespoons plus 2 teaspoons all-purpose flour (.8 oz)
1/2 teaspoon baking powder
1/4 teaspoon plus a pinch of salt. If using salted butter, use only a pinch
Another tablespoon of chocolate chips
2 tablespoons plus 2 teaspoons peanut butter
1 generous tablespoon corn syrup
Instructions
Line an 8 ½ by 4 ½ inch or a 9x5 inch loaf pan with nonstick foil or parchment paper. Preheat oven to 350 degrees F.
In a microwave safe bowl, heat the butter for 30 seconds on high. Add the chocolate chips and stir to coat them with butter. Heat on high again for 30 seconds and stir until chips are melted. If chips aren't fully melted after you've stirred them, microwave for another 10 seconds. Set aside to cool slightly.
In a mixing bowl, stir or whisk together the egg, vanilla and sugar. Add the chocolate to the egg mixture and stir until blended.
Mix the flour, baking powder and salt together in a little cup, then stir into the batter until absorbed. Make sure the batter is cool, then stir in another tablespoon of chocolate chips.
Soften the peanut butter for about 5-10 seconds in the microwave. Stir in the corn syrup. Drop little spoonfuls over the batter and pull a knife through very gently to make a marbled or ripple pattern.
Bake the brownies in the lower center of the oven for about 25 minutes. Let cool, then chill thoroughly. Lift from pan and cut into squares.
Notes
I found the original 9x13 pan version in a collector's issue of Cooking With Paula Deen magazine.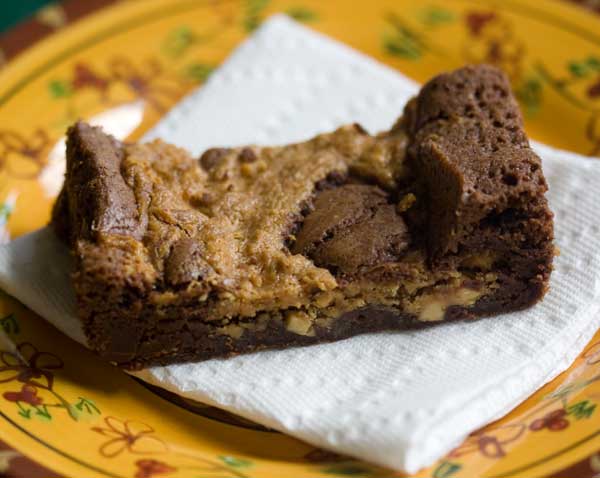 I was kind of worried the corn syrup would make the peanut butter
too
sweet, but it was fine. The peanut butter swirls were lumpier and dryer than when made with oil, but the peanut butter's sweetness level was now closer to the brownie so the overall taste and texture was good. Give it a try and let me know what you think! If you really like it and want to make a full batch, just triple it and bake in a 9×13 inch pan.What makes it interesting is that the peanut butter is combined with corn syrup that not only adds a bit of sweetness, but keeps the peanut butter from drying out in the oven — a real concern when swirling peanut butter through anything.
Related posts: