Thanks for the nice comments on Fuzz's guest post. I hoping she'll write another one, but for now you are stuck with me. I do have a great recipe, though! This is an old one from my friend Shelly, who found the original version in Cooking Light and recommended it as a food gift for new moms. It has protein, you can eat it with your hands, and if you cut it into portions you can keep it in the refrigerator or freezer for days (or weeks).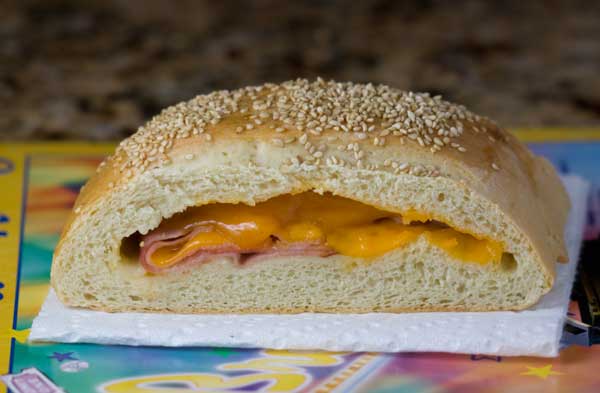 The original recipe was designed for a bread maker, but I made the dough with my stand mixer and dough hook. It's incredibly easy to work with, so if you think you are a klutz with dough – no worries here! Also, consider the amount of fillings a suggestion and stuff it with as much meat or cheese as you want.  Since I don't have a huge crowd to feed, I served everyone a sample, cut the rest into slices and wrapped them individually. Fuzz will be eating this all week, I suppose.  Of course I'm all ready to try a new variation.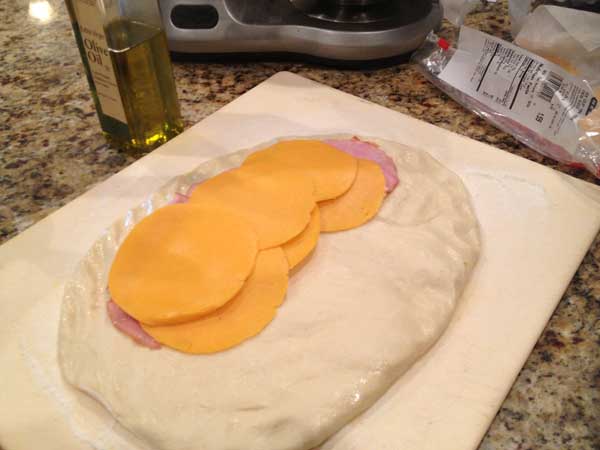 Ham and Cheddar Stromboli
A roll filled with ham and cheese.
Ingredients
1 packet of yeast
1 cup warm water (115 degrees)
3 cups (13.5 oz) bread flour
1 teaspoon salt
1 tablespoon dry milk powder
1 tablespoon olive oil
6 ounces of thinly sliced ham (use more or less as needed)
3-4 ounces of sliced cheese
Some lightly beaten egg for brushing
Sesame seeds
Instructions
Sprinkle the yeast over the warm water and let proof until bubbly.
Combine the flour, salt and milk powder in the bowl of a stand mixer. Add the yeast mixture and the olive oil and stir until dough comes together, then put the mixture under the dough hook and knead until it is smooth and elastic.
Put the dough in an olive oil coated bowl and flip it around to coat. Cover and let rise for 1 hour.
Punch down the dough and on a floured surface, roll it into an oval about 10 x 8. Lay the ham and cheese across half the dough, leaving a 1 inch border. Fold dough over filling and press edges to seal. Transfer to a parchment lined baking sheet. With a razor blade, make 3 or 4 cuts across the top. Let rise for another hour.
Before baking, brush with egg and sprinkle with sesame seeds. Bake at 350 degrees F. for 35 minutes. Let cool for about 10 minutes, then cut into 8 slices.
Related posts: