After a week of red velvet craziness, I decided I to switch gears and make something a little more nourishing. The recipe on the back of King Arthur's White Whole Wheat Flour bag for Sausage and Cheddar Biscuits had been staring at me from the pantry, so I made a batch for Fuzz with hopes they'd tempt her into eating breakfast. Nope. She apologized this morning and asked if she could save her biscuit for a snack. Poor Fuzz. Breakfast just isn't the most important meal of the day in her world, but I'm confident she'll enjoy the biscuits later. Especially since I'm going to plan dinner around them!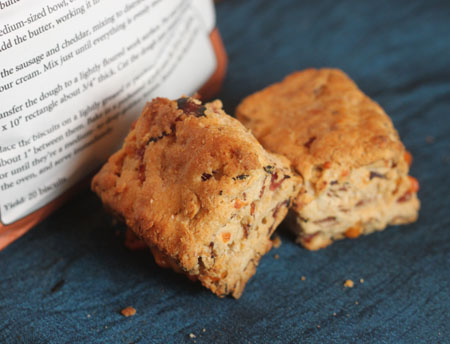 Ham Instead of Sausage
Because I didn't have any sausage, I used thinly sliced ham. It dried out a bit in the baking process, but still tasted good. Most importantly, it gave me an idea just how great these would be with really good leftover Easter Ham cut into cubes. In fact, I'd make a ham just so I could make a batch of these biscuits.
Here's a link to King Arthur's recipe where they use regular unbleached flour plus one of their specialty items, some pizza dough flavor. I'm sure the pizza dough flavor takes the biscuits to another level, but the ones I made from the back of the flour bag were in a league of their own.
Here's how I made the biscuits. This is a half batch of the recipe from the back of the white whole wheat flour bag but with ham instead of sausage.
Ham & Cheddar Biscuits with White Whole Wheat
1 ½ cups King Arthur white whole wheat flour (or just use all-purpose)
1/ ½ teaspoons baking powder
¼ teaspoon baking soda
½ teaspoon salt
1 stick (114 grams) butter, cut in pats (I used unsalted)
1 cup cooked ham, cut into small cubes
½ cup diced cheddar cheese
½ cup buttermilk
Preheat the oven to 425°F.
Combine the flour, baking powder, baking soda and salt in a mixing bowl. Add the butter and work it in (I used my fingers) until the mixture is crumbly, then add the ham and cheese. Add the buttermilk and mix just till everything is evenly moistened.
Transfer the dough to a piece of parchment or a lightly floured work surface. Pat and roll it into a rectangle about ¾" thick. Cut the dough into 10 2" squares.
If you've been working on parchment, simply lift the parchment onto a baking sheet. Separate the biscuits so there's about 1" between them. If the biscuits aren't on parchment, space them on a lightly greased baking sheet, leaving about 1" between them.
Bake the biscuits for 20 to 25 minutes (mine were done in 20) or until they're a medium- to deep-golden brown.
Remove the biscuits from the oven, and cool them on a rack briefly. Serve warm. Makes 10.