This recipe for Bittersweet Chocolate Chunk Cookies is one of my favorites.  Over the years I've found plenty more good ones, but I still like this one because it's fairly easy to throw together when you have some bittersweet (60%) chocolate bars or bittersweet chips around. It makes a really soft, fudge-y chocolate chip cookie.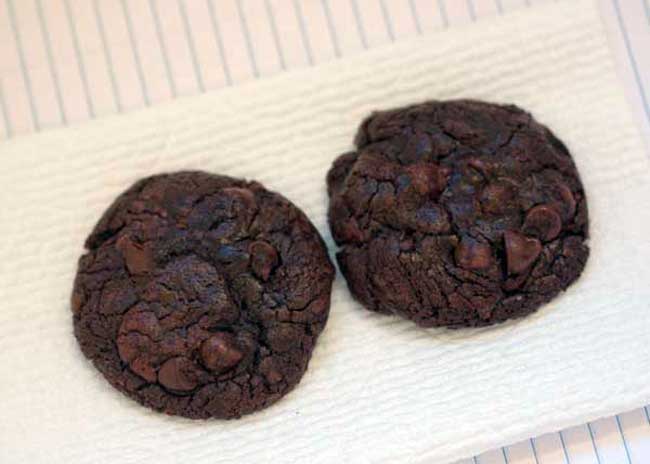 Because there's so little flour in the recipe, you have to follow the directions carefully and in most cases chill the batter just to get it to the point where it's scoopable.  This may vary depending on what brand/type of chocolate you use (melted chips will give you a thicker batter, whereas melted bars  are thinner), but in most cases you'll need to chill the batter, scoop up the chunks,and then if you like a nicely shaped cookie,  roll the chunks into tight balls and chill  them even longer.
Here's an old picture of the Bittersweet Chocolate Chunk Cookies from when I made them slightly larger and didn't chill the dough until thick.  I really prefer the updated, smaller version these days. I also prefer the updated photo. My photography skills are just as bad, but cameras have improved (thank goodness). I like to leave the old photos around as a testament to that.
Recipe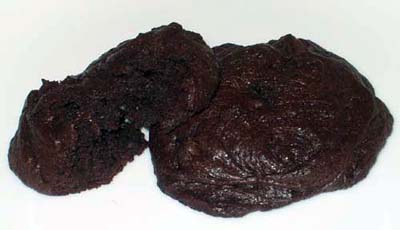 Bittersweet Chocolate Chunk Cookies
Bittersweet Chocolate Chunk Cookies can be made with chocolate chunks or chocolate chips. They are very rich and best served when completely cooled and set.
Ingredients 
8

oz

bittersweet chocolate

chopped (230 grams)

6

tablespoons

unsalted butter

85 grams

⅓

cup

flour

45 grams

2

tablespoons

unsweetened cocoa powder

10 grams

½

teaspoon

baking powder

½

teaspoon

salt

2

large eggs

½

cup

sugar

96 grams

2

teaspoons

vanilla

1

cup

semisweet chocolate chunks or chocolate chips
Instructions 
Place chocolate and butter in microwave and melt on high for 1 ½ minutes, stopping every 30 seconds to stir. Allow chocolate to cool slightly.

In a small bowl, mix flour, cocoa powder, baking powder and salt; set aside.

In a mixing bowl, beat eggs, sugar and vanilla until pale yellow and slightly thickened, about 5 minutes with an electric mixer.

Fold the melted chocolate into the egg mixture until blended, then stir in the flour mixture.

If mixture is still slightly warm and too loose to scoop (which it probably will be), put it in the refrigerator for about 20 minutes to cool and thicken. I almost always have to do this.

When mixture is cool and just thick enough to scoop, stir in the chocolate chips or chunks.

Drop dough onto a foil-lined plate or tray using rounded tablespoons. You should get about 18. Chill the shaped mounds until they are a bit firmer, then roll them into tight balls. Chill until ready to bake.

Preheat oven to 350 degrees. Line a baking sheet with two layers of regular or heavy duty (not non-stick) foil. You may use a Silpat or parchment, but the cookies may spread more.

Set the cold balls of dough on the foil lined baking sheet and bake at 350 for 12 to 14 minutes until cookies are set. Let cool directly on the foil lined baking sheet. Carefully remove from foil or transfer the sheet of foil with the cookies still stuck on it to a freezer and let them firm up before you peel them off.

Once set, these are delicious, soft and fudgy cookies.