I apologize for posting another chocolate chip cookie recipe, but these Bittersweet and Milk Chocolate Chip Cookies have been getting a lot of compliments lately, and I wanted to share the recipe. It's based on one called "Dad's Favorite Chocolate Chip Cookies", which calls for 6 cups of flour and makes double the amount. I'm not so sure my stand mixer could handle a recipe with 6 cups of flour, so I've been halving the recipe to make 2 dozen large, thick, cookies.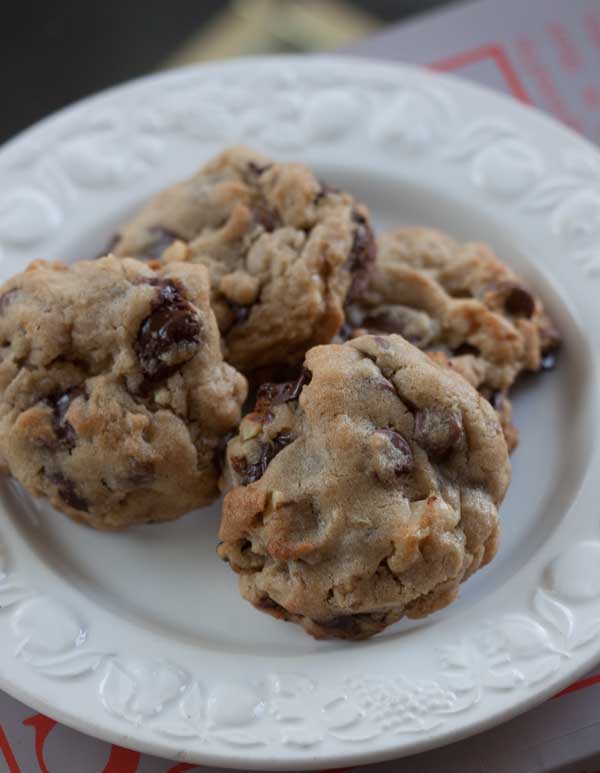 Bittersweet and Milk Chocolate Chip Cookie Tips
These have a lower proportion of butter and eggs but are still plenty rich from all the chips and nuts. And I do recommend adding the nuts to offset the sugar. For the vanilla, you may want to use something mainstream like McCormick since there's so much of it. Double-strength vanilla might be a bit overpowering since this recipe calls for so much.
Chill the Dough for Thick Cookies
If you want your Bittersweet and Milk Chocolate Chip Cookies to be as thick as the cookies in the photo, shape the dough into balls, put them in a sealed bag and chill overnight. They bake up a lot nicer after being in the refrigerator for a day or two.
Recipe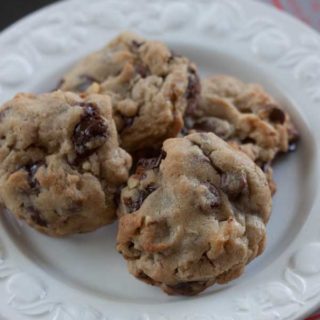 Bittersweet and Milk Chocolate Chip Cookies
Bittersweet and Milk Chocolate Chip Cookies are good when baked right away but even better when made with chilled dough. The cookies have a nicer shape and flavor when walnuts are added, but you can leave them out if you need to.
Ingredients 
3

cups

all-purpose flour

14 oz/390 grams

¾

teaspoon

baking soda

1 ½

teaspoons

salt

¾ teaspoon if using salted butter

2

sticks unsalted butter

room temperature (8 oz/225 grams)

½

cup

C&H Baker's Sugar or Ultra Fine sugar

3.5 oz/100 grams

1 ¼

cups

packed brown sugar

about 9 oz/250 grams

1 ½

tablespoons

pure vanilla extract

1

large egg plus 2 tablespoons lightly beaten egg

70 grams total

1 ½

cups

milk chocolate chips

1 ½

cups

bittersweet chocolate chips

1

cup

chopped toasted walnuts
Instructions 
Mix the flour, baking soda and salt together in a large bowl and set aside.

In the bowl of a stand mixer, beat butter until creamy. Add both sugars and beat until creamy. Add the egg and beat on low until it is blended in, then add the 2 tablespoon of beaten egg and beat until blended. Add the vanilla and beat until blended, scraping sides of the bowl.

Using lowest speed of mixer, add the flour mixture and stir until well blended. Stir in all of the chocolate chips and the nuts.

Empty dough onto a large clean surface covered with foil, parchment or waxed paper and shape dough into a log. Divide the log into 12 pieces, then divide those pieces so that you have 24 mounds. Arrange them in a pan small enough to fit in the refrigerator and chill the mounds for a few hours or until very firm. For best results, chill overnight.

When ready to bake, preheat the oven to 375. You will be turning down the heat

Arrange the cookies at least 2 ½ inches apart on a heavy duty baking sheet lined with foil (or parchment).

Put the cookies in the oven and immediately reduce heat to 350 degrees F.

Bake for about 14-16 minutes or until cookies appear set. Let cool on the baking sheet for 3 minutes, then carefully remove to a wire rack.