Update: This is a post from 2006 when Breakfast Cookies were kind of a thing. I originally made them with Sucanat, which isn't really in vogue these days. You can still order it on-line, but I rarely see it in grocery stores.
A few weeks ago I was reading a blog by someone in California who mentioned breakfast cookies.  Shortly after hearing of breakfast cookies, what should appear on the shelves of my local grocery store but Quaker Breakfast Cookies. What took them so long?
Now I must admit, I did not take the time to read the Quaker nutrition label. I was too busy thinking how good these would be homemade and what an excellent opportunity this would be for me to try  Sucanat, a deep, dark, dehydrated cane sugar  Wholesome Sweeteners.
The cookies turned out great!  They were fat, soft, round and perfect for wrapping individually.  I'm looking forward to playing with the flavors. If not for breakfast, they make a great snack.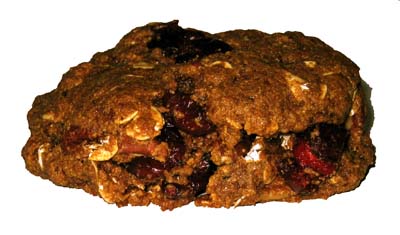 Breakfast Cookies
A nutritious cookie designed for breakfast.
Ingredients 
2

cups

8 ounces whole wheat pastry flour**

1 1/2

teaspoons

baking soda

1/2

teaspoon

baking powder

1/2

teaspoon

salt

1

teaspoon

cinnamon

you can use less if you want

1

cup

brown sugar or sucanet

or turbinado

2

tablespoons

canola oil

1

egg

I've successfully used 2 ENRG egg replacers

1

egg white

1/3

cup

prune puree —

I use prune baby food — applesauce also works

1 1/3

cups

rolled oats

1/2

cup

pecans — coarsely chopped and toasted

1/2

cup

dried cranberries
Instructions 
Preheat oven to 325 degrees F.

Stir together flour, baking soda, baking powder, salt and cinnamon. Set aside.

In a large mixing bowl, beat together Sucanet, canola oil, egg and egg white and prune puree. By hand stir in flour mixture followed by oats, pecans and raisins.

Drop by 1/4 cup measuring cup or large ice cream scoop on a baking sheet, about 2 inches apart.

Dampen back of a spoon or measuring cup and flatten to about ½ inch (cookies do not spread much during baking. Bake 8 minutes for chewy cookies or 10 minutes for dry.

Bake 8 or 9 minutes or until cookie has set. Let cookies cool completely….they will be soft.
Notes
Make sure to stir and aerate your flour well before measuring. I've noticed that the whole wheat pastry flour I buy in the bulk bin weighs about 4 ounces per cup, while Hodgson Mills weighs a little more (about 4 1/2 oz per cup). It's either the brand of flour or the fact the flour in the bin has been stirred and aerated so much. But measure the flour carefully and with a light hand or the cookies might come out too dry.