One of my all-time favorite chocolate muffin recipes comes from King Arthur Flour (now King Arthur Baking). I've been making these muffins for years, but recently discovered that KA has a new and improved version which they say rise even higher. They modified the recipe in 2012 by reducing the heat to 350 and decreasing the milk. I never had a problem with the first version, but went ahead and used the improved version yesterday.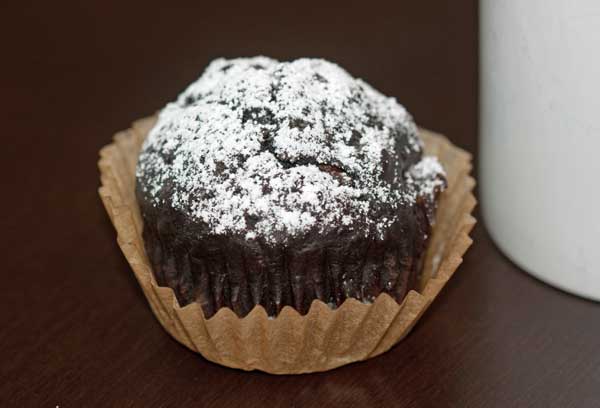 Chocolate Breakfast Muffins Notes
Still great muffins!  A few tips, though.  Be careful measuring your flour.  KA uses 8 ½ ounces by weight and calls that 2 cups.  Usually 2 cups weighs 9 or 10 ounces depending on the source, so if you don't have a scale and are measuring your flour by volume, use a light hand.  Also, I tried making these with a mix of natural cocoa powder and Dutch process and didn't get quite the rise.  Actually, I think they rose and fell flat.  My guess is the acidity of the natural cocoa played into that and caused the muffins to rise too quickly and fall.  The muffin in the photo was a "re-do" where I went back to using the usual Dutched cocoa powder.  So measure the flour properly and use Dutch cocoa rather than natural. And finally, use a generous ⅓ cup of oil instead of butter.  I think the oil keeps the muffins moist, and I certainly didn't miss the flavor of butter with all that chocolate.
Recipe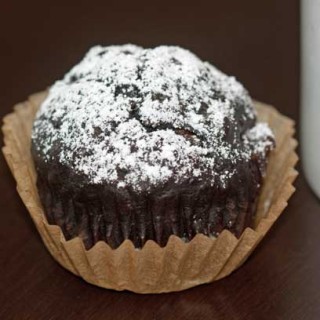 Chocolate Breakfast Muffins
King Arthur Flour Chocolate Breakfast Muffins are intensely chocolate, very moist (if you weigh your ingredients properly) and have nice high tops.
Ingredients 
⅔

cup

Dutch-process cocoa

2

cups

King Arthur Unbleached All-Purpose Flour

1 ¼

cups

light brown sugar

1

teaspoon

baking powder

1

teaspoon

baking soda

¾

teaspoon

espresso powder

omitted

¾

teaspoon

salt

2

large

eggs

¾

cup

milk (used whole)

2

teaspoons

vanilla

2

teaspoons

vinegar

½

cup

butter, melted; or ⅓ cup vegetable oil

1

cup

chocolate chips

Powdered sugar for dusting
Instructions 
Preheat the oven to 350°F. Line a 12 count muffin pan with paper or parchment liners.

In a large mixing bowl, mix together the Dutch process cocoa, flour, brown sugar, baking powder, baking soda, espresso (if using) salt and salt. Set aside.

In a large measuring cup or medium-sized mixing bowl, whisk together the eggs, milk, vanilla and vinegar. Add the wet ingredients, along with the oil, to the dry ingredients, stirring to blend. Do not beat. Stir in the chocolate chips.

Scoop the batter into the prepared muffin tin; the cups will be heaped with batter, and the muffin will bake into a "mushroom" shape.

Bake the muffins for 20 to 25 minutes, or until a cake tester inserted in the center of a muffin comes out clean. Remove the muffins from the oven, and after 5 minutes remove them from the pan, allowing them to cool for about 15 minutes. Serve in the muffin papers or peel away the papers and serve without. Before serving, generous dust with powdered sugar.
Notes
The recipe calls for ½ cup of butter or ⅓ cup of vegetable oil. For the first batch, I used half of each because I couldn't decide which. I used 4 tablespoons of butter and a little less than 3 tablespoons of oil. For my second batch I just used ⅓ cup of oil. I prefer the oil version better. I love butter, in this case there's so much chocolate flavor you don't really miss the butter. Also, oil seems to give the muffins a little extra moisture.