I hadn't planned on posting the recipe, but the Cinnamon Raisin Rye Bagels from Whole Grain Vegan Baking: More than 100 Tasty Recipes for Plant-Based Treats Made Even Healthier-From Wholesome Cookies and Cupcakes to Breads, Biscuits, and More
were so good that I had to share.  Forget the fact they are vegan.  They have a very interesting flavor (for some reason, it reminds me of a Dunkin' Donuts bagel) and a beautiful dark brown hue.  I'm sure they'd be great with cream cheese or butter, but I really like them because they're not so sweet they clash with my favorite topping -- peanut butter!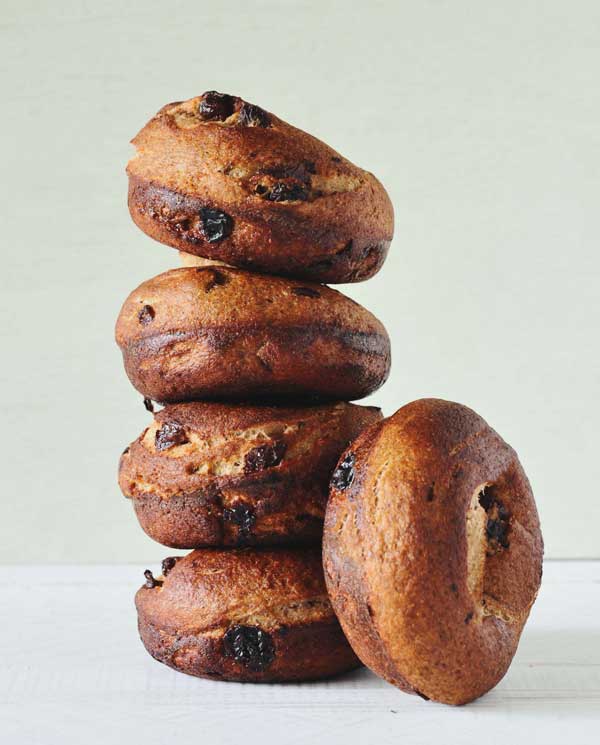 Now I did take a photo of the bagels, but it was kind of dark and blurry so I asked Fairwinds Press if they'd be willing to share theirs. They said yes, so the photo you see is theirs.  They also shared the recipe. The changes I made were to use brown sugar instead of the Sucanat and to make the bagels a tiny bit smaller.  I got 8 instead of 6.  If you like making bagels, have fun!  If you've never made bagels and want to give it a shot, this is a good recipe to start with since the authors give such thorough instructions and offer weights for the flour.  In fact, I forgot to mention that I really appreciate that the book has weights for all the flour measurements.
Recipe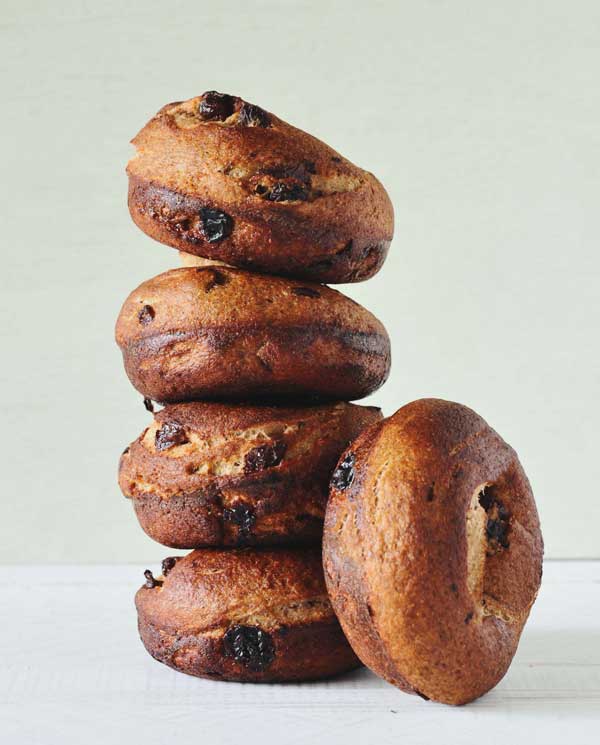 Cinnamon Raisin Bagels
First-time bagel-maker? Fret not. Bagels are easier to make than one would think, cross our hearts. The combination of white whole wheat, dark rye, and whole spelt flours yields a hearty yet tender and, of course, traditionally chewy bagel packed with nutrition. These are very lightly sweetened with apple juice, cinnamon, and raisins.
Ingredients 
1

scant cup

220 ml apple juice, lukewarm

2

teaspoons

Sucanat

I used brown sugar

4

teaspoons

active dry yeast

240

g

2 cups white whole wheat flour

60

g

1⁄2 cup dark rye flour

70

g

1⁄2 cup whole spelt flour

2

teaspoons

ground cinnamon

1

teaspoon

fine sea salt

2

tablespoons

30 ml neutral-flavored oil

60

g

1⁄4 cup plus 2 tablespoons raisins

8

cups

2 L water

55

g

1⁄4 cup baking soda
Instructions 
Combine the juice, Sucanat, and yeast in a bowl. Let sit for 5 minutes for the yeast to activate.

Combine the flours, cinnamon, and salt in the bowl of a stand mixer fitted with a dough hook. Add the oil, raisins, and yeast mixture on top of the dry ingredients. Knead for 6 minutes, adding extra whole wheat flour, 1 tablespoon (8 g) at a time, if the dough is too wet. The dough should be smooth and pliable. Alternatively, you can stir the ingredients, transfer the dough to a lightly floured surface, knead for about 8 minutes, until the dough is smooth and pliable, adding extra whole wheat flour, 1 tablespoon (8 g) at a time, if the dough is too wet. Shape into a ball.

Place in a bowl, cover tightly with plastic wrap, and let rise in a warm place until doubled in size, 1 to 11⁄2 hours.

Line a baking sheet with parchment paper or a silicone baking mat. Punch down the dough. Divide it into 6 equal portions and roll into circles. If the dough retracts when you try to shape it, give it 5 minutes to rest until it cooperates. Use your thumb to puncture a 1-inch (2.5 cm) hole in the center. Place on the prepared baking sheet.

Bring the water and baking soda to a boil in a large saucepan. Preheat the oven to 400°F (200°C, or gas mark 6). Lower the heat of the boiling water to a gentle boil. Add 2 bagels at a time and simmer for 1 minute, flipping each bagel halfway through. Scoop out the bagels with a slotted spoon. Place on the prepared baking sheet.

Repeat until all the bagels have been boiled.

Transfer to the oven and bake for 14 minutes, or until the bagels are a deep golden brown and sound hollow when the bottom is tapped. Let cool on a wire rack.
Notes
Recipe from Whole Grain Vegan Baking courtesy of Fairwinds Press.
I used sugar instead of Sucanat and made 8 bagels instead of 6. The recipe mentioned adding extra flour in addition to what is called for in the ingredient list. This will vary, but I did have to add several extra tablespoons of flour.