I'm calling these Butterfinger Mounds because the flavor reminds me of Butterfinger bars. Plus, I read somewhere (maybe the wrapper?) that Butterfingers are made with ground up Corn Flakes, so it makes sense.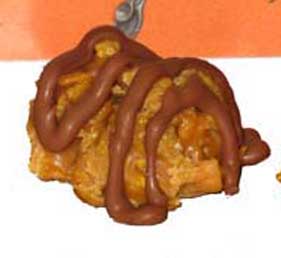 Butterfinger Mounds
2 tablespoons butter
2 tablespoon granulated sugar
¼ cup corn syrup
½ cup butterscotch chips
⅓ cup creamy peanut butter
½ teaspoon vanilla extract
2 cups corn flakes
Place butter, sugar and corn syrup in a medium sized microwave-safe bowl. Microwave on high for about 1 minute or until bubbly. Stir to dissolve sugar. Quickly stir in butterscotch chips and stir until chips are melted. Stir in peanut butter and vanilla and stir until smooth. Stir in corn flakes.
Drop by rounded tablespoons onto a waxed paper lined cookie sheet. Let sit until firm or chill until firm.
Makes 12