If you're still looking for ways to use Halloween candy, here's a pie to consider.  Brownie Bottom Butterfinger Ice Cream Pie is an ice cream pie with a brownie crust.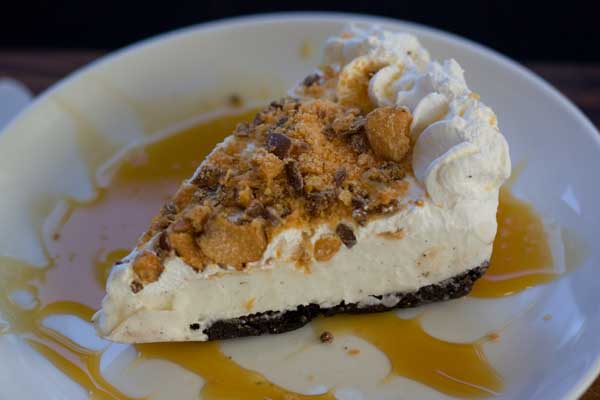 Because they blend well with ice cream and because Fuzz brought home a ton, I used Butterfingers; but just about any type of candy bar would work, and the ice cream flavor can be modified as well.
Brownie Bottom Crust
What I like best about this pie is the crust.  Instead of the usual crumb crust, this one is a thin layer of brownie baked directly in the pie dish.  If you prefer a thicker crust, you can double it. We wanted a higher ratio of ice cream, so I kept the brownie layer thin.    For the ice cream, I used vanilla because the combination of vanilla,  Butterfinger and caramel sounded good.  However, if my family were more into banana, I might have tried banana flavored ice cream or maybe even pumpkin.  In fact, I probably should have called this Brownie Bottom Mix and Match Ice Cream Pie because it can be made with so many variations.
Recipe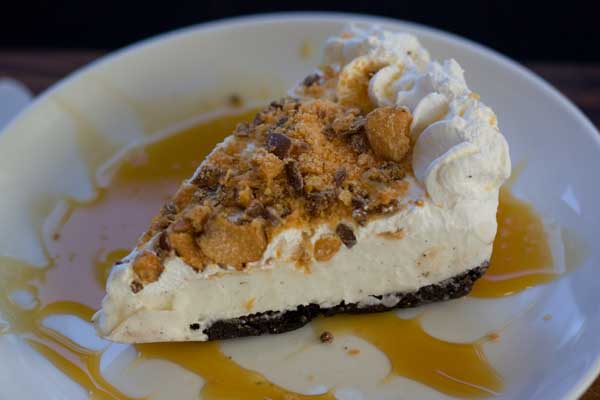 Brownie Bottom Butterfinger Ice Cream Pie
Brownie Bottom Butterfinger Ice Cream Pie
Ingredients 
4

tablespoons

unsalted butter

2 1/2

tablespoons

unsweetened cocoa powder

I used Hershey's Dark

1/2

teaspoon

vanilla extract

1/2

cup

granulated sugar

1

large egg

1/8

teaspoon

baking powder

1/8

teaspoon

salt

1/4

cup

flour

1 ½

quarts

vanilla ice cream

or use a more adventurous flavor!

¼

cup

more or less of caramel flavored sundae syrup

3

cups

sweetened whipped cream or whipped topping**

4 to 8

Fun Size Butterfinger candy bars

crushed in their wrappers

Chocolate Syrup

optional
Instructions 
Preheat oven to 325 degrees F. Grease a 9 inch deep dish glass pie plate.

Melt the butter in a large saucepan or in a microwave-safe mixing bowl. Remove from heat, add the cocoa powder, and whisk until smooth. Whisk in the vanilla, then whisk in the sugar and the egg. Whisk in the baking powder and salt, and then gently stir in the flour.

Spread as evenly as you can in the pie dish and bake for 20 minutes or until top appears set, yet a little shiny. A toothpick inserted should come out with moist crumbs as opposed to batter. Set on a rack and let cool. Put in the freezer until ready to use or for at least an hour.

If desired, mix some of the Butterfinger into the softened ice cream. Another option is to just wait and put all the candy on at the end. Spread softened ice cream over top of brownie base. Drizzle caramel syrup over ice cream, and then spread a thin layer of whipped cream over the caramel syrup, dragging some of the syrup up into the whipped cream so that you have kind of a caramel-y whipped cream. Spread the remaining whipped cream over the top and pipe some around the edges (if you feel like it).

Sprinkle more Butterfinger candy over the whipped topping. Return to freezer for about 4 hours or until whipped cream is very firm.

When ready to serve, set the pie on a dish towel that's been soaked in hot water. This will help loosen the crust from the side.. Cut slices and garnish with more caramel syrup and chocolate syrup (if desired).
Notes
This can be kind of tricky to remove from the pan, but it can be done if you have a thin pie or cake type spatula. Another option would be to bake the crust in an 8 inch round springform pan, or double the crust and bake it in a 9 inch round springform pan. I may give that a try once we finish this pie.
To crush butterfinger, just bang them with a rolling pin or heavy object before opening.
To pipe the whipped cream, you don't have to have a special tip. Just put some in a heavy duty zipper bag, snip off the corner and pipe dots.