Peanut Butter Chip Cookies is a recipe is from the back of the Reese's Peanut Butter Chips Bag. I'm putting it here for safe keeping and as a reminder to myself to make these with Hershey's Dark Dutch cocoa powder. I used to recommend Hershey's Dark, but they changed the product and it now tastes different. I still love their natural, but don't care for the new "improved" dark. But back to the cookies, any Dutch process will do, but you can also use natural.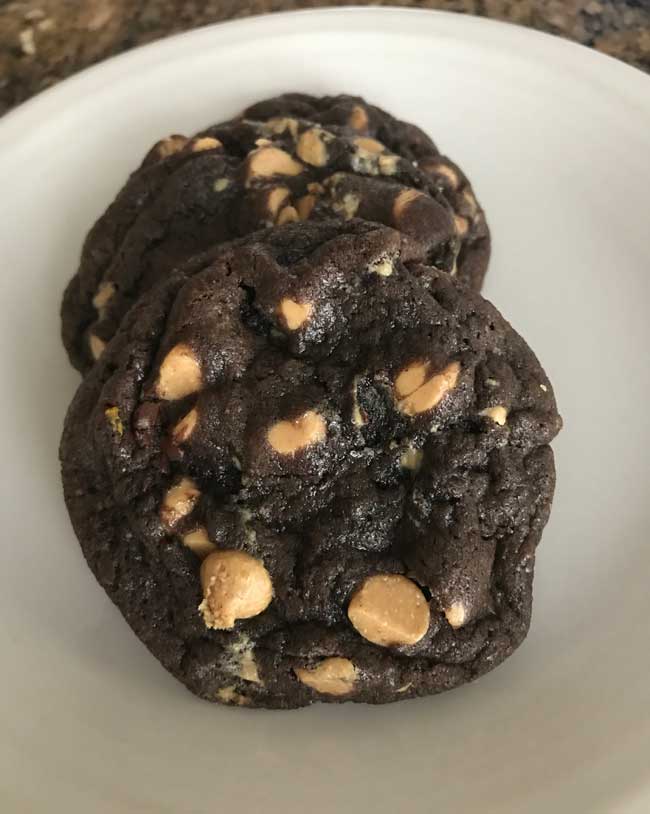 Peanut Butter Chip Chocolate Cookies
1 cup unsalted butter, softened (230 grams)
1 ½ cups sugar (280 grams)
2 eggs
1 ½ to 2 teaspoons vanilla (I use 1 ½)
2 cups unsifted all purpose flour (270 to 280 grams), use more for thicker cookies
⅔ cup unsweetened cocoa powder, Natural or Dutch processed
¾ teaspoon baking soda
½ teaspoon salt
2 cups (1 bag) Reese's Peanut Butter Flavored Chips
(optional add-in) 1 cup of Reese's Premier Baking Bits
Cream butter, sugar, eggs and vanilla until light and fluffy.
Combine flour, cocoa, baking soda and salt; add to creamed mixture. Stir in peanut butter chips.
Drop by teaspoonfuls (or use tablespoons) onto ungreased cookie sheet, or chill until firm enough to handle and shape small amounts of dough into 1 inch balls.
Place on ungreased cookie sheet. Bake at 350 degrees f for 8-10 minutes.
Cool 1 minute before removing from cookie sheet onto wire rack. About 5 dozen.