I'd intended to post a recipe for All Bran Brownies, but as you can see something went terribly wrong. Or terribly right, depending on how you look at it! I did indeed make the All Bran Brownies from the back of the Bran Buds box but was disappointed in the pellet-y texture of the Bran Buds. Thinking the brownies might be better with mashed up Bran Flakes, I tried that. Great brownies, but the texture of flakes wasn't any better than buds. It then occurred to me that Reese's candies were an excellent substitute for All Bran and the Reese's Baking Cups and Candies Brownies were born.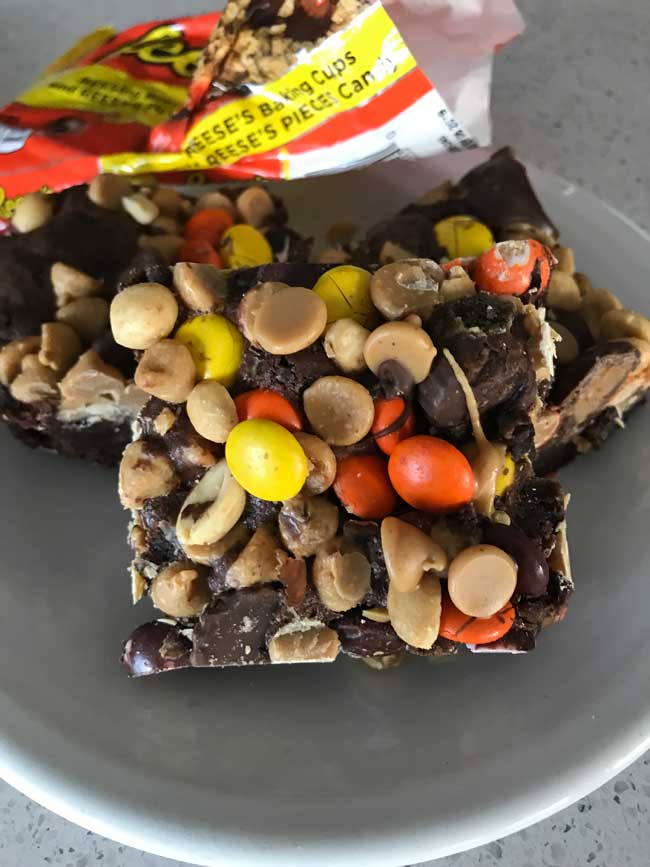 First I should clarify that Reese's Baking Cups and Candies is just a mixture of mini peanut butter cups and Reese's Pieces. I'm not sure Reese's is still making this particular blend, so if you can't find it just mix mini peanut butter cups and Reese's Pieces.
Here's a texture shot! The Reese's Baking Cups and Candies don't come with Reese's Peanut Butter Chips, but I had a bag so I incorporated some of those. I also added salted peanuts to offset all the sweet.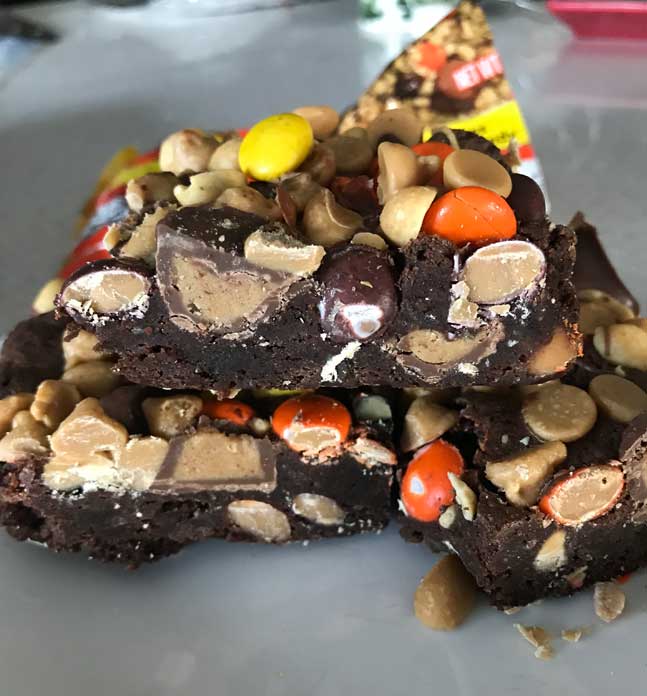 If you read this and still want more info on the All Bran Brownies, here's what they look like.  Recipe is the same, but substitute ½ cup Bran Buds for the full bag of candy.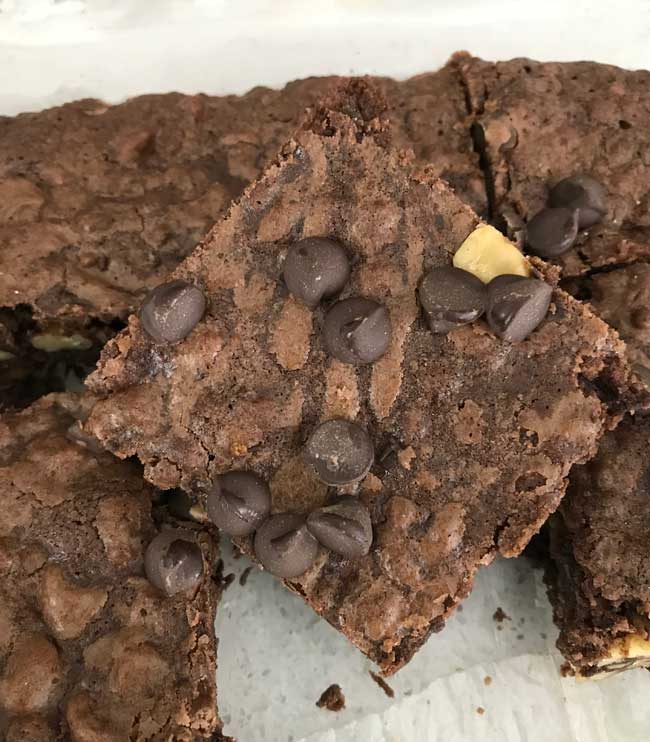 Recipe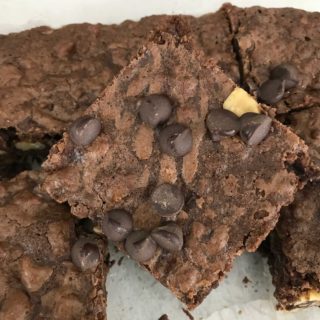 Reese's Baking Cups and Candies Brownies
Easy fudge brownies filled with Reese's Baking Cups and Candies
Ingredients 
⅔

cup

all-purpose flour

84 gram

¼

teaspoon

salt

½

cup

natural style cocoa powder

40 grams

2

eggs

1

cup

sugar

200 grams

1

teaspoon

vanilla

½

cup

114 grams butter, melted, cooled**

1

bag of Reese's Cups and Candies

About 1 ⅓ cups (or half cup Bran Buds!)

Large handful of peanuts

Optional addition: Reese's peanut butter baking chips
Instructions 
Preheat oven to 350 degrees F. Grease an 8 inch square pan or line with foil and grease foil.

Stir together flour, salt and cocoa powder. Set aside.

In large mixing bowl, using an electric mixer, beat eggs for 30 seconds. Add sugar gradually, beating until fluffy, then stir in vanilla and cooled melted butter.

Add flour and stir until blended, then stir in half of the Reese's mix.

Spread evenly in pan and sprinkle remaining Reese's mix on top. Scatter salted peanuts over baking mix. If there's any more candy in the house, chop it up and put that on too.

Bake at 350° F about 30 minutes or until wooden pick inserted near center comes out clean.

Let cool completely in pan, then lift from pan and cut into squares.
Notes
I had some Reese's baking chips so instead of using a full bag of the special Reese's cups and candies I incorporated about ½ cup of regular Reese's baking chips.