You know it's fall when the baking chips change!  The first new flavor of the season is Reese's Baking Cups and Reese's Pieces Candies. It's just a mix of the two candies, but a very convenient product for those of us who like our double chocolate cookie cross-sections  to look like this.  I found the product at Jewel.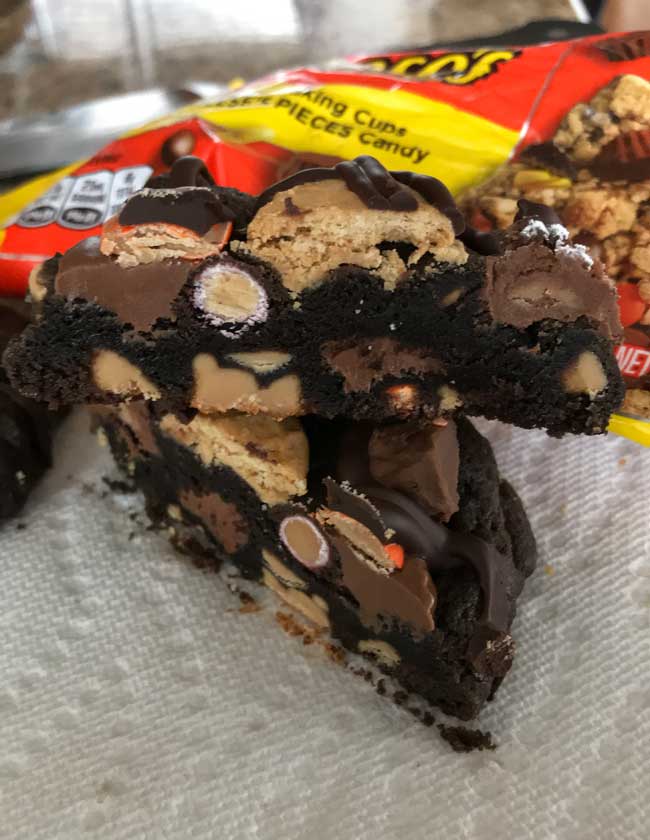 As for the cookies, this is one of my favorite double chocolate cookie recipes. I usually pack these with Reese's Peanut Butter Chips, but I think they look even better with a mix of the chips and the new Reese's Baking Cups and Reese's Pieces Candies. Mini Nutter Butters sold separately.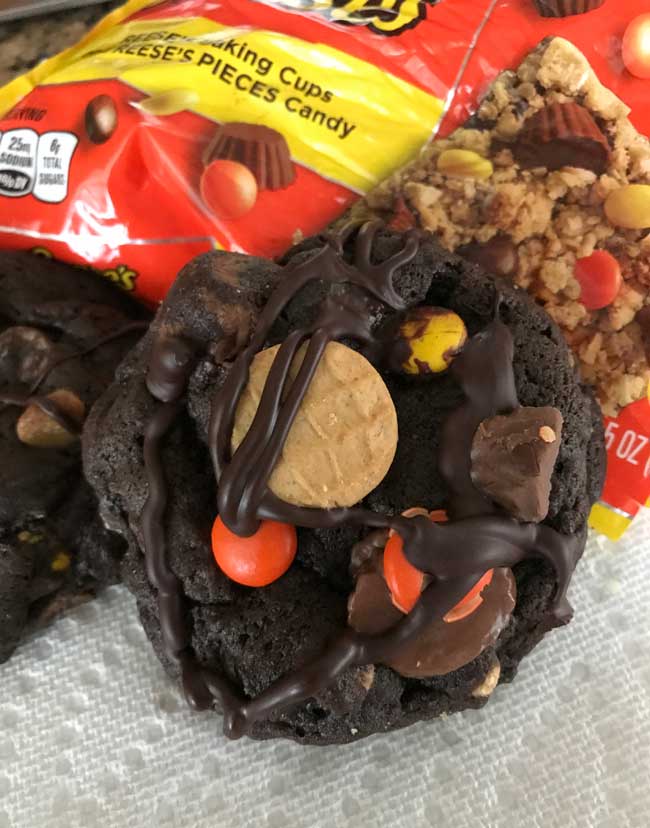 Here's the recipe (and one more photo).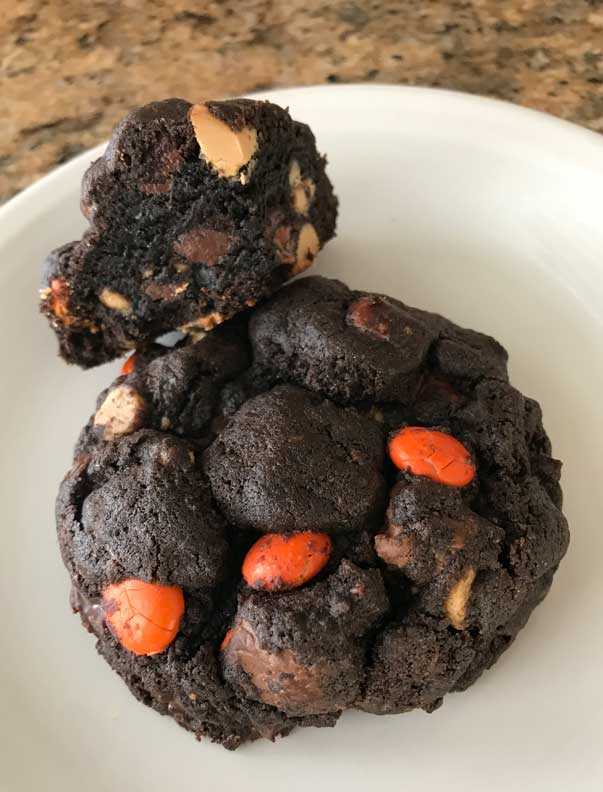 Recipe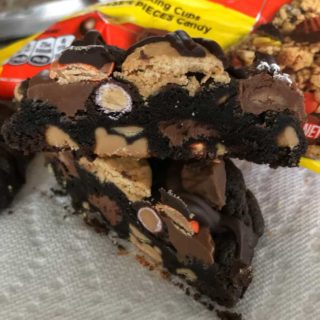 Reese's Baking Cups Cookies
Reese's Baking Cups and Reese's Pieces Giant Chocolate Cookies
Ingredients 
2

sticks

228 grams unsalted butter, cold and cut into chunks

½

cup

100 grams light brown sugar

1

cup

185 grams cane sugar

About 2 large eggs

lightly beaten in a separate bowl (100 grams)

1

teaspoon

vanilla extract

280

grams

all-purpose flour

2 cups, unsifted

½

cup

40 grams Hershey's Dark cocoa powder

1

teaspoon

baking soda

¾

teaspoon

salt

1

cup

peanut butter chips

1

cup

Reese's baking mix

cups and pieces

½

cup

semisweet chocolate chips

optional
Instructions 
Put the butter in the bowl of a stand mixer and beat with a paddle until it becomes creamy. Add the sugars and beat for about 4 minutes, stopping occasionally to scrape sides of bowl.

With mixer on low speed, pour in the 100 grams of beaten eggs and the vanilla.

In a separate bowl mix together the flour, cocoa powder, baking soda, and salt. Add to the mixing bowl and stir on low until completely blended, then stir in the peanut butter chip mixture.

Scoop dough into 12 equal size mounds and place on a piece of plastic wrap. Cover and chill, cover with plastic wrap and chill for several hours (I recommend overnight) or until the dough is stiff.

Arrange oven rack so that it is in the top third of the oven.

Preheat oven to 375 degrees F. Line a baking sheet with parchment paper.

When ready to bake, arrange dough balls on a parchment lined baking sheet and bake at 375 F. for 16-18 minutes. Cookies should look slightly underdone. Allow cookies to cool on the baking sheet for about 5 minutes, then carefully transfer to a wire rack to finish cooling.
Notes
Note: For this recipe it is best to weigh the flour. 2 cups of flour can be anywhere from 250 to 280 grams. I used 280 grams total.