Cracked Top Brown Sugar Cookies are from my favorite-ever recipes for chewy sugar cookies.  These are made with a mix of light and brown sugar, so they are not only chewy but have a hint of brown sugar flavor.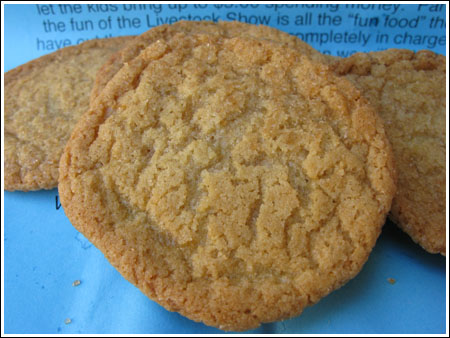 Cracked Top Brown Sugar Cookies
2 cups all-purpose flour
2 teaspoons baking soda
2 teaspoon cream of tartar
½ teaspoon salt
8 oz unsalted butter ( 2 sticks)
1 cup granulated sugar
½ cup firmly packed light brown sugar
1 large egg
1 teaspoon vanilla extract
Turbinado sugar or additional granulated sugar for rolling
Preheat oven to 350 degrees F.
Stir flour, baking soda, cream of tartar and salt together in a bowl; set aside.
Cream the butter, sugar, brown sugar and vanilla together in a mixing bowl using high speed of an electric mixer. Add the egg and beat for about 30 seconds, then add the flour mixture and stir by hand until it is mixed in.
Roll the dough into 36 little balls and coat tops with sugar. Arrange about 2 ½ inches apart on parchment lined cookie sheet and bake 12-13 minutes or until edges are nicely brown and tops appear crackly and set.
Makes 36 cookies