Originally from the back of a bag of King Arthur brand flour, Best Fudge Brownies Ever are chewy, sweet, and pretty convenient to make since they call for cocoa powder rather than chocolate.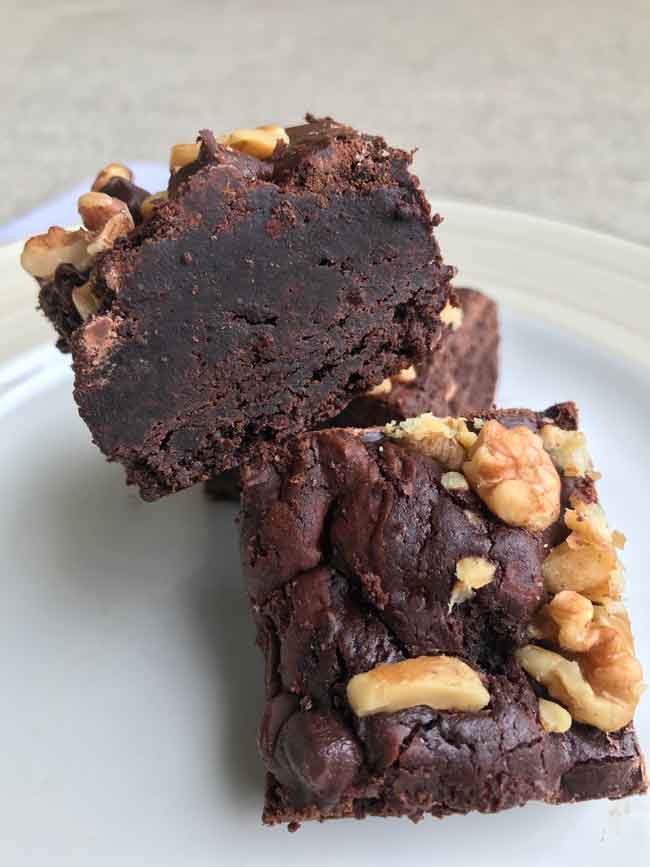 Use Dutch Process Cocoa Powder
The only catch is the cocoa powder needs to be Dutch process, which is alkaline and won't react negatively with the baking powder.  In the past I made these with Hershey's Dark, but Hershey's changed the formula and I started using different brands of Dutch process.  And while experimenting with different brands, I found I needed to weigh it (106 grams)to get an accurate amount. Some brands of cocoa powder seem heavier.
Weigh the Flour
I also found that the 1 ½ cups of flour King Arthur uses is a very "light handed" measure with a weigh of around 180 grams. If you don't have a scale make sure to spoon and level.  Those things aside, this is a super easy recipe that halves easily should you wish to make it in an 8 inch pan rather than a 9x13 inch pan.
If halving, you can make the whole recipe in one saucepan.  The bake time should still be around 28 minutes, but if you like your brownies slightly underbaked then check at 25.  Also, make sure to let the batter cool before you add the chocolate chips.  In this recipe they are not supposed to melt into the batter, but they will if you add them too soon.
Recipe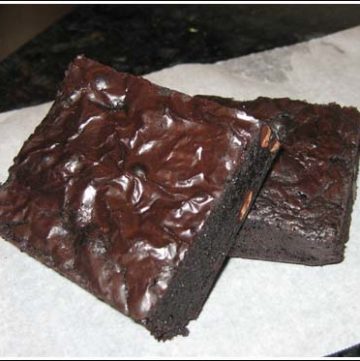 Best Fudge Brownies Ever
An easy recipe for brownies made with cocoa powder.
Ingredients 
8

oz

unsalted butter

(230 grams)

2 ¼

cups

sugar

440 grams**

1 ¼

cups

Dutch process cocoa

(best to weigh out 3.75 oz/105 grams)

1

teaspoon

salt

(reduce to ½ if using salted butter)

1

teaspoon

baking powder

1

tablespoon

vanilla extract

4

large eggs

1 ½

cup

King Arthur unbleached all purpose flour

180 grams**

2

cups

chocolate chips

semi-sweet (or Hershey's Dark)
Instructions 
Preheat oven to 350 degrees F. Lightly grease a 9x13 inch metal pan or line it with foil and grease the bottom.

In a microwave-safe mixing bowl, or in a saucepan set over low heat, melt the butter, then add the sugar and stir to combine. Return the mixture to the heat (or microwave for 1 minute) and heat until mixture is very hot but not bubbling; it'll become shiny looking as you stir it. Heating the butter and sugar a second time will dissolve more of the sugar, which will yield a shiny top crust on your brownies.

Transfer the mixture to a bowl (if you melted the butter and sugar in the mixing bowl, you don't have to transfer anything).Stir in the cocoa, salt, baking powder and vanilla. Add the eggs, beating till smooth; then add the flour and chips, stirring until combined. (Note: if the batter is still very warm, let it cool slightly before adding the chips, otherwise they will melt into the batter).

Spoon the batter into the prepared pan.

Bake the brownies for 28 minutes, until a cake tester inserted into the center comes out dry. Remove them from the oven and after 5 minutes, loosen the edges with a table knife. This helps prevent sinking as they cool. Cool completely (and chill for better cutting) then cut and serve.

Makes 2 dozen brownies
Notes
If you can't weigh the flour, make sure to measure with a very light hand.  That is, stir it well, then spoon it into the cup and level.  
I do NOT recommend cutting the sugar because the recipe calls for 1 ¼ cups of cocoa powder which balances it out.  The sugar also adds moisture, so if you cut the sugar you risk making the brownies too dry.