I'd never heard of  King Cake until well into my twenties when a co-worker from New Orleans brought one to work.  As per tradition, her father would send her one every year to share with the office.   In theory, the person who found the hidden plastic baby was supposed to provide another King Cake, but nobody ever did because at the time, they weren't quite as popular in that region.  Now you can find them in lots of places, including some grocery store bakeries.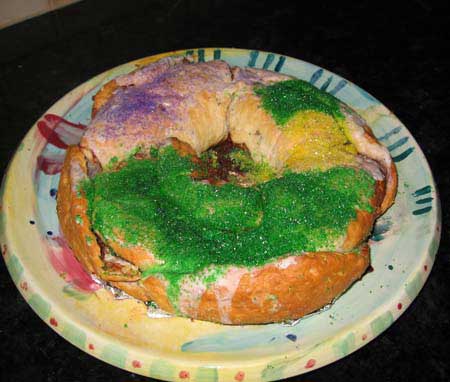 A few years ago, I bought Fuzz a cookbook for kids and in it, was a picture of a King Cake. She loved that cake and off and on throughout the year, asked if we could make it. We finally got around to it this week and since this, have made a couple!
This is a really fun activity. If you have the time and patience, make the dough yourself. However, canned biscuit dough is the perfect medium for little hands and covered with cinnamon, sugar, and butter, it tastes really good. Emeril has a recipe similar to this, but he uses canned crescent dough. We might give that a try, but so far the biscuit dough has been well accepted.
Recipe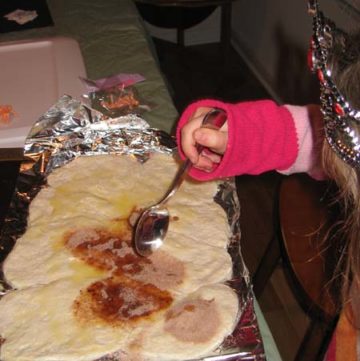 Easy King Cake
An easy King Cake made with canned biscuit dough
Ingredients 
1

16 oz can of biscuits (regular, not the layered kind but the regular). We use "Grands"

¼

cup

melted butter

¼

cup

sugar

1

tablespoon

cinnamon

A few spoonfuls of canned cream cheese frosting

optional

Yellow

Purple, Green Sprinkles
Instructions 
Preheat oven to 325 degrees F. Line a cookie sheet with nonstick foil or parchment paper.

Open the biscuits and lay them flat on the foil. Press them into a large circle (about 12 inches) or into a giant rectangle. We've done it both ways.

Brush the dough with butter, then mix sugar and cinnamon together and sprinkle evenly over dough.Lay babies somewhere on the dough.

Roll the dough up into a cylinder and pinch as tightly as possible to seal. Shape the cylinder into a circle.

Bake for 35 minutes. Let cool slightly, then spoon icing over top and let it fall down sides. Sprinkle sugar on top.

Ready to eat! It tastes best shortly after being made, but also tastes good the next day.