For years I kept seeing recipes for Ice Cream Sandwich Cake and saying I'd make one on National Ice Cream Sandwich Day. Alas, life got in the way, Ice Cream Sandwich Day would come and go, and my motivation to make a cake composed of a pile of ice cream sandwiches would evaporate. But not today! At about noon CST I realized it was Ice Cream Sandwich Day and that there was still time.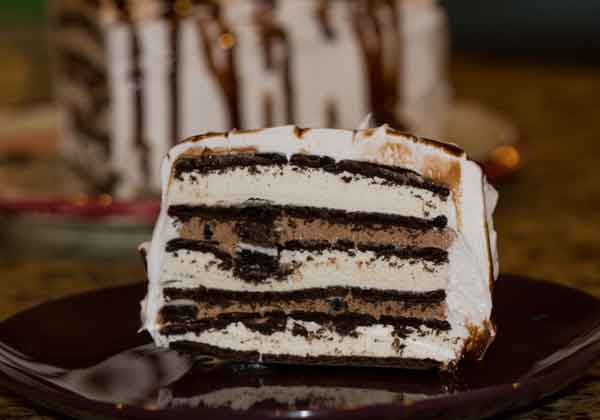 After looking at a few ice cream sandwich cake variations and coming up with an idea of how I'd like mine to be, I went to H.E.B and loaded up on Blue Bell ice cream sandwiches. Skinny Cows or Neapolitan flavored Ice Cream Sandwiches were other options, but I figured I'd stick with tradition for this first cake and use a childhood favorite. Speaking of which, I also bought a lot of Cool Whip. For those of you not into that, just substitute equal amounts of lightly sweetened whipped cream.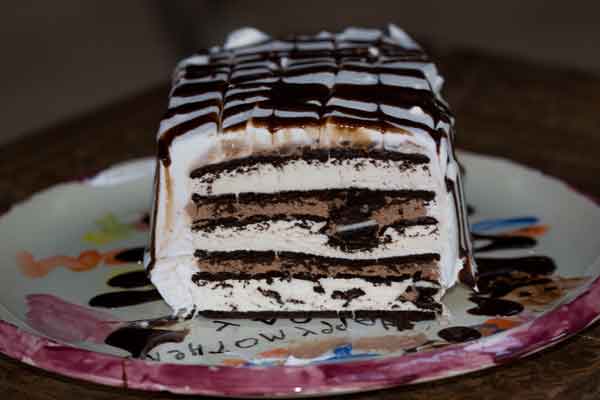 To assemble, I made a chocolate pie filling, then sandwiched it between three layers of ice cream sandwiches. Next time I might try using a frozen peanut butter pie filling, frozen peppermint pie filling or perhaps strawberry malt, but today called for something traditional.
This dessert is so easy a drunk monkey could make it, and boy is it ever fun. I'm looking forward to assembling it again for a big potluck where people come and go and no one really cares if things are scratch (which is most potlucks these days) because it would surely disappear.
Update: This version uses a cream cheese filling, but I've since discovered an even easier version from Kraft that uses chocolate fudge sauce and instant chocolate pudding mix.  Ice Cream Sandwich Cake has become one of our regular birthday cakes.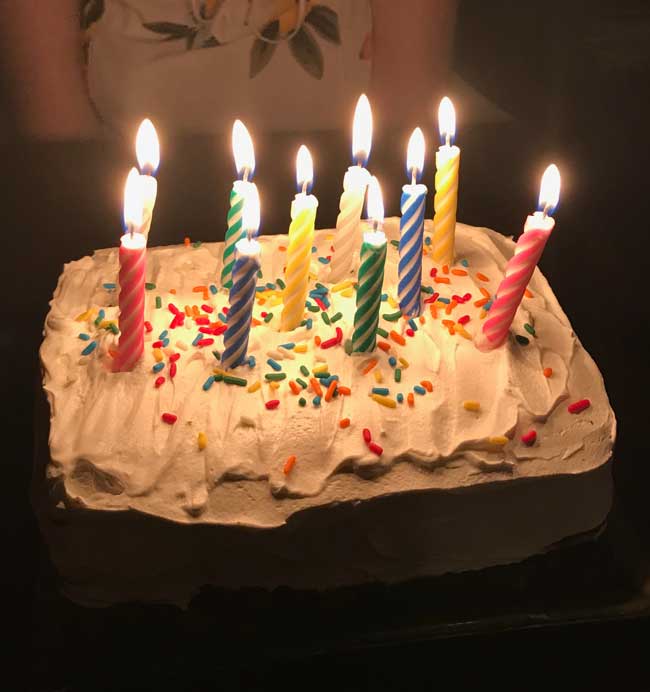 Cake made with ice cream sandwiches
Ingredients
3 tablespoons cream cheese, softened
3 tablespoons unsweetened natural cocoa powder
1/4 cup granulated sugar
1/2 teaspoon vanilla extract
2 1/2 tablespoons milk
1 1/2 (8 ounce) cartons frozen whipped topping, thawed
6 Oreos, chopped
12 ice cream sandwiches
Instructions
In a mixing bowl, stir together the softened cream cheese, and cocoa powder. Slowly add sugar and milk alternately, scraping sides of bowl to make a thin paste. Add vanilla. Using a handheld electric mixer, beat until smooth. Fold in about half a carton (1 ¾ cups) of the whipped topping. Fold in the cookies.
Lay a large sheet of foil on a flat surface. Lay 4 ice cream sandwiches side by side on the foil. Spread half of the chocolate mixture over the sandwiches. Layer 4 more ice cream sandwiches over the chocolate mixture, then layer on remaining chocolate mixture and 4 ice cream sandwiches.
Using some or all of the remaining carton of whipped topping, spread a thin layer all over the cake. At this point it will look pretty shoddy, but that's okay. You'll fix it later. Bring foil up and around cake to make a little container, then set the cake in a pan (just to keep it level) and put it all in the freezer for about 6 hours or until frozen solid. When frozen, remove foil and spread more whipped topping over the cake. Arrange on a nice plate and touch up your whipped topping. Garnish with chocolate syrup or cookie crumbs and slice.
Notes
Cook time is actually freezer time. Also, if you make this with mini ice cream sandwiches, you'll only need half of the chocolate filling.