August 2 is National Ice Cream Sandwich Cake, and to celebrate I've made Loaf Pan Ice Cream Sandwich Cake! This is such a simple family favorite. Who would think that a stack of ice cream sandwiches and whipped cream could be so good?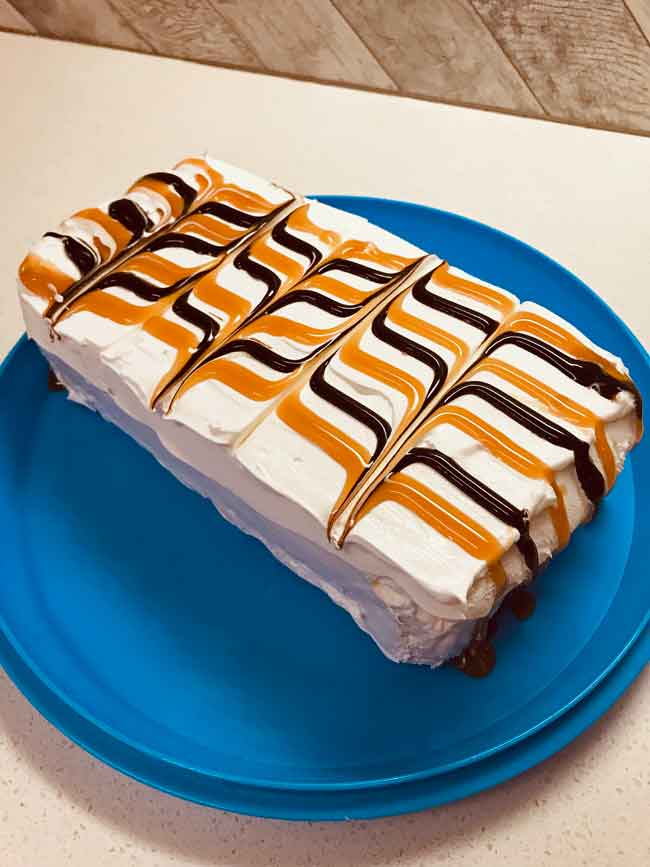 These days I'm hooked on loaf pan size ice cream sandwich cakes. They're just the right size for a small family and fit easily in almost any freezer. They're also easy to slice and serve.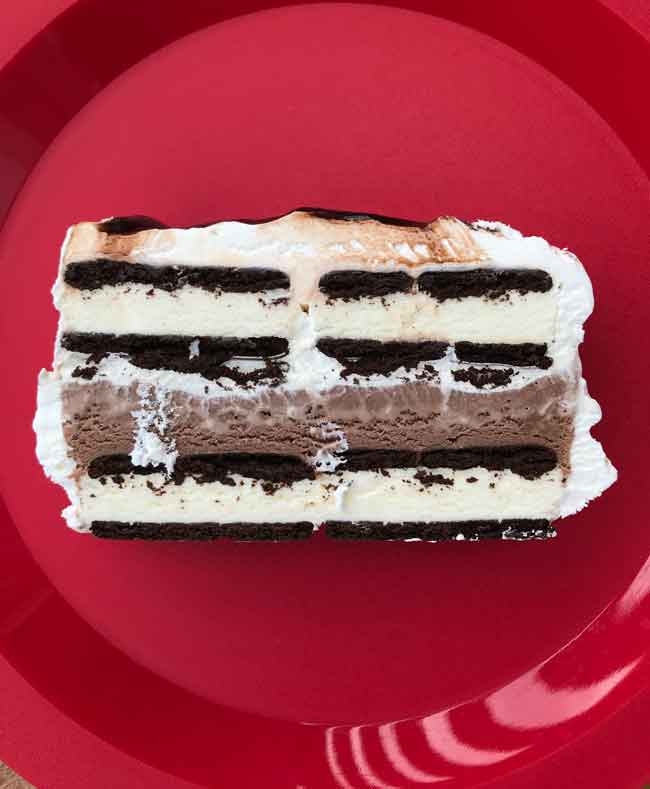 Assembly is fun!
You line a loaf pan with plastic wrap, then line bottom with regular or mini sandwiches. The cake in the photo above was made with regular, while the cake below uses minis.I think the minis make a nicer cross section, but both are pretty.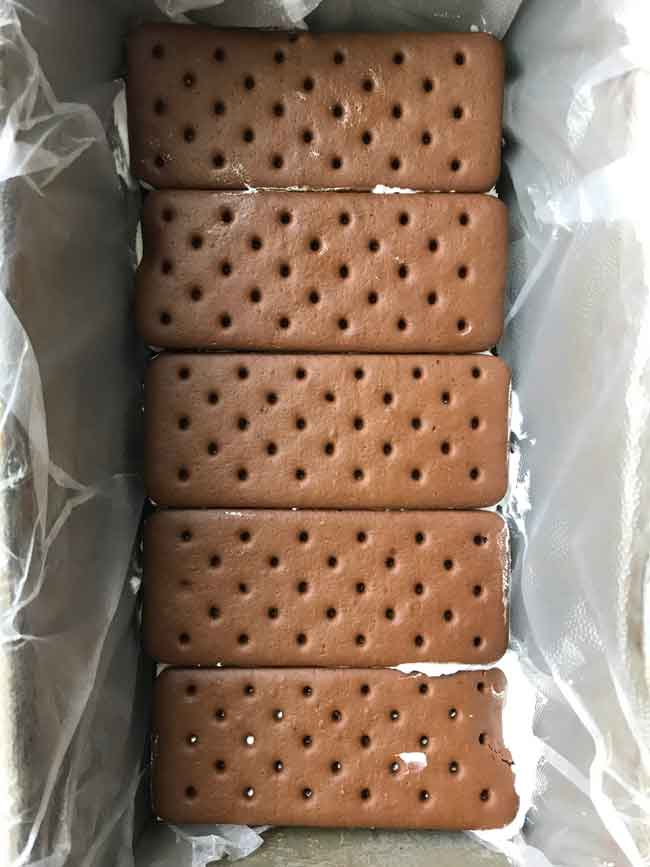 Next, you spread ice cream over the sandwiches, add a layer of whipped cream, a second layer of sandwiches and a final layer of whipped cream. Freeze for several hours or overnight, then cover the whole thing with whipped cream.  Before serving, you clean it up a bit with more whipped cream and top with syrups.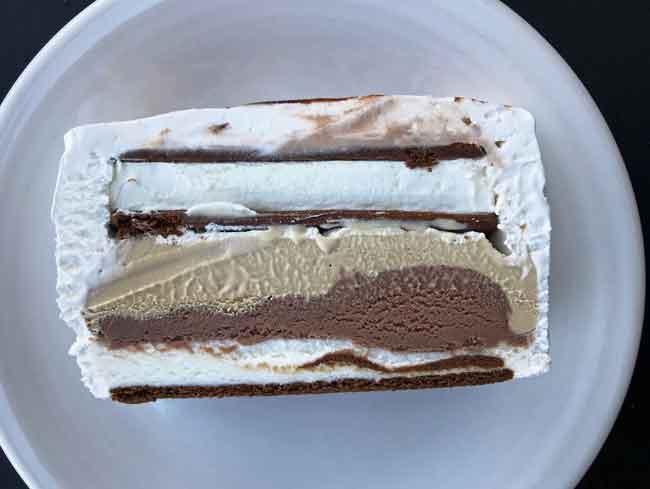 I'm not sure why I have such an affinity for ice cream sandwich cakes, but maybe it's because it's so fun to mix and match the flavors.  I've gone a little crazy throughout the years using differing pie fillings instead of ice cream, adding various cookies and changing out the ice creams and syrups.  Speaking of which, the Hershey's Sundae Dream syrups work well here. They flow just right and taste pretty good.
You can also change things up just by using different brands and flavors of ice cream sandwiches.
Recipe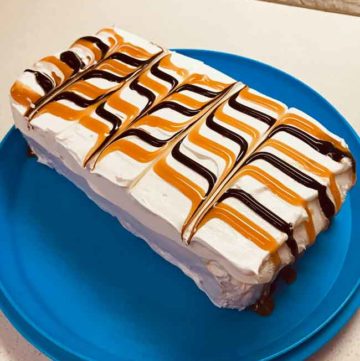 Loaf Pan Ice Cream Sandwich Cake
Cake made with ice cream sandwiches assembled in a loaf pan.
Ingredients 
3 ½

cups

frozen whipped topping, thawed

1 tub if using Cool Whip

6

ice cream sandwiches

or 10 mini sandwiches

2

cups

ice cream

Any flavor, softened

2

tablespoons

chocolate sundae syrup

1

tablespoon

caramel sundae syrup
Instructions 
Line the inside of a loaf pan with foil or plastic wrap. Plastic wrap works best.

Lay ice cream sandwiches lengthwise in the loaf pan, side by side covering the bottom and trimming to fit pan if needed. If using mini sandwiches, lay 5 horizontally across bottom.

Spread softened ice cream over sandwiches (1 cup chocolate and 1 cup coffee) then add a thin layer of whipped topping and a second layer of ice cream sandwiches. Spread more whipped topping across the top. Freeze until firm.

Remove from the freezer and lift out of the pan. Cover entire block with whipped topping. Return and freeze until firm.

When ready to serve, remove from pan and cover with whipped topping, smoothing it so you have a neat block. Set on a serving plate and drizzle with the toppings.
Notes
Cook time is actually freezer time. Also, if you make this with mini ice cream sandwiches, you'll only need half of the chocolate filling.
The recipe above is my new favorite, but I used to use one from Kraft. It calls for chocolate fudge sauce, instant chocolate pudding mix and cookies.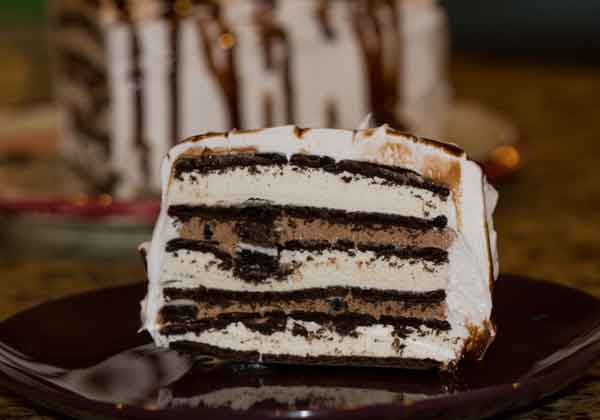 That version is a little more involved, but it's an interesting array of textures.