Here's another pecan pie, and since I have so many I'm naming it as such!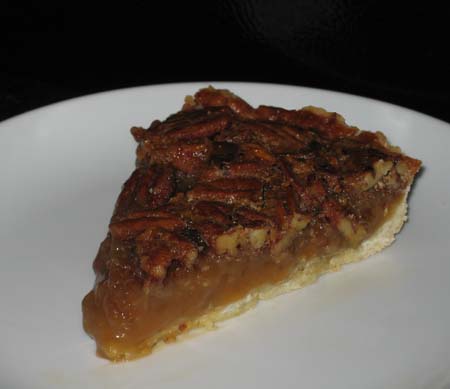 This is a traditional pecan pie with a filling that is very soft, but sets up well. It is a sweet pie, so if you prefer less sweet pies, you might want to consider a different recipe. Still, it's not cloyingly sweet and one friend said it was the best pecan pie he'd ever tasted.
Here are some steps I took to make the pie taste better:
1) toasted the pecans
2) browned the butter and
3) cooked the syrups and sugar before using.
If you want to take it one step further, bake the pecan pie a day ahead, let it cool completely, then freeze it and thaw it. For some reason, pecan pie smooths out after being frozen. If you don't freeze this one, it's still excellent.
I used a crust recipe from Baking in America (#ad) you can buy on Amazon and which is an awesome book. I didn't fashion a rim for the pie, which is why this one looks kind of strange. The crust was terrific, though. At some point, I'll post that recipe too.
Recipe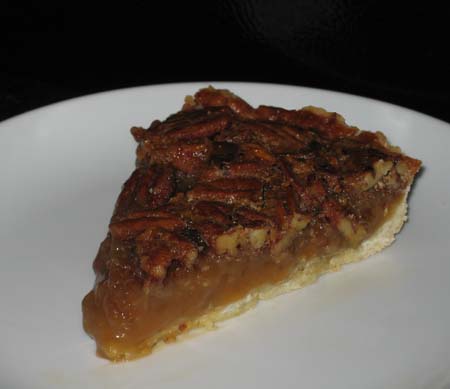 Another Pecan Pie
In this recipe the sugar an corn syrups are boiled together before being mixed with the eggs and other ingredients.
Ingredients 
1 ¼

cups

pecans

whole (you can use up to 1 ½ cups)

1

cup

granulated sugar

¾

cup

light corn syrup

¾

cup

dark corn syrup

4

large eggs

4

tablespoons

butter

melted, browned and slightly cooled

1 ½

teaspoons

vanilla

1

unbaked pie shell
Instructions 
Preheat the oven to 350 degrees F. Lay the pecans flat on a cookie sheet and toast them for 8-10 minutes. Let them cool, then chop them.

Meanwhile, in a small to medium size saucepan, boil sugar and both corn syrups together for 2 to 3 minutes; set aside to cool for 20 minutes.

In a mixing bowl beat eggs lightly with a spoon and slowly pour the syrup mixture into the eggs, stirring constantly. Stir in the cooled browned butter, vanilla, and toasted pecans; pour into crust. Set pie plate on a cookie sheet and bake for 40 minutes.

When you take the pie out of the oven, it will still be quite jiggly. Let it cool for a few hours and don't be tempted to cut into it. It will set as it cools.

Notes: To brown butter, heat butter in a small saucepan over medium. Keep a close eye on it and just when you see brown on the edges, remove from heat and swirl to stir up the browned bits.