It's the day after Thanksgiving and I'm home alone eating Weight Watchers macaroni out of a mug. The rest of the family went to the movies, but trust me, I'd rather be here reading the New York Times on-line in my bathrobe (it's 1:30 by the way). Thanksgiving was easier than I'd anticipated. I got so much done ahead of time that I was able to try a new most-excellent brownie recipe. This recipe for Orange Feta Brownies, sounds like it's from Food and Wine or Bon Appetit, but is actually from Nestle's "Very Best Baking" site. Here's the original recipe.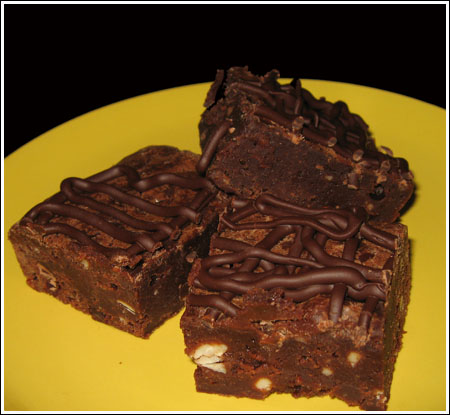 Some of you might be gagging a little right now and that's okay. I did too. But I knew the Nestle test kitchen wouldn't put something outrageous on their website, so I decided to try the recipe. Not only are the brownies delicious, but they've solved my problem of what to do whenever there's a small bit of feta cheese in the refrigerator. Nestle calls for orange liqueur, but I didn't have any and used some boiled-down orange juice instead. It worked wonderfully and the brownies are amazingly good – not unlike a Cadbury Chocolate Orange in brownie form. I've retyped the recipe below as I made it, but the original is here. P.S. You can use whatever brand dark chocolate you want, but since Nestle was nice enough to formulate this recipe, I left the product name in the recipe.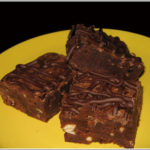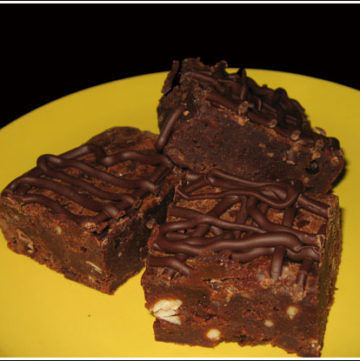 Print Recipe
Orange and Feta Brownies
An unusual recipe for brownies flavored with orange and a little feta cheese.
Ingredients
1 2/3

cups

10-oz. pkg. NESTLÉ CHOCOLATIER™ 53% Cacao Dark Chocolate Morsels, divided use

1

cup

granulated sugar

1/3

cup

butter

cut into pieces

1

tablespoon

water

2

large eggs

1 to 2

tablespoons

orange liqueur

such as Cointreau or Grand Marnier or reduced oranges juice (see note)

3/4

cup

all-purpose flour

1/4

teaspoon

salt

1/3

cup

crumbled

traditional feta cheese

1 to 2

teaspoons

orange zest
Instructions
Preheat oven to 325º F. Line an 8 inch square metal pan with non-stick foil.

Set aside 2 tablespoons of the chocolate morsels – you will be melting them and drizzling.

In a large saucepan, heat 1 cup of the morsels, sugar, butter and water over low heat, stirring constantly, until chocolate and butter are just melted. Remove from heat. Let cool slightly (about 3 minutes). Stir in eggs, one at a time, until mixed in. Stir in liqueur or concentrated orange juice (see my note). Add flour and salt; stir well. Stir in cheese, remaining morsels (except reserved 2 tablespoons) and orange zest. Pour into prepared baking pan. Bang the metal pan on the counter to bring air bubbles to top.

Bake for 35 minutes until wooden pick inserted in center comes out still slightly sticky. Remove pan from oven and set it in a larger pan (roasting pan). Fill roasting pan with ice water so that it comes halfway up sides of small pan. Allow the brownies to cool to room temp in the ice water bath. When cool, melt remaining 2 tablespoons of chocolate and drizzle decoratively over brownies. Chill thoroughly. Cut into squares.