The Ultimate Black Bottom Cupcake Recipe?
I think this is it. Or at least, it's a pretty decent hybrid. It's a combination of Magnolia Bakery's and Cook's Country's recipe.  Two great recipes that come together to make one Ultimate Black Bottom Cupcake.
As mentioned earlier, the problem I had with the Cook's Country recipe was that the pretty white filling sank down into the cupcake.  And while the cross section looked great, the top didn't have enough white on it.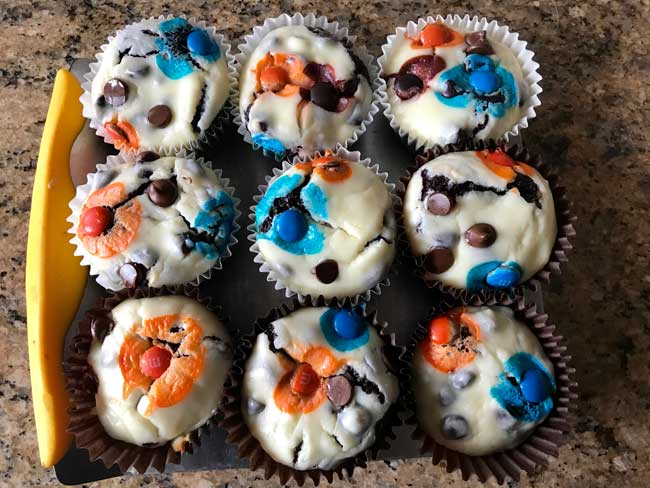 The problem with the Magnolia cupcake, and in hindsight it really wasn't a problem just a nitpick, was that the yolk in the cheese filling/topping made the topping brown a little bit too much.
Combining the two recipes resulted in a fairly white top which didn't sink plus a very flavorful cake base (Magnolia's). If you try it, let me know. The only problem with the recipe is that you might have a little filling left over.
One more note. I don't like the way those mini chocolate chips feel in my mouth so I'm going to stick with normal size chocolate chips. They didn't cause any sinkage and using normal size lets you choose from a wider variety of chocolate chip brands.

The Ultimate Black Bottom Cupcake
My favorite recipe for cupcakes with cream cheese and chocolate chips.
Ingredients
Filling:
16 oz cream cheese, room temperature
1/2 cup sugar
1/4 tsp salt
2 large egg whites, room temperature
2 tbsp sour cream, room temperature
1/3 cup miniature or regular size chocolate chips – or however many you want
Cake:
1 3/4 cups all-purpose flour (7.9 oz)
3/4 cup unsweetened Dutch process cocoa powder – Hershey's Dark
1 teaspoon baking soda
1/4 teaspoon salt
1/2 cup vegetable oil
1 cup granulated sugar
1 cup buttermilk, room temperature
2 teaspoons vanilla extract
Instructions
Preheat oven to 350 degrees F. and line 18 muffin cups with paper liners.
Beat the cream cheese, sugar and salt until smooth. Add the egg whites and stir or beat on low speed just until mixed; stir in the sour cream and chocolate chips. Set aside.
Mix the flour, cocoa powder, baking soda and salt together in a small bowl.
In the actual mixing bowl, beat together the oil and sugar. You can do this with a whisk, spoon or hand-held mixer.
Mix together the buttermilk and vanilla. Add the buttermilk/vanilla mixture and the flour alternately to the sugar/oil mixture. Stir until smooth – be careful not to overbeat.
Divide the chocolate batter evenly among the muffin tins. Spoon large tablespoonfuls of cream cheese batter over the chocolate batter. You should have some cream cheese batter leftover.
Bake on center rack for about 25 minutes. Let cool in cupcake pan for 30 minutes and then transfer to the refrigerator to chill. Makes 18