The Ultimate Black Bottom Cupcake Recipe?
I think this is it. Or at least, it's a pretty decent hybrid. It's a combination of Magnolia Bakery's and Cook's Country's recipe.  Two great recipes that come together to make one Ultimate Black Bottom Cupcake.
As mentioned earlier, the problem I had with the Cook's Country recipe was that the pretty white filling sank down into the cupcake.  And while the cross section looked great, the top didn't have enough white on it.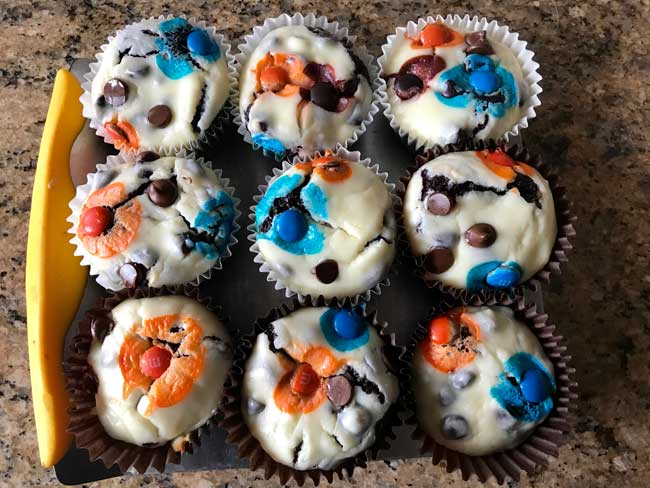 The problem with the Magnolia cupcake, and in hindsight it really wasn't a problem just a nitpick, was that the yolk in the cheese filling/topping made the topping brown a little bit too much.
Combining the two recipes resulted in a fairly white top which didn't sink plus a very flavorful cake base (Magnolia's). If you try it, let me know. The only problem with the recipe is that you might have a little filling left over.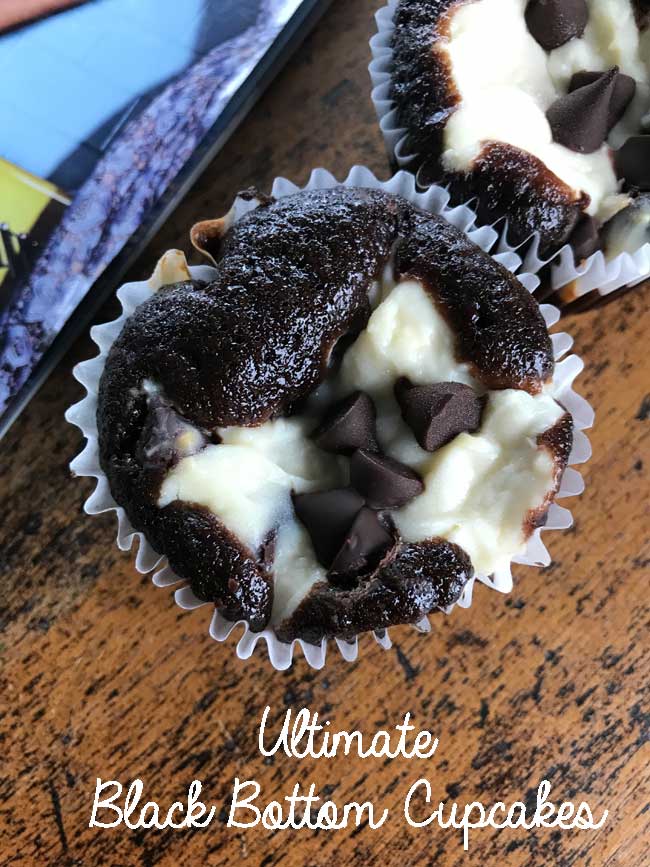 UPDATE: This version is slightly revised due to the fact I got a complaint from someone who said the original version's cake part was dry.  I've been making the recipe for years and hadn't had issues with dryness, then I realized Hershey's changed the formula of their Dutch process cocoa and that it was causing problems.  So this new version uses far less cocoa powder, and you can use any brand of Dutch process you want.  I haven't yet tested with natural style cocoa powder.
Recipe
The Ultimate Black Bottom Cupcake Recipe
This is one of my favorite recipes for an American dessert known as black bottom cupcakes. I've changed the chocolate cake component a little bit over the years, but the topping remains the same. Be careful when filling the muffin cups because these rise quite a bit. My cupcake wrappers are slightly larger so I make 18, but if using the small pastel colored liners from the grocery store you may want to make 20.
Ingredients 
Filling:
16

oz

cream cheese

room temperature

½

cup

sugar

¼

tsp

salt

I use a scant ¼

2

large egg whites

room temperature

2

tbsp

sour cream

room temperature

⅓

cup

miniature or regular size chocolate chips – or however many you want
Cake:
1 ½

cups

unbleached all-purpose flour

190 grams

¼

cup

unsweetened Dutch process cocoa powder

24 grams

1

teaspoon

baking soda

½

scant teaspoon salt

1

cup

granulated sugar

200 grams

½

cup

water

⅓

cup

vegetable oil

1

teaspoon

vanilla extract

1

teaspoon

apple cider vinegar

¼

cup

chocolate chips
Instructions 
Preheat oven to 350 degrees F. and line 18 to 20 muffin cups with paper liners.

Beat the cream cheese, sugar and salt until smooth. Add the egg whites and stir or beat on low speed just until mixed; stir in the sour cream and chocolate chips. Set aside.

Mix the flour, cocoa powder, baking soda, salt and sugar together in a mixing bowl. Add the water and stir until smooth, then add the oil and vanilla and stir until smooth. Stir in the vinegar, then stir in the ¼ cup chocolate chips.

Divide the chocolate batter evenly among the muffin tins. It won't look like much, but the chocolate will rise up quite a bit.

Spoon generously heaping tablespoonfuls of cream cheese batter over the chocolate batter. You may have some cream cheese batter leftover, making sure there's room for the cupcakes to rise.

Bake on center rack for about 25 minutes. They should puff up quite a bit and fall as they cool. Let cool in cupcake pan for 30 minutes and then transfer to the refrigerator to chill. Makes 18 to 20.
Notes
I use slightly larger cupcake liners/papers which I buy on-line so I get 18 cupcakes. If you are using typical cupcake liners from the grocery store, you may want to use 20 liners.