These prize winning Jumble Cookies are from a recipe adapted from one submitted by Michael Reinhardt to The Chicago Tribune's cookie contest.  He called them "Crispy Chocolate Jumbles" because they are made with crisp rice cereal, chocolate chips and dried fruit. This recipe is a rather old one (if you can't tell by some of the photos), and it's one I forget about. That's a shame because the cookies are really good!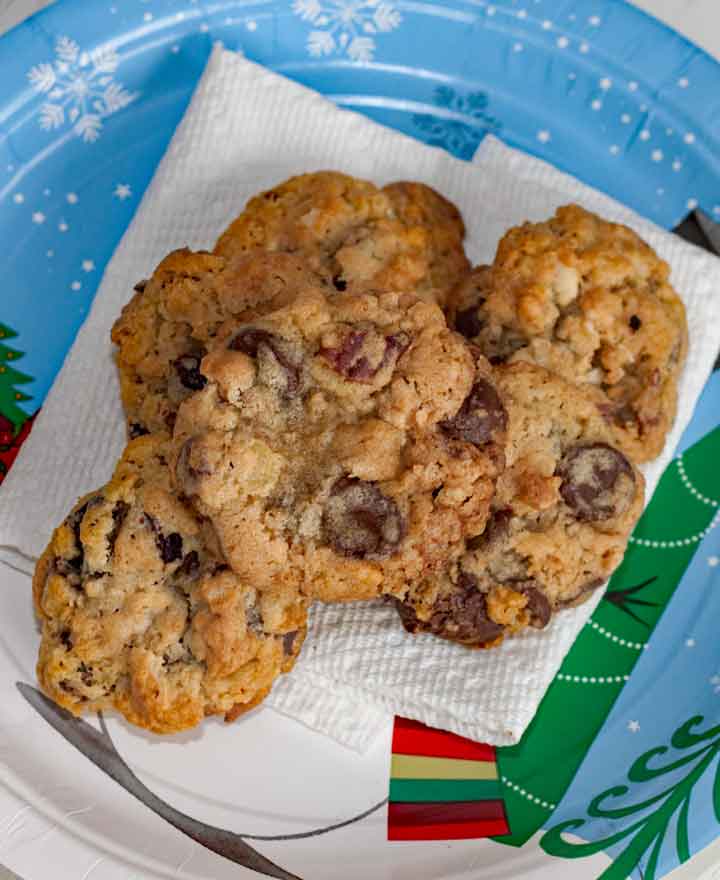 Jumble Cookies Name Origin
I always thought the name Jumble Cookies came from the fact the cookies are made with a jumble of ingredients, but based on what I've read, the term "jumble" evolved from a type of cookie known as Jumballs, which were rolled into knots and sprinkled with sugar.  The cookie just evolved over time, because I've seen lots of various "jumbles". This one deserves its prize winning status.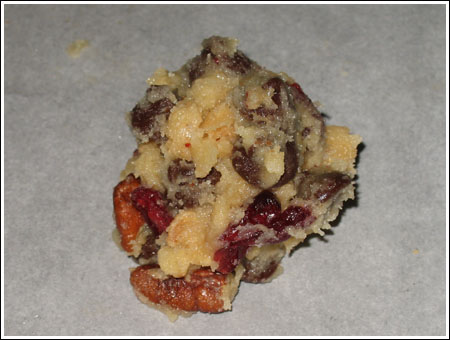 Here's the recipe with some little adjustments. I used a bit of brown sugar, increased the salt slightly and added some toasted nuts. If you bake them for the full 12 minutes, they are very brown and crispy. I found 11 minutes to be more on target, but ovens vary so make sure to keep an eye on yours.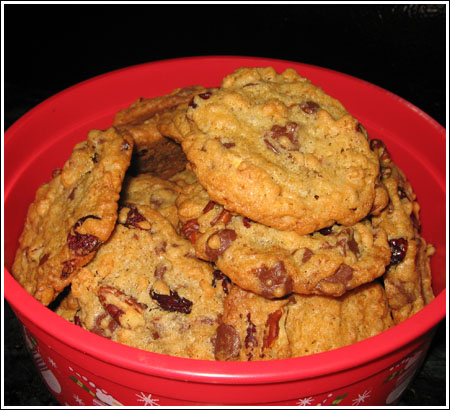 Related Recipes
Recipe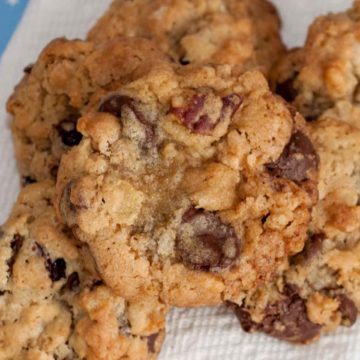 Prize Winning Jumble Cookies
Chocolate chip cookies made with Rice Krispies and dried cranberries.
Ingredients 
1 ¼

cups

all-purpose flour, sifted or well stirred**

160 grams

½

teaspoon

baking soda

¼

teaspoon

salt

4

ounces

unsalted butter, room temperature

114 grams

¾

cup

sugar

150 grams

¼

cup

firmly packed brown sugar

50 grams

1

egg

1

teaspoon

vanilla

2

cups

crispy rice cereal

1

cup

semisweet chocolate chips

( you can use more if you like)

½

cup

toasted pecan pieces

½

cup

dried cranberries or cherries
Instructions 
Preheat oven to 350 degrees.

Thoroughly stir together the flour, baking soda and salt; set aside.

With an electric mixer, beat butter and sugar for 3 minutes. Add egg and vanilla and beat for about 30 seconds. Stir in the flour mixture; stir in the cereal, chocolate chips and dried cranberries just until mixed. If using, go ahead and add the pecans.

Drop by well-rounded teaspoonfuls onto a lightly greased or parchment lined baking sheet; bake until golden, about 10-12 minutes. Transfer to a wire rack to cool.

My yield was close to 4 dozen. If you use tablespoons rather than rounded teaspoonfuls, you'll get close to 3 dozen.
Notes
It's best to weigh.  You can use anywhere from 150 to 165 grams.  If you are measuring by volume, make sure to really stir and aerate the flour, then spoon it into the measuring cups.