This recipe for Oatmeal Banana Cookies aka All-Natural Oatmeal Banana Cookies is a very old one. It pre-dates all the fancy new sugar and flour alternatives readily available today. Butter, banana, oats and vanilla are the base ingredients -- no leavening agents, no extra salt, just those things. But then you can add your embellishments, which in this case are chocolate chips.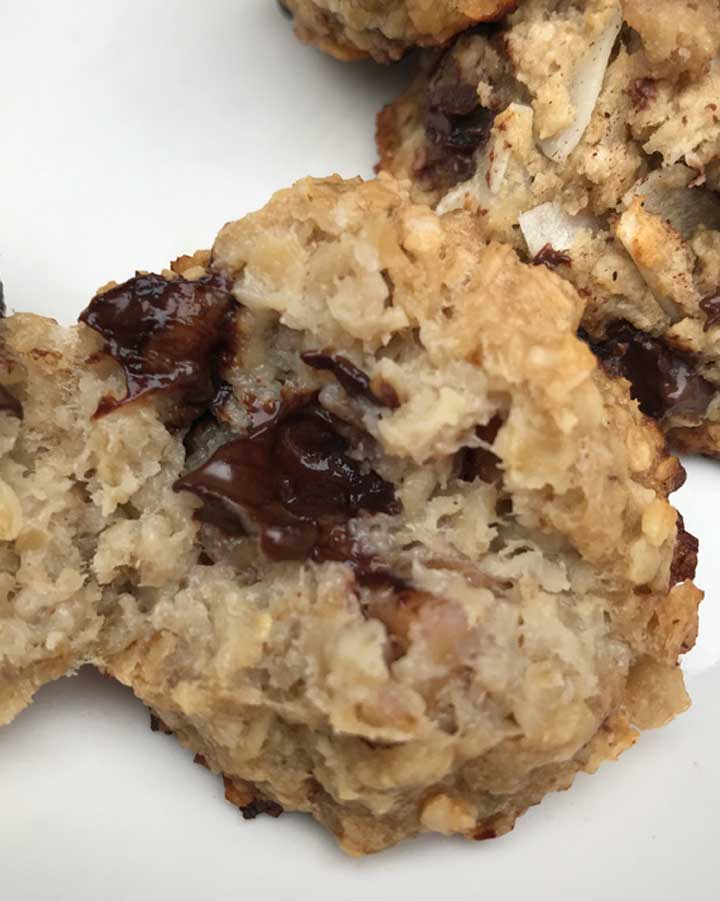 Junk Mail Oatmeal Banana Cookies
The recipe is from Sue, who found it in some junk mail. Thanks to this recipe, it turned out not to be junk mail. I've noticed this a lot lately. I'll start throwing something away and notice a realtor or an insurance agent (or the local hospital) has cleverly included a recipe, so of course the mail gets saved. Anyhow, All-Natural Oatmeal Banana Cookies were originally called "Sugarless Oatmeal Cookies" because they don't have any added sugar. In my opinion, with some chocolate chips thrown in, they are just the right sweetness.
I originally described them "as little piles of baked banana oatmeal with add-ins" . Back then I'd' never tried baked oatmeal, but now that I know what baked oatmeal is I'd say these are like miniature versions of baked oatmeal.
Recipe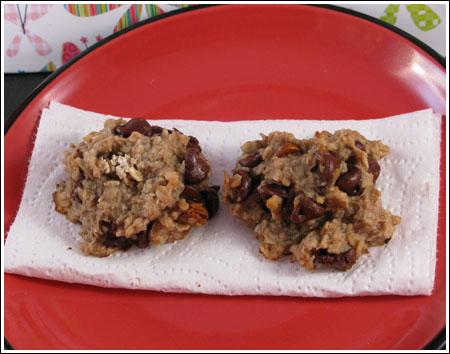 All-Natural Oatmeal Banana Cookies
All-Natural Oatmeal Banana Cookies made without refined sugar
Ingredients 
⅓

cup

salted butter or vegan butter (plant butter)

(80 grams)

3

ripe bananas, pureed or very well mashed

(350 grams)

2

cups

quick cooking oats

½

c.

raisins, Craisins or chocolate chips

1

teaspoon

vanilla extract

¼

c.

regular milk or almond milk

(if needed)
Instructions 
Preheat oven to 350 degrees.

Melt butter in a microwave-safe mixing bowl or in a large saucepan.

Add all remaining ingredients, but watch the milk because you may not need all of it.

Let stand for about 5 minutes, until oats are soft.

Lightly grease a cookie sheet or line with nonstick foil or parchment paper.

For each cookie, spoon out about 1 T. of dough and drop it onto the greased or lined cookie sheet.

Bake the cookies for 15 to 20 minutes.

Let cool on the cookie sheet for about 1 minute.

Move the cookies to wire racks or a towel to cool.