My collection of Levain Copycat recipes is out of control, which is funny because I actually prefer thin and crisp chocolate chip cookies or even tiny Mini Chocolate Chip Cookies. But my friends back in Texas and Chicago go crazy for big fat cookies, so I've continued to play with this small batch Levain Copycat recipe over the years. I've baked these in all kinds of ovens, with my new favorite being my Ninja.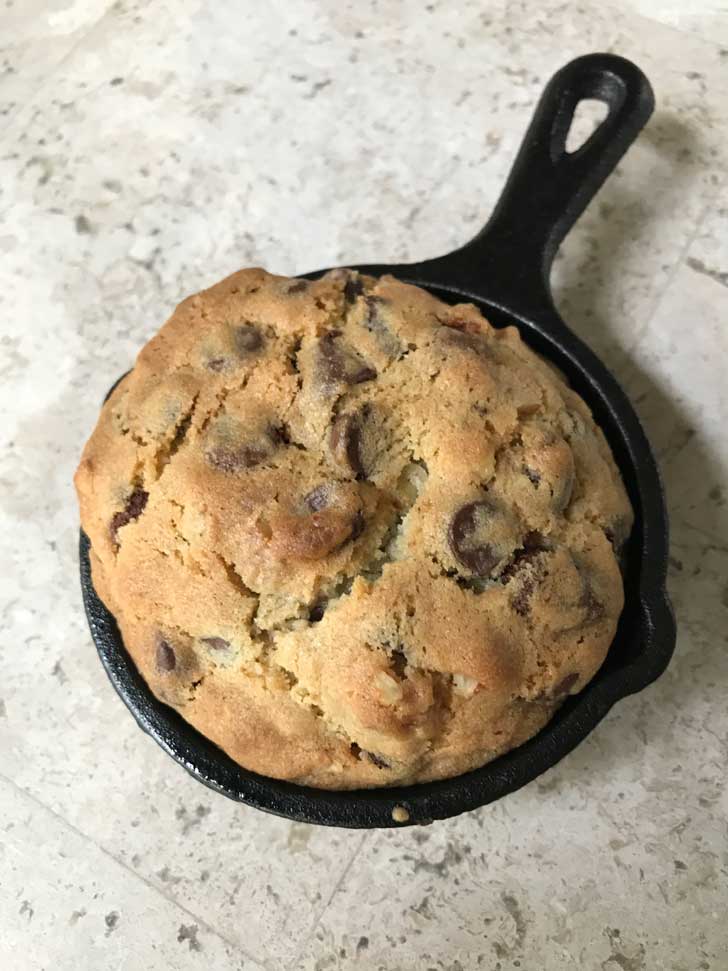 The pictures below are from my first attempts to make similar cookies without having ever tried a cookie from their bakery.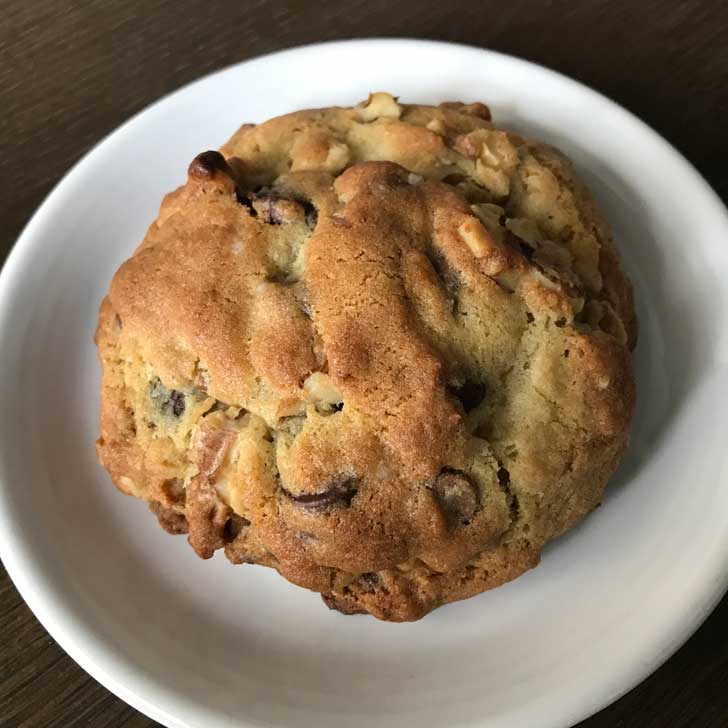 Eventually I made it to New York's Upper West Side where we tried the real thing, which were (are) way better and which gave me an idea of how the cookies should be – thick, oozing with chocolate and slightly under-baked.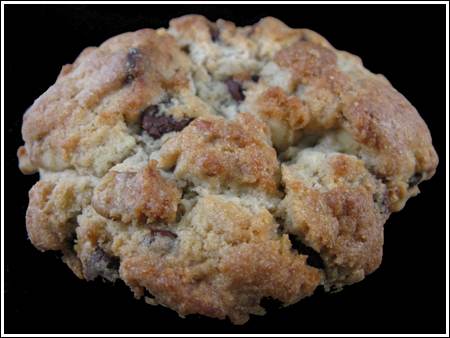 From that point I made small batch Levain copycats — some with baking soda and powder, others with just soda, all with different types and ratios of flour. At one point I thought European style butter might be key because my cookies made with Plugra were coming out thicker and tastier, but I've since given up that idea because not all European style butter work the same plus I don't think an American bakery could make a profit using European style butter in cookies. So now I just use Land o' Lakes and whatever flours I feel like playing with.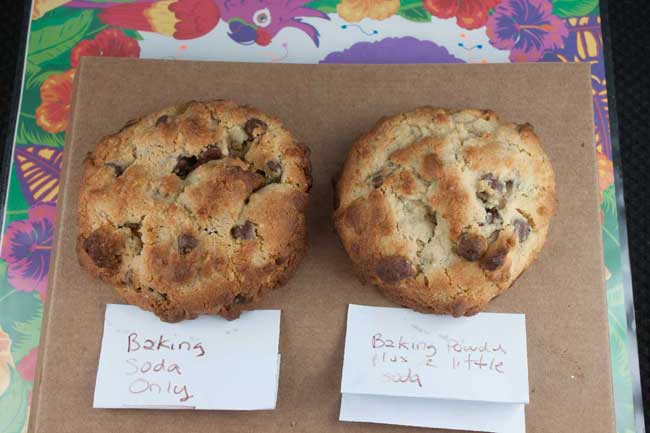 Small Batch Levain Style
Experimenting is always fun, and if you are new to it you may want to start with a small batch recipe. This is one I came up with early on. It calls for all baking soda, no powder and lots of walnuts. It must be refrigerated and you pretty much have to use the walnuts to get the texture and shape right.
In addition to the small batch version, I've added a "regular size" batch. I've been making these for years with very good results.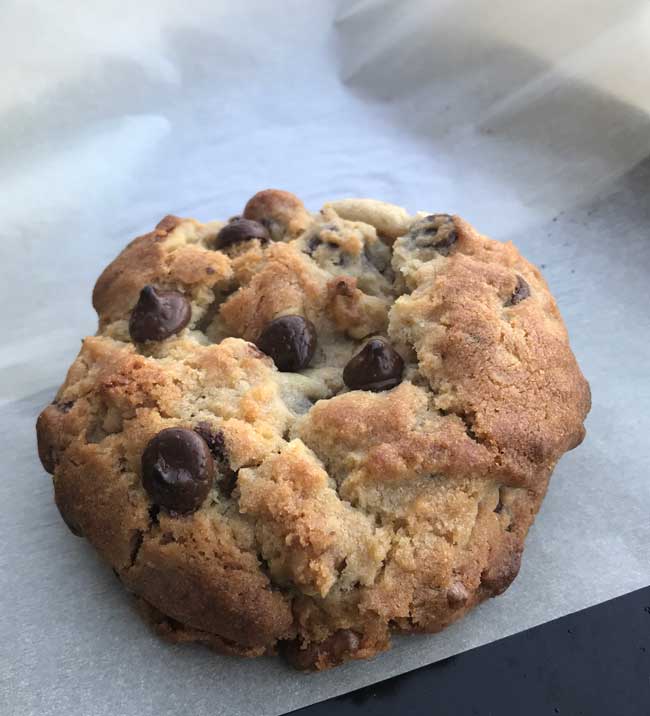 If you don't like walnuts or have tried this version and aren't happy with it, here's another cookie recipe people seem to like — Roasted Flour Chocolate Chip. Roasting a small portion of the flour makes them tall and thick. Unlike the one on this page, the other works well without the walnuts. A newer recipe I really like is for Milk Powder Chocolate Chip Cookies.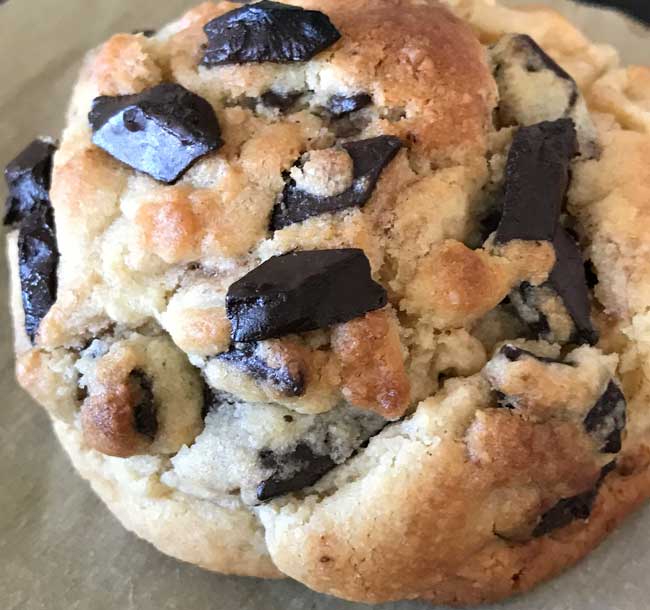 Some Levain Copycat Making Notes
Butter: As mentioned above, Plugra works really well, though not all European butters improve the final cookie. The important thing is that it's cold.
Sugar: The lower ratio of sugar to flour helps keep these cookies from spreading too much. Use less and you should get less spread, use more sugar for more spread.
Flour: I'm always experimenting with flours, but it seems bleached all-purpose makes the cookies a little fatter and softer. For the small batch version you would use 83 grams bleached AP flour. That being said, half the time I just use unbleached because that's what we have. So bleached or unbleached are okay, but keep in mind bleached might give you a taller, fatter, cookie. Bread flour also works and gives the cookies a thicker shell, though some people swear by a mixture of bread flour with cake. At the end of the day, I think whatever mix of flours you use might also depend on the brands and their protein count.
Caputo's Type 00 Flour: The cookie in the first photo (most recent) is one I tested with part bread flour (60 grams) and part type 00 flour ( 23 grams).
Eggs: Two tablespoons of beaten egg is equal to one half of an egg and should weigh somewhere around 25 grams.  If your beaten egg mixture has a higher ratio of yolk to white, you'll get a slightly taller cookie.  It doesn't really apply to the small batch version, but if you ever need to halve a recipe with one egg and one yolk, a good trick is to crack one egg into a cup and discard 17 grams of the white. That's the equivalent of half one egg plus one white!
Note on Baking Soda & Powder — If you are not using nuts, you'll need to incorporate some baking powder. To make Small Batch Levain Copycats without walnuts, use only 1/8 teaspoon of baking soda and 1/4 teaspoon of baking powder.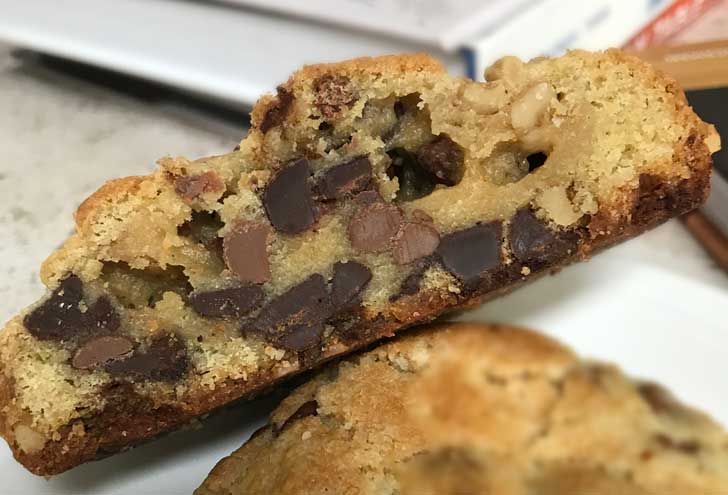 Baking Giant Cookies in the Ninja Foodi Smart 5-1 Grill
I just bought a Ninja Foodi Smart 5-1 Grill at Costco and am having so much fun with it! The "Bake" function is great for making giant cookies with a thick crust and chewy inside. The Super Small Batch Levain copycat dough works really well. To bake a giant cookie in the Ninja, turn it on, set it to "Bake", set the temperature to 300 and the time to 18 minutes (slow and low for air fryer cookies!) and let it preheat. Meanwhile, line the bottom of the air crisper tray with some parchment and wet it a bit to keep it from flying up. Set one piece of the cookie dough (I only bake one at a time) on the parchment. When the Ninja says "add food", put the basket in the oven, close the lid and let the cookie bake at 300 for 18 minutes.
Super Small Batch Levain Copycats
4 tablespoons unsalted cold butter, cut into chunks (58 grams), Plugra gives best results
2 tablespoons granulated sugar (25 grams)
3 tablespoons packed light brown sugar (36 grams)
2 tablespoons lightly beaten egg (25 grams)
1/4 teaspoon vanilla
83 grams all-purpose flour (or try your own variations using bread & AP etc.)
1/4 teaspoon salt (scant)
1/4 scant teaspoon baking soda (just a little under 1/4)
1/2 teaspoon cornstarch (optional, really shouldn't need if you use Plugra)
Large handful chocolate chips (semisweet)
Large handful whole toasted walnuts (untoasted okay too)
In a mixing bowl, using an electric mixer, beat cold butter and both sugars just until they come together. Don't overbeat. Add the cold egg and vanilla and beat just until mixed. Don't keep beating until smooth – you want it to be roughly creamed.
Stir together flour, salt, baking soda and cornstarch. When thoroughly mixed, add to creamed mixture and stir. The dough should seem kind of dry at this point.
Before the flour is fully mixed in, add the walnuts and chocolate chips and continue mixing (may need to use hands) allowing some of the walnuts to break.
Divide dough into 2 big balls or make 1 big ball (6 oz) and a "mini" ball (3 oz).  Stack them in the bowl, then cover and chill the dough for an hour or so (or overnight if possible).
When ready to bake, bake on a parchment lined cookie sheet in a 350 degree oven for 21 minutes. Let sit on cookie sheet for about 10 minutes to cool, them remove.
Makes 2 — Alternatively, you can make 3 cookies. Bake time will be slightly shorter. If baking with convection, bake at 350 for about 18 minutes.  If for some reason your cookies spread too much, carefully push the edges inward before the cookies are done baking.
Recipe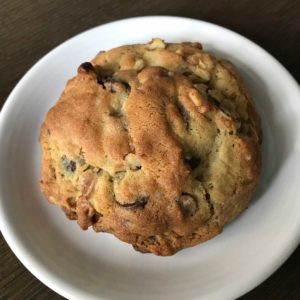 Not So Small Batch Levain Copycats
You can play around with the flour a bit. I like using a mixture of cake and bread flour or ALL all-purpose. The cornstarch helps the dough absorb liquid from the butter and eggs, so I've added a pinch.
Ingredients 
1

cup

cake flour

114 grams (or just use AP)

1 3/4

cup

bread flour

220 grams (or just use equivalent AP)

1-2

teaspoon

cornstarch

not critical, but helps with thickness

3/4

teaspoon

baking soda

1

teaspoon

salt

1

cup

unsalted Land o Lakes butter

230 grams, cold and cut into small chunks

3/4

cup

lightly packed light brown sugar

145 grams

1/2

cup

granulated cane sugar

100 grams

2

large

eggs or use 1 extra large egg and 1 egg yolk

1/2

teaspoon

vanilla extract

1

cup

toasted and chopped walnuts

see note if you omit

1

cup

best quality semisweet chocolate chips

you can use more or less
Instructions 
This dough must be chilled thoroughly for best results, so no need to preheat the oven until ready to bake.

Mix together the flours, cornstarch, salt and baking soda and set aside. It's always nice to get that part out of the way, plus it gives you time to properly measure and weigh your flour.

In a large mixing bowl, beat the butter until it is creamy. Add both sugars and beat until blended, then reduce speed and add the eggs, one at a time, and vanilla. Be sure to scrape the sides of the bowl.

Now add the flour mixture gradually, stirring or beating on low until it is fully blended, then stir in the walnuts and chips.

Turn dough out onto a clean surface and bunch it up into a big ball. Divide into six equal lumps (or make six 6 oz cookies). Arrange on a tray or two large plates, cover, then chill overnight.

When ready to bake, preheat the oven to 375. Bake 3 at a time for about 18 minutes. Allow them to sit and thoroughly cool. They'll seem slightly doughy in the center, but once they cool and set they taste good. Alternatively, you can bake at 400 for 10 minutes, then reduce heat and bake at 350 for another 8 to 10 minutes. Starting at 400 usually results in taller cookies.
Notes
If you are omitting the nuts, use 1 teaspoon of baking powder and 1/4 teaspoon of baking soda.