If you are a fan of crunchy chocolate chip cookies, I have a special treat for you today. It's an easy, butter-only (no shortening) recipe for thin-to-medium-thickness chocolate chip cookies that are crunchy through and through. I don't make these often because I still jump around trying different recipes, but this recipe seems to be a favorite with readers all around the world.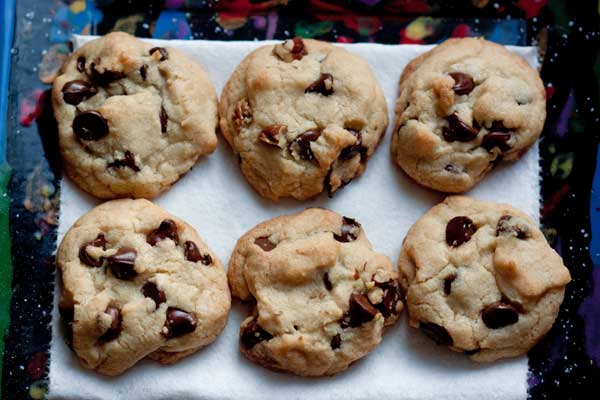 Weigh the Flour
Here's the recipe as I made it, with notes about the flour.   If you have a scale it's best to weigh the flour for accuracy since it can settle in the canister or bag. Also, remember to bring the egg to room temperature. You can leave the eggs out for an hour or do what I do, which is to just submerge the egg hot water for about 5 minutes.
Eggs Hold Moisture
This recipe calls for 50 grams of egg, but using a little less egg can also help with crunchiness. So if your cookies are still not as crunchy as you like you might want to beat the egg separately and add 45 grams rather than 50.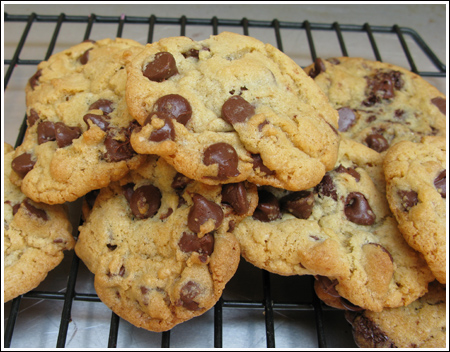 Update:  If you like these or just want to try another good and crunchy (and kind of crispy) cookie, I also recommend these Crispy Mini Chocolate Chip Cookies.  They are a house favorite, especially when I throw in a few M&Ms!  It took me a while to get them crisp through and through, but I finally figured out the trick.
Also, if you are in the market for a kitchen scale, Amazon has tons of them.  If you buy through this link to scales, I will get a very small commission.  Thanks!
Recipe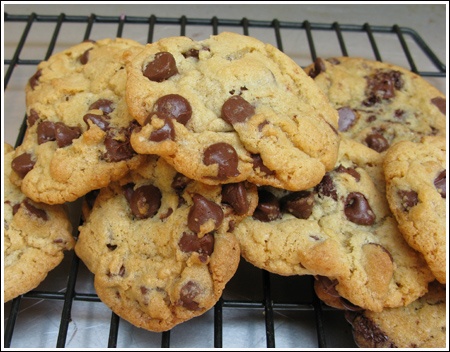 Another Crunchy Chocolate Chip Cookie Recipe -- All Butter
Crunchy Chocolate Chip Cookies made without shortening. See my note if you'd like to make the mini" version.
Ingredients 
1 ¾

cups

unbleached AP flour

(220 grams)

½

teaspoon

baking powder

½

teaspoon

soda

½

teaspoon

salt

8

tablespoons

unsalted butter, room temperature

(114 grams)

½

cup

light brown sugar

(100 grams)

½

cup

granulated sugar

(98 grams)

1 ½

teaspoons

vanilla extract

1

large

egg, bring to room temperature

(50 grams)

1 ⅓

cup

semisweet chocolate chips
Instructions 
Preheat oven to 350 degrees F. Line a couple of cookie sheets with parchment.

Sift or thoroughly whisk together flour, baking powder, baking soda and salt. Set aside.

Cream butter and both sugars with an electric mixer; Add egg and vanilla and beat until egg is mixed in.

Add flour mixture and stir until incorporated. Stir in chocolate chips.

Drop by rounded teaspoons onto the parchment lined cookie sheets and bake for 12-15 minutes (or longer) or until the edges start to brown.

Let cool on the baking sheet for about 3 minutes, then carefully transfer to a wire rack to finish cooling.
Notes
If you have a scale it doesn't matter, but if you are measuring by volume, make sure to really stir and aerate the flour thoroughly before measuring. I always weigh out 220 grams. Dough should not be too dry.
For mini chocolate chip cookies, preheat the oven to 300 instead of 350. Make tiny marble size rounds and bake for 18 to 20 minutes.
If your cookies still don't turn out crunchy, swap out about half of the butter for shortening. Easiest way is to use 4 tablespoons of butter (2 oz) and 4 tablespoons of shortening (1.7 oz). Shortening weighs a little less because it has less water.