The original recipe is from Maida Heatter, but I got it from Katy G. who is pretty much the queen of pound cake recipes. Thanks Katy, Maida Heatter and Nabisco. And Nabisco, please keep making Halloween Oreos.  For those of you not interested in putting Oreos in Maida Heatter's Pound Cake, just omit them and follow the recipe as usual.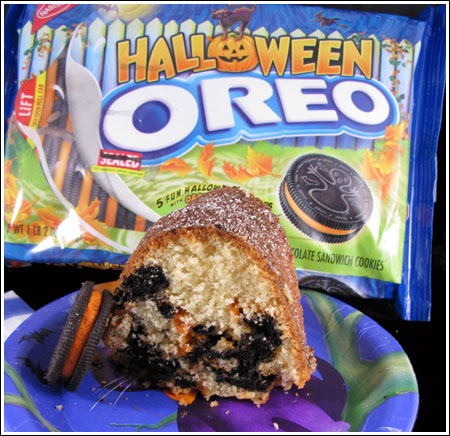 Maida Heatter's Pound Cake
18 whole Oreo cookies (Halloween Colored) -- Optional!
2 ¾ cups (330g) all-purpose flour
1 teaspoon baking soda
½ teaspoon salt
8 oz (2 sticks) unsalted butter, cool room temp (230 grams)
1 ½ cups (300g) superfine sugar
3 whole eggs, large, cool room temp
1 teaspoon pure vanilla extract
½ teaspoon pure almond extract
1 cup sour cream, cool room temp (230 grams)
Preheat oven to 350 degrees F. If you are using a black Bundt pan, preheat to 325 degrees F. Spray a Bundt pan with flour-added cooking spray.
Break the cookies into quarters; set aside. If not using cookies, skip this step!
Sift together flour, salt and baking soda. Reserve.
Cream butter and sugar with an electric mixer, beating for about 3 minutes. Beat in eggs, one by one, then beat in extracts and sour cream.
Add flour mixture and stir just until it is well-mixed – it should be fairly thick.
Spoon about 1 ½ cups of the batter into bottom of prepared pan. Form a shallow trench in the center of batter.
If adding broken cookies, fold them into remaining batter and finish filling pan, spreading the batter up the sides a bit to prevent a dome shape.
Bake for 50-60 minutes, until a tester inserted near the center comes out with crumbs. Cool and dust with powdered sugar and cocoa powder. You could glaze it, but it's not necessary.