Happy Black Friday. I haven't ventured out of the house yet because I'm too busy basking in the glow of Thanksgiving success. Everything turned out great — even the turkey, though it tested my patience. The fancy digital thermometer said the turkey was done an hour earlier than anticipated. I didn't believe the thermometer, cut into the turkey, and had to make a judgment call. There was some pink, so I stuck it back in the oven, lowered the temp, moved the thermometer and let it go another 45 minutes. By some miracle, it was perfect. The only disappointment was that my 9.75 pound turkey barely had any white meat. Are they raising big boned birds these days?
So aside from the turkey and another issue involving the neighbor's rabbit and a locksmith (don't ask), the meal and company were as good as could be expected.
Of all the dishes, my favorite was Fuzz's pumpkin pie, which was made with condensed milk (as opposed to evaporated). The pie, which got all of its sweetness from the pumpkin and the condensed milk, had a very smooth texture and great flavor. I'm going to make another one with sweet potatoes.
Speaking of potatoes, the make-ahead mashed potatoes were a hit with the little kids. I'm glad I didn't add any onion powder, because I was able to use the leftovers in today's brownie. This recipe is from the Wisconsin Potato council. I modified it a slightly by using unsalted butter and upping the salt. I also made a half batch using an 8 inch square pan, but below is the full batch recipe. This is a fun way to use leftover potatoes. The brownies tasted great and had an interesting texture….like baked potatoes maybe? Okay, not really. But the texture was a little different….not in a bad way.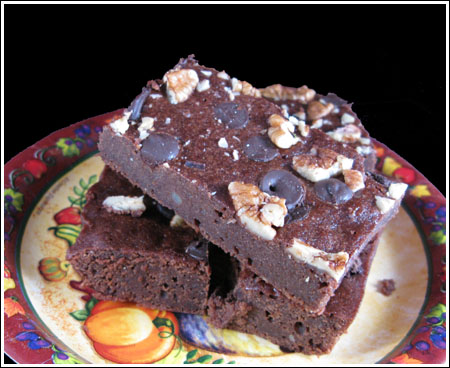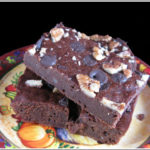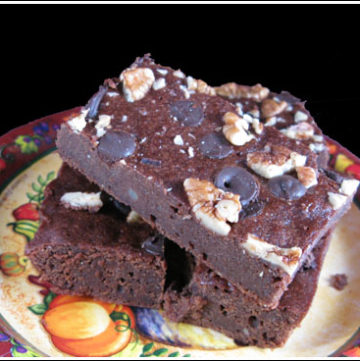 Print Recipe
Double Chocolate Mashed Potato Brownies
Mashed Potato Brownies have a fudgy, firm texture.
Ingredients
6

oz

unsalted butter

3

ounce

squares unsweetened chocolate

1-1/2

cups

granulated sugar

4

eggs

room temperature

1

teaspoon

vanilla extract

3/4

teaspoon

salt

1

cup

mashed potatoes

unseasoned (meaning no onion or garlic)

1

cup

all-purpose flour

120 grams

3/4

cup

semi-sweet chocolate chips

3/4

cup

chopped walnuts or pecans
Instructions
Preheat oven to 350°F. Line a 13x9 inch metal pan with foil and grease foil.

Melt butter and chocolate in a medium saucepan over low heat until smooth. Let cool 15 minutes.Stir in sugar, eggs, vanilla and salt. Stir in mashed potatoes until smooth.

Add flour and stir to combine. Pour into prepared baking pan.

Sprinkle with chocolate chips and nuts. Bake until brownies feel firm when lightly touched, about 25 to 30 minutes (for half batch, bake 22 minutes). Cool on rack. Cut into squares to serve. Store in a container that allows air – airtight containers will be soggy.