This morning I posted a link to an old New York Times article with three cookie recipes, one of which was for a hazelnut paste chocolate chip cookie recipe. I still have a hard time finding hazelnut paste/butter and have had to, on occasion, make it myself. But rather than mess up a lot of dishes today, I decided to make these with almond butter.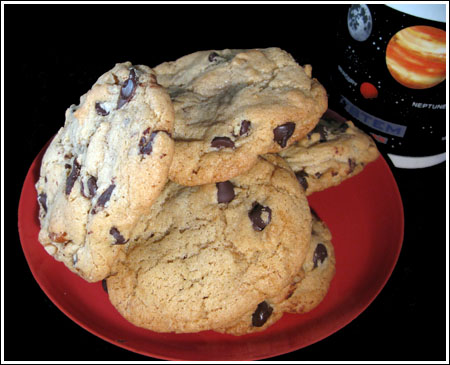 The cookies, which are credited to a pastry chef named Bill Yosses, are beautiful.  At first, I wasn't sure if I'd like them because they came out of the oven kind of thick and cakey, but once they cooled, they became rather crisp and crunchy.
My only complaint is these don't seem quite buttery enough and I'm wondering if maybe there's a typo in the original recipe and that it should be 2 sticks of butter. Then again, there's that study that says people who had a lot of ear infections as children may crave more fat and I had my share of ear problems. So if you make these, let me know. I gave mine to friends and am hoping to get some feedback.  And if you're craving fat, blame your ears!
Recipe Here (near end of article)