The New York Times No Knead Bread recipe works! Over the years it's become one of my favorite breads, and I use both the original recipe plus the "speedy" version (NEW LINK TO RECIPE). Here's a photo of the latest loaf. This one is the Speedy No Knead Bread.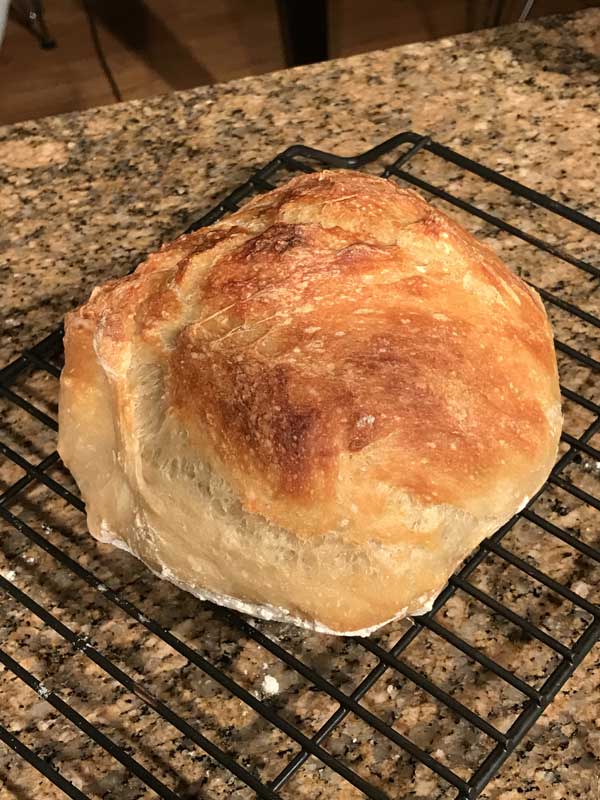 The original recipe has a bit more flavor, but the speedy version is wonderful as well and usually what I make since I don't always think about making it a day ahead.
The bread reminds me of some bread I had years ago from La Brea bakery. It has a good flavor, but the best feature is crisp and crackly crust. This is something I was never able to achieve with other bread recipes and it's what I like most about bread. My loaf spread a little bit more than I'd hoped, but it still tasted excellent and had a light and slightly chewy (but not overly so) crumb.
This really is a great recipe and I think Le Creuset should use it in all their promotional material so people will buy their pots. I used a Le Creuset 7 1/4-Quart Round French Oven
, I'm tempted to buy another smaller pot just so I can make some smaller and possibly rounder loaves.
Of course Lodge makes less expensive cookware. They have a 2 quart lidded bean pot on their site and you can buy a Lodge Logic Pre-Seasoned 5-Quart Dutch Oven with Loop Handles
on Amazon for less than $30.