I was going through a stack of old recipe cards and came across one with a picture of a big & flashy mocha cheesecake. It looked delicious, but I couldn't justify making a whole cheesecake for just the three of us and cheesecake isn't the easiest thing to share. A few days later, after giving up on the idea of cheesecake, I found this recipe for a mocha cheesecake bar cookie (origin unknown). Using an 8 inch metal pan and weighing out half the ingredients, I made a half batch. Now I wish I'd made a full batch because these are excellent. Plus, they can be frozen. So below is the full batch recipe, but you can always have it if you wish to save your half can of condensed milk and half brick of cream cheese for another use.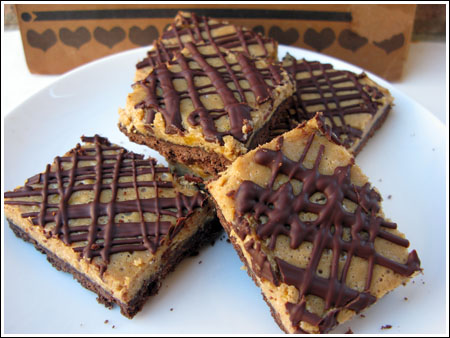 Mocha Cheesecake Squares
1-¼ cup all-purpose flour
1 cup powdered sugar (sifted if you have time – I didn't)
½ cup unsweetened cocoa powder
¼ teaspoon baking soda
¼ teaspoon salt plus an extra pinch
12 tablespoons cold unsalted butter
1 (8-ounce) package cream cheese, softened
1 (14-ounce) can (1-¼ cups) sweetened condensed milk
1 tablespoon instant coffee crystals dissolved in 1 tablespoon hot water
2 large eggs
½ cup semi-sweet chocolate chips
Preheat oven to 350 degrees F.
Line a 13x9 inch metal baking pan with Release foil or line with regular foil and spray foil with cooking spray.
Combine flour, powdered sugar, cocoa, baking soda and salt in bowl of food processor. Add butter and pulse until coarse and mealy. Alternatively, you may mix dry ingredients in a bowl and cut in butter with a pastry cutter. Press into bottom of pan and bake for 15 minutes.
Rinse out food processor bowl – no need to use soap. Add cream cheese and condensed milk and process until smooth. Add coffee and process; add eggs and process just until eggs are mixed in. Alternatively, you may beat the ingredients together in a mixing bowl. Pour over crust. Bake for 20 minutes or until set.
Cool completely on a wire rack then refrigerate. When firm, cut into squares. Melt chocolate chips in the top of a double boiler or in a heat proof bowl set over simmering water. Transfer melted chocolate to a resealable plastic bag and with a scissors, snip off a tiny corner of the bag.
Drizzle melted chocolate over squares.
Note: I actually did the drizzling before cutting the squares and things worked out fine.
Makes 24