Maple Cream Cheese Sweet Potato Bars were adapted from a pumpkin bar recipe from Libby's. Since I wasn't sure I'd like the results, I halved the original recipe and baked it in a 9 inch square pan. I also added pecans and orange zest because those things always taste good with sweet potatoes.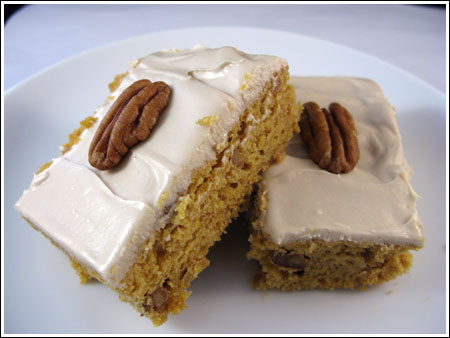 The bars were good, but a little too sweet. I think they would have been fine if I hadn't (used canned yams instead of just a plain old cooked, mashed sweet potato. Yams are a sweeter than sweet potatoes. So if you make these, stick with sweet potatoes or if you are daring, do that and cut the sugar down to ½ cup. Cutting sugar is always risky, though. If you cut it too much, you'll have to replace it with a solid. In this case, I think it wouldn't hurt to cut the sugar to ½ cup. As for the Maple Cream Cheese Frosting, it was just right.
I liked these, but here's a similar bar from Epicurious I plan on trying. As usual, people weren't shy about altering the recipe, and one lady on page 2 of the reviews used sweet potatoes.
Maple Cream Cheese Frosted Sweet Potato Bars
1 cup plus 2 tablespoons flour (5 oz)
1 ¼ teaspoons baking powder
¾ teaspoons ground cinnamon
½ scant teaspoon salt
6 tablespoons unsalted butter, room temperature
¾ cups lightly packed brown sugar
½ teaspoon vanilla extract
1 large egg
¼ teaspoon orange zest
½ cup (generous) mashed cooked sweet potato**
⅓ cup pecans, toasted and chopped (optional)
Cream Cheese Icing
3 ounces cream cheese, softened
1 tablespoon unsalted butter
1 cups sifted powdered sugar (use ¾ cup if you decide not to sift)
½ teaspoon maple extract
Preheat oven to 350 degrees. Line a 9 inch square pan with Release foil or line with regular foil and spray with cooking spray.
Combine flour, baking powder, cinnamon and salt in medium bowl.
Beat butter, brown sugar and vanilla in large mixer bowl until creamy. Beat in egg, orange zest and sweet potato. Gradually beat in flour mixture and pecans (if using). Spread evenly in pan.
Bake for 22-25 minutes or until wooden pick inserted near center comes out clean. Cool completely in pan on wire rack. Spread with Maple Icing. Cut into bars.
For Maple Icing:
Beat cream cheese and butter until smooth. Gradually beat in sifted powdered sugar. Beat in maple flavoring until fluffy.
Makes 18