Small Batch Chocolate Cookies is a recipe I adapted from LA Times Culinary SOS, a section that devotes itself to helping readers track down recipes from restaurants. In this case, a reader named Meaghan wrote SOS asking them to obtain the recipe for chocolate cookies made by Milk (not Milk Bar, but Milk!). SOS told her to get her napkin ready because they'd obtained the recipe from Bret Thompson at Milk.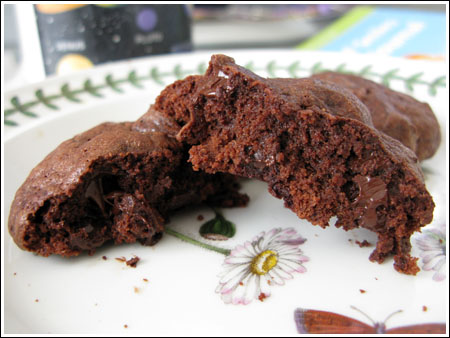 The full recipe is here, and after making a small batch for myself, I plan to make a full batch to serve at a teacher appreciation meeting. The cookies are excellent!
I make a lot of chocolate cookies. My top favorites are Chocolate Shock Cookies, Maida's Whoppers and the Shiny Happy Cookies which are very similar to Maida's. All three of those cookies are rather heavy, dense and fudgy. What's different about this recipe is that the cookies are extremely chocolaty, but lighter and almost truffle-like.…..at least if you beat the egg quite a bit, which is what I did. The original recipe says to mix just until blended and I plan to try that next, but the fluffed up egg version was slightly cakier (though not dry) and light. You can make it whichever way you want.
Here's the small batch version. I added the grams for those of you who weigh ingredients.
Small Batch Chocolate Cookies
1 ⅓ ounces unsweetened chocolate (37 grams), chopped
1 tablespoon plus 2 teaspoon unsalted butter (20 grams)
2 tablespoons plus 2 teaspoons flour (21 grams)
2 teaspoons cocoa powder (4 grams)
⅛ teaspoon baking powder (.7 grams)
⅛ teaspoon salt (.75 grams)
1 large egg
½ teaspoon vanilla extract
⅓ cup granulated sugar (65 grams)
⅓ pound bittersweet chocolate (150 grams) --
In a bowl set over a saucepan of simmering water, melt the unsweetened chocolate and butter. Remove from the heat and cool slightly.
Meanwhile, stir together the flour, cocoa powder, baking powder and salt. Set aside.
Combine the egg, vanilla and sugar in a bowl and mix with a fork. For puffier cookies, beat egg mixture with an electric mixer on high for 1 ½ minutes (until fluffy).
Add the melted chocolate to the egg mixture and mix just until combined. Stir in the dry ingredients and mix just until combined, then stir in the bittersweet chocolate. Chill batter for one hour.
Heat the oven to 350 degrees. Line a cookie sheet with parchment paper.
Divide the dough into 6 portions and shape the portions into balls. They should be about 1 ¼ inches each. Place the balls on cookie sheet and space about 2 inches apart. Bake for 10-12 minutes (I baked mine about 13) and rotate the pan halfway. Cool on cookie sheet for a few minutes, then transfer to a wire rack to cool completely.
Makes 6