If this recipe looks familiar, it's because it's a variation on an earlier recipe for whole wheat chocolate chunk cookies. Instead of chocolate chunks, I added some Hershey's cinnamon chips and they worked beautifully! I've made this cookie 3 times and have had good results, but make sure you use enough flour or to be safe, weigh it.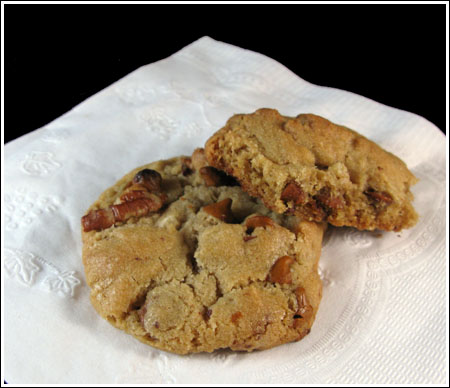 Whole Wheat Cinnamon Chip Pecan Cookies
1 cup sifted whole wheat pastry flour (126 grams) (sift and then measure)
1/2 cup all-purpose flour (63 grams)
1/2 teaspoon baking soda
1/2 teaspoon salt
4 tablespoons unsalted butter, cold and cut up (58 grams)
1/4 cup vegetable oil (56 grams)
1/2 cup granulated sugar (98 grams)
1/4 cup dark brown sugar, lightly packed (50 grams)
1 teaspoon vanilla extract
1 large egg
1 cup cinnamon chips (e.g. Hershey's)
2/3 cup toasted chopped pecans
Preheat the oven to 375 degrees F. Line a cookie sheet with parchment paper.
Stir together the sifted whole wheat pastry flour, all purpose flour, baking soda and salt; set aside.
Using the paddle attachment of a stand mixer, beat the cold butter until it is creamy. Add the oil and both sugars and continue to beat until sugar is creamed (about a minute). Add the vanilla and egg and beat just until egg is mixed in, scraping sides of bowl once or twice. Add the flour in two parts either by hand or using the lowest speed of stand mixer. When flour is mixed in, stir in the chocolate and toasted nuts. Batter should be thick and cold, but not dry. You may bake these right away or for even thicker cookies, chill the dough overnight.
Drop by tablespoonfuls onto baking sheet and bake for about 12 minutes. Let cool on cookie sheet for 3-5 minutes, then transfer to a wire rack to cool completely.
About 16 to 18 Cookies – This is just an estimate since I haven't baked all the dough.
**If you aren't using a scale to measure flour, use the scoop and sweep measure or a slightly heavier hand for measuring flour by volume.