Alexis Stewart's chocolate chip cookies are my all time favorite. They are thin and crispy and give you the quintessential chocolate chip cookie experience in every bite. That is, if you get the recipe right. I've used this recipe for over a decade and love it, but it took more than one try. This recipe is a good example of why we should weigh flour.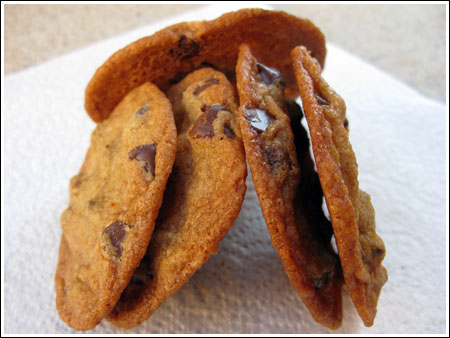 Why We Should Weigh Flour
When I first made these, I used my "normal" scoops of flour which weigh about 4.5 ounces or 125 grams. Most of the time I still get 125 grams of flour per cup, but depending on moisture levels and how the flour is packed in the bin or bag, I sometimes get 140 grams. That's a 15 gram/2 tablespoon difference for every cup of flour. So if a recipe is developed with 3 ½ (140 grams each/490 grams) cups of flour, someone who uses 3 ½ cups (125 grams each/437 grams), they will be 7 tablespoons/53 grams short -- that's almost a half cup short flour.
So I made the cookies again, but made a quarter batch (whish is still plenty of cookies) and used 140 grams per cup (165 total), chilled the dough and got thin and crispy chocolate chip cookies.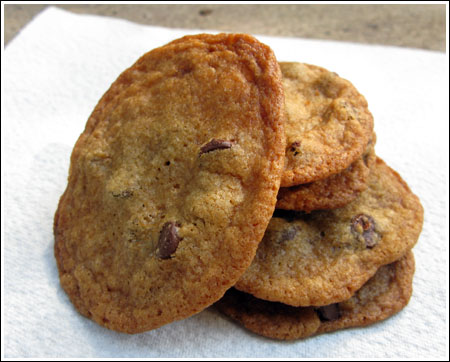 Baking Temperature and Crispy Cookies
The original recipe on Martha Stewart's site calls for 375, but 350 seems to work a little better for more even baking. For crispy chocolate chip cookies, you might want to lower the temperature even more. Try baking at 300 for 12 to 15 minutes rather than 350. Lowering the heat allows them to brown more slowly and gives the centers time to heat through. If that STILL doesn't work for you, try this recipe. It calls for slightly more granulated sugar and less brown sugar, thus giving you more chances at a crispy cookie.
Giant Flat Crispy Chocolate Chip Cookies
I've always made these "normal" size using rounded tablespoons, but I recently used quarter cup measures, flattened the dough and baked at 300 for big, crispy chocolate chip cookies.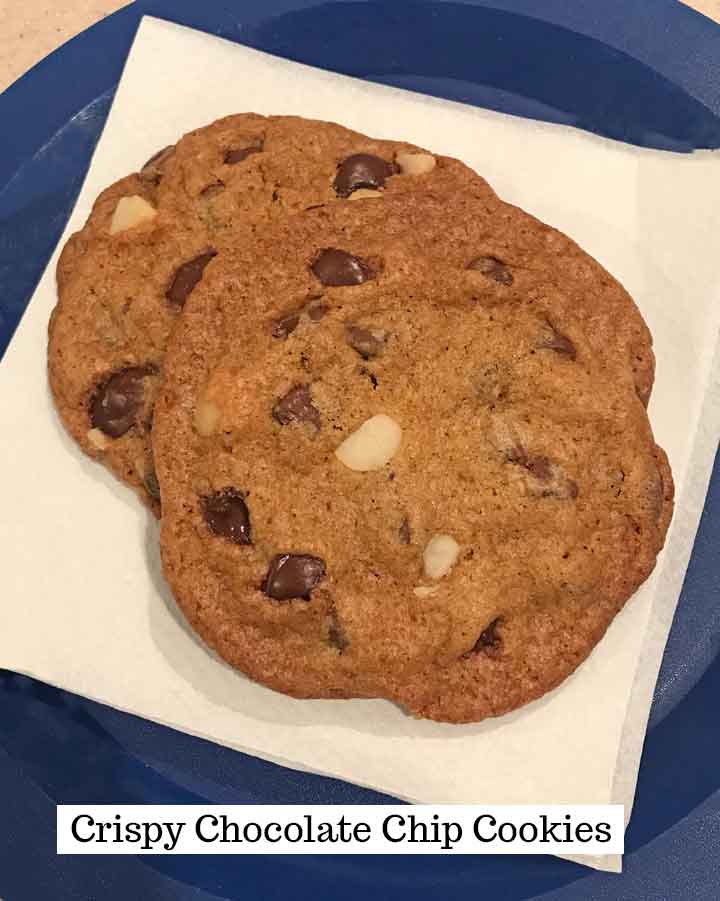 Recipe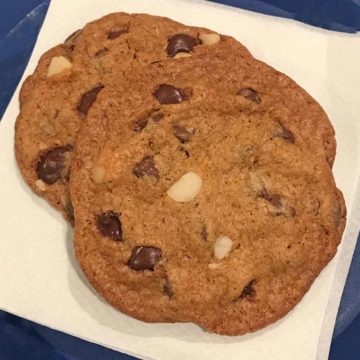 More Thin & Crispy Chocolate Chip Cookies
Perfect thin and crispy chocolate chip cookies. For best results, use the gram amounts.
Ingredients 
4

oz

unsalted butter, softened but still cool

(114 grams)

¼

cup

granulated sugar

(48 grams)

¾

cup

brown sugar

(150 grams)

¼

teaspoon

vanilla

1

large

egg

room temperature

1

cup

plus 2 tablespoons all-purpose flour

(165 grams)

½

teaspoon

baking soda

½

teaspoon

salt

1

cup

chocolate chips

use more or less as desired
Instructions 
Don't preheat the oven quite yet because there is a short chill time.

Beat the cool butter until creamy using an electric mixer. Beat in both sugars, and vanilla. When creamy, beat in the egg. When egg is mixed in, beat in salt and baking soda – beat just enough so that the soda and salt are fully mixed in, but don't overbeat.

Add flour and stir until it is almost blended in. Add the chocolate chips and stir until all flour disappears.

Using a rounded tablespoon, scoop the dough out onto a dinner plate lined with plastic wrap. Chill for at least an hour.

Preheat to 350 degrees F. The original recipe is baked at 375, but 350 is better for more even browning. You can still use 375 if you like really brown edges and underbaked centers.

Bake one sheet at a time on center rack for 10-12 minutes or until edges are golden brown.
Notes
For large cookies that are crispy throughout, use about ¼ cup dough (or make 24 cookie portions and smash two together).  Press down to less than ½ inch thick and about 2 ½ inches in diameter.  Bake at 300 for about 16 to 20 minutes or until cookies are evenly brown.  Let cool completely.   If you want to cookies to be crispy just around the edges, bake at 325 or 350 and pull a little earlier (around 12-14 minutes).