Well, I drove on the highway today and am still alive. Hooray! I do it every day, but in little stretches. Today I had to do a long stretch and was anxious about it for the past week, but now it's done and I celebrated with a new cookie.
If this recipe looks familiar, it's because it's similar to the white chocolate pistachio corn flake cookies but without the white chocolate, pistachios and corn flakes.  Instead, I used Ritz Crackers, pecans and regular chocolate. These had a light and flaky texture that reminded me of Hobnobs(I love Hobnobs!)  but with oats and nuts instead of wheat.
One note. Make sure you either weigh your flour or spoon and sweep it. If you scoop it and accidentally use too much, the cookie dough will be too dry.  Also, if you hate coconut or don't have any, you can leave it out.  I liked these better WITH the coconut.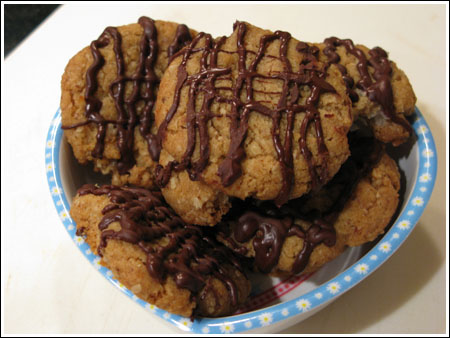 Chocolate Drizzled Butter Pecan Cookies
3/4 cup chopped toasted pecans (80 grams)
3/4 cups oats (75 grams)
20 Ritz crackers (56 grams)
3 tablespoons (packed) shredded sweetened coconut (forgot to weigh)
1 3/4 cups all purpose flour (220 grams)
1 1/2 teaspoons baking soda (7.5 ml)
1/2 teaspoon salt (2.5 ml)
8 tablespoons unsalted butter, room temperature (114 grams)
1/2 cup packed light brown sugar (110 grams)
1/2 cup granulated sugar (95 grams)
2 tablespoons lightly beaten egg (30 ml)
2 teaspoons vanilla extract (10 ml)
1/2 cup vegetable oil (115 mil)
1 cup semi-sweet or bittersweet chocolate chips
1. Preheat oven to 350 degrees F. (180 degrees C)
2. Combine pecans, oats, crackers and coconut in food processor and process until pecans are ground and mixture looks coarse and mealy.
3. Mix flour, baking soda, and salt together in a medium bowl. Set aside
4. Beat butter and both sugars using high speed of an electric mixer just until creamy; add egg and vanilla and beat for another 30 seconds, then beat in oil. Add flour mixture and stir by hand until it is almost mixed in; add pecan mixture and stir until fully blended.
5. Using a little over a level tablespoon measure, scoop up tablespoons of dough and roll into 1 inch (25 grams each) balls. Press the balls lightly to make ½ inch thick circles and place on parchment lined cookie sheets about 3 inches apart.
6. Bake for 11-13 minutes or until lightly browned. Remove from cookie sheet and let cool completely on a wire rack.
7. Melt chocolate chips in a microwave safe bowl using 50% power and stirring every 30 seconds or melt in top of a double boiler. Pour chocolate into a freezer-type (heavy-duty) zipper bag, snip a tiny hole in corner of bag and drizzle melted chocolate over caramel.
MAKES 36 to 38