These Homemade Hob Nobs Clones are in honor of one of my favorite cookies, Hob Nobs by McVitie's. McVitie's also sells a similar cookie called Digestives. I've never tasted a Digestive, but they have quite a strong following, and from what I gather, people who've tasted both types of cookies seem to have a firm preference for one or the other. The Digestives lovers strike me as purists while the Hob Nob fans say Hob Nobs have more flavor and more oats. Some go so far as to call Digestives bland. Having never tried a Digestive, I can't pick a team but I'd probably pick Team Hob Nob.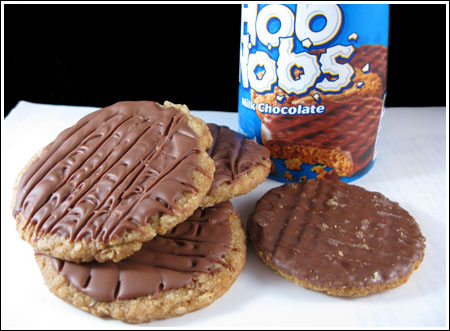 Here's a photo of one of my homemade Hob Nobs clones sitting next to an actual Hob Nob. Next time, I'll probably make mine smaller so they'll be closer to the real thing. Also, the actual Hob Nobs are a little "wheatier". I'm thinking a teaspoon of toasted wheat germ added in with the flour might fix that. And finally, the fake Hob Nobs are buttery, which is a good thing! The real Hob Nobs are made with palm oil. While it does make them slightly flakier, the buttery flavor of the fake Hob Nobs is great. 
Homemade Hob Nobs
1 ¼ cups oats (120 grams)
¼ cup plus 2 tablespoons all purpose flour (50 grams)
¼ cup plus 2 tablespoons whole wheat pastry flour (50 grams)**
½ teaspoon baking powder (2.25 ml)
½ teaspoon baking soda (2.25 ml)
¼ cup packed brown sugar (50 grams)
2 Tablespoons granulated sugar (25 grams)
9 tablespoons salted butter (130 grams) -- if using unsalted, add ¼ teaspoon salt
½ tablespoon corn syrup (15 ml glucose syrup)
¼ teaspoon vanilla (1.25 ml vanilla essence)
4 oz milk chocolate, Cadbury
Preheat oven to 350 F (180 C).
Process oats in a food processor until fine. Add both flours, baking powder and baking soda and pulse to mix. Add both sugars and pulse to mix again. Add cut up butter and pulse processor until mixture is coarse and sand-like. Add the corn syrup and vanilla and pulse some more. Mixture will look very dry.
Empty into a wide mixing bowl and shape into two big balls. Press each ball into a disk and place between sheets of waxed paper. Roll one of the disks to about a ¼ inch thickness. Using a 2 inch round (or slightly smaller) cookie cutter, cut out circles. Place on parchment lined cookie sheets and bake for 12 minutes or until the edges are lightly browned.
Cool cookies on a cooling rack.
Melt the milk chocolate in a bowl set over a saucepan of barely simmering water. Spoon melted chocolate over cookies. When milk chocolate is partially set, drag a toothpick through it and make a Hob Nob like pattern.
Makes about 16 cookies
**You can use regular whole wheat flour, but weigh out 50 grams. I think it's a little heavier than whole wheat pastry flour and the volume might be less than ¼ cup plus 2 tablespoons