Until yesterday, I'd never made a French Silk pie. I'm not sure exactly why that is because I love chocolate pies and Dreyer's French Silk is one of my favorite flavors of ice cream. But thanks to Cooks' Country and their re-make of an old Pillsbury Bake Off recipe, I made my first ever French Silk Pie.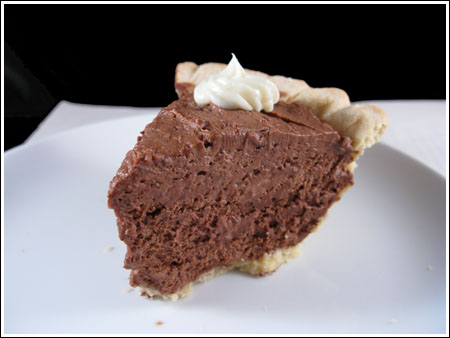 If you can get your hands on a current issue of Cook's Country, you can read the whole article on why they made the changes they did. It was interesting, but I wish I had another French Silk Pie to compare it with. This one was very good and despite having to stand over the stove and whip eggs for 10 minutes, it was simple to prepare. It's basically a fluffy butter-enriched chocolate mousse piled into a pie shell. I was more concerned with the filling and used a store-bought shell, but this would be much better with a homemade crust.
The French Silk Pie recipe is on the Cooks Country website and in the March 2009 issue, but you can also find Food.com.