Kix Cookies are exactly what you think -- cookies made with Kix Cereal. But maybe they are NOT what you think in that they are actually very good! They certainly exceeded my expectations when I made them way back in the day.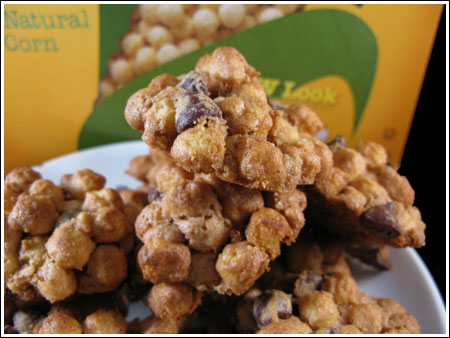 The story behind the Kix cereal cookies is this: Kix was on sale, we bought a huge box and had to use it up. The Kix Cookies were a way to use it. Now if that's not a really interesting story I don't know what is. Just kidding. Anyway, I wish there was a better story. But at least the boring story about how the cookies came to be has a very happy ending. The cookies are delicious. I really thought they were destined for the trash can after pulling them from the oven, but once they cooled they were quite tasty.
Let Cool Completely!
So cooling is key. The Kix Cookies crisp up and the peanut butter mortar dries into a more pleasing texture. The cookies are light, crispy and fun!
Kix Cookies
½ cup (130 grams) peanut butter (I used Skippy Natural)**
⅓ cup (63 grams) granulated sugar
⅓ cup (65 grams) packed brown sugar
⅓ cup (75 grams) butter, softened
½ teaspoon (2 ml) baking soda
½ teaspoon (2 ml) baking powder
1 egg
½ teaspoon (2 ml) vanilla
4 cups Kix cereal (100 grams)**
¾ to 1 cup semisweet chocolate chips (use however many you want)
Heat oven to 325 degrees F. Stir peanut butter, sugars, butter, baking soda, baking powder, egg and vanilla in large bowl until well mixed. Stir in cereal and chocolate chips.
Shape dough by rounded tablespoonfuls into balls; place about 2 inches apart on ungreased cookie sheet. Bake 10 to 12 minutes or until golden brown. Cool 5 minutes; remove from cookie sheet. Cool completely. Store loosely covered. Makes about 3 ½ dozen cookies.
**It's probably best to use exactly 4 cups or less. If you use too many Kix, the cookies won't hold together as well.
**I recommend using a less-sweet peanut butter like one of the "naturals" or Smart Balance.