A few weeks ago, Fuzz went over to a friend's house and ate dry Kix cereal for a snack. She liked Kix so much she asked me to buy a box. I did, and we've been munching on them all week. That they would eventually get baked into a cookie was inevitable.
I'm not an expert on baking with Kix and figured the best way to start would be to Google up something that looked popular. This was it. The recipe sounded strange, but that's never stopped me in the past so I baked a small batch today.
My first thought upon pulling these from the oven was "Trash Can!". But the directions said "cool completely" so I carefully moved the cookies to a rack and let them sit.
Cooling was key. The Kix crisped up and the peanut butter mortar dried into a more pleasing texture. I took a few bites and then couldn't stop eating them because the texture is so light and crispy. Here's the recipe if you dare. I'm curious to see what other people think of these.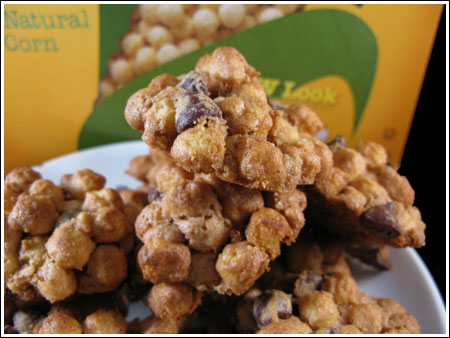 Kix Peanut Butter Chocolate Crisps
1/2 cup (130 grams) peanut butter (I used Skippy Natural)**
1/3 cup (63 grams) granulated sugar
1/3 cup (65 grams) packed brown sugar
1/3 cup (75 grams) butter, softened
1/2 teaspoon (2 ml) baking soda
1/2 teaspoon (2 ml) baking powder
1 egg
½ teaspoon (2 ml) vanilla
4 cups Kix cereal (100 grams)**
3/4 to 1 cup semisweet chocolate chips (use however many you want)
Heat oven to 325 degrees F. Stir peanut butter, sugars, butter, baking soda, baking powder, egg and vanilla in large bowl until well mixed. Stir in cereal and chocolate chips.
Shape dough by rounded tablespoonfuls into balls; place about 2 inches apart on ungreased cookie sheet. Bake 10 to 12 minutes or until golden brown. Cool 5 minutes; remove from cookie sheet. Cool completely. Store loosely covered. Makes about 3 1/2 dozen cookies.
**It's probably best to use exactly 4 cups or less. If you use too many Kix, the cookies won't hold together as well.
**I recommend using a less-sweet peanut butter like one of the "naturals" or Smart Balance.