This is one of my oldest and best oatmeal cookie recipes. It's for oatmeal chocolate chip, but there's no reason why you couldn't just as easily use raisins. Whichever you choose, the cookies come out very buttery tasting and rich. They are soft (as oatmeal cookies should be) with crispy edges and chewy centers.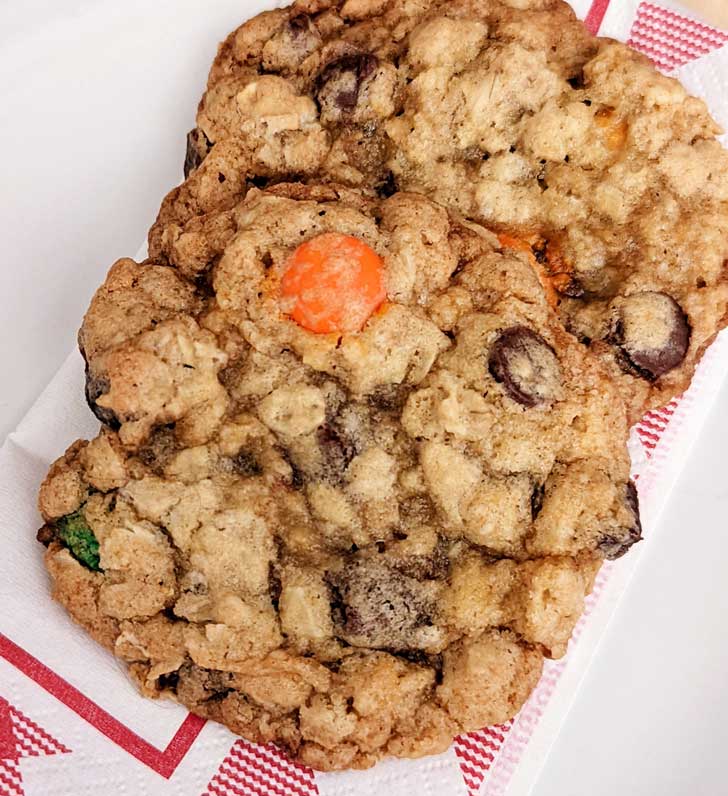 The name Frog Commissary Oatmeal Chocolate Chip Cookies comes from the fact these cookies were once sold at a Philadelphia restaurant called The Frog Commissary. Founded in 1973, It was established by Steven Poses, Andrew L. Greenberg, Judy Wicks, and David Zaback. The restaurant was known for its innovative menu and freshly sourced ingredients. Eventually, they put out a cookbook called The Frog Commissary Cookbook, which is the source of the original recipe.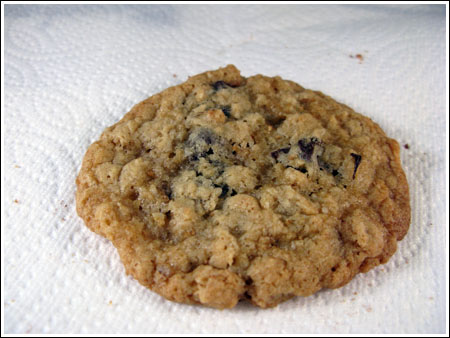 I'm not sure what else to say about these other than try them!
Frog Commissary Oatmeal Cookies Ingredient Notes
Butter --- The Frog Commissary recipes calls for 2 sticks (8 oz) of butter. Some people prefer using half butter and half shortening.
Sugar -- Granulated and light brown, use 200 grams each.
Eggs -- Chicken eggs, but ducks might work. You could try substituting Canada Geese eggs, but only use 1 (just kidding). Trying to see if anyone reads this.
Milk -- Whole dairy milk. Plant milk would add liquid, but you'd lose the fat and the tenderizing benefits from dairy.
Vanilla -- Pure or imitation.
Flour -- This is important. If you want flat cookies like the one in the picture, use 250 grams all-purpose. No scale yet? If you are measuring by volume, sift or really aerate the flour and lightly spoon it into the cup.
Baking Powder and Baking Soda -- 1 teaspoon each. The baking soda is what helps the cookies brown and spread, so don't leave it out if you want your cookies flat and chewy.
Salt -- Morton brand kosher or table salt. If using Diamond, you'll need at least 1 ½ teaspoons.
Oats -- You can use old fashioned or quick or a mix of the two.
Chocolate Chips -- Your favorite. I like using a mix of milk and dark.
Recipe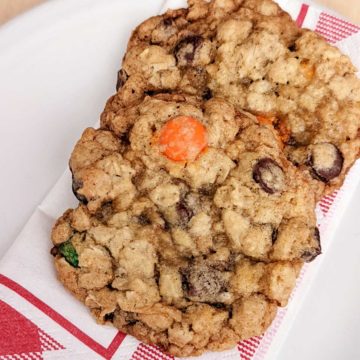 Frog Commissary Oatmeal Chocolate Chip Cookies
A recipe that is similar to the one used by Frog Commissary
Ingredients 
2

sticks

unsalted butter, room temperature

8 oz unsalted butter, room temperature

1

cup

granulated sugar

(200 grams)

1

cup

light brown sugar

(200 grams)

2

large

eggs

2

tablespoons

milk

2

teaspoons

vanilla

2

cups

all-purpose flour, unbleached

(270 to 280 grams)

1

tsp

baking soda

1

tsp

baking powder

1

tsp

salt

2 ½

cups

oats

old fashioned or quick (not instant)

2

cups

chocolate chips

12-oz.
Instructions 
Preheat the oven to 350 F.

Cream the butter and the sugars with an electric mixer until light and fluffy. Beat in the eggs, then the milk and the vanilla extract.

Stir the flour, baking soda, baking powder and salt together and gradually stir the flour mixture into the sugar mixture until it's incorporated. Stir in the oats and chocolate chips.

Drop dough, making 1 inch rounds, onto the cookie sheet, placing about 1 ½ inches apart so they have room to spread.

Bake on center rack for 10-13 minutes, until golden brown at the edges and light golden at the center.

Cool on baking sheet for at least 1-2 minutes before moving to a wire rack to cool completely.