Baked Oatmeal is something I'd heard about, but never made for a couple of reasons. First, I'd rather just eat oatmeal. Second, if I'm going to bake the oatmeal, why not just add flour and make it into delicious muffins? Well, I've changed my opinion and we are now enjoying "aked Oatmeal Cups!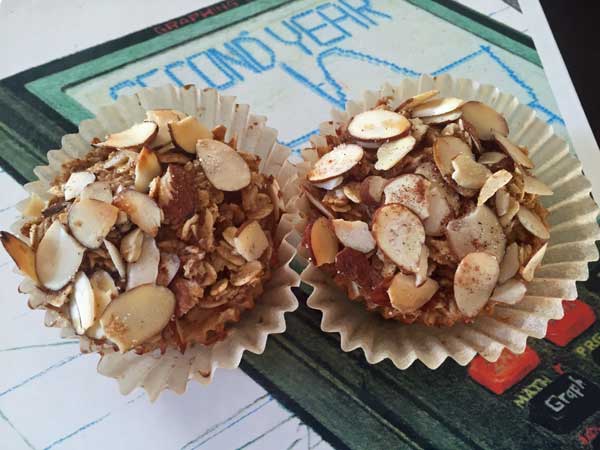 So what was the motivation for finally making Baked Oatmeal Cups? I saw them at Wegmans for one thing, and if people like baked oatmeal enough to buy it in individual servings, then it must be good. That, plus I have more of an appreciation of the fact Baked Oatmeal doesn't contain flour. It's basically oats held together with eggs, milk and sugar -- and some recipes leave out the sugar altogether!
There are about a million ways to make Baked Oatmeal Cups, and once you make one batch you'll probably want to experiment. Since we are kind of new to baked oatmeal, I started with a recipe called "Kids' Favorite Baked Oatmeal" and made changes to fit our family's tastes.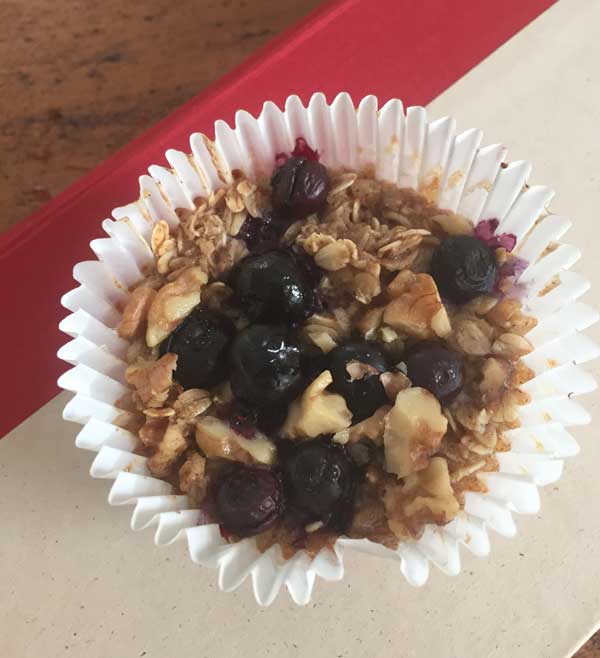 Since my daughter rushes out the door every morning, individual portions were a must. And since I like to start the day with something slightly sweet, I kept the sugar and added berries and nuts. And finally, since there are only two of us eating the oatmeal and since I knew I'd want to experiment with more flavors, I kept the batch size small. This recipe will give you six regular size Baked Oatmeal Cups or four jumbo size cups.
Six Cup Silicone Muffin Pan
In the past I've had issues with silicone muffin pans, with the main one being their smell. I couldn't stand the odor they gave off while baking. But silicone pans are still popular, and thankfully, they are not as smelly as they used to be. My new six cup silicone muffin pan is actually from Aldi (Crofton brand), and I love it. You can keep an eye out for the Aldi silicone pan or buy one on-line. Here's a similar pan with great ratings.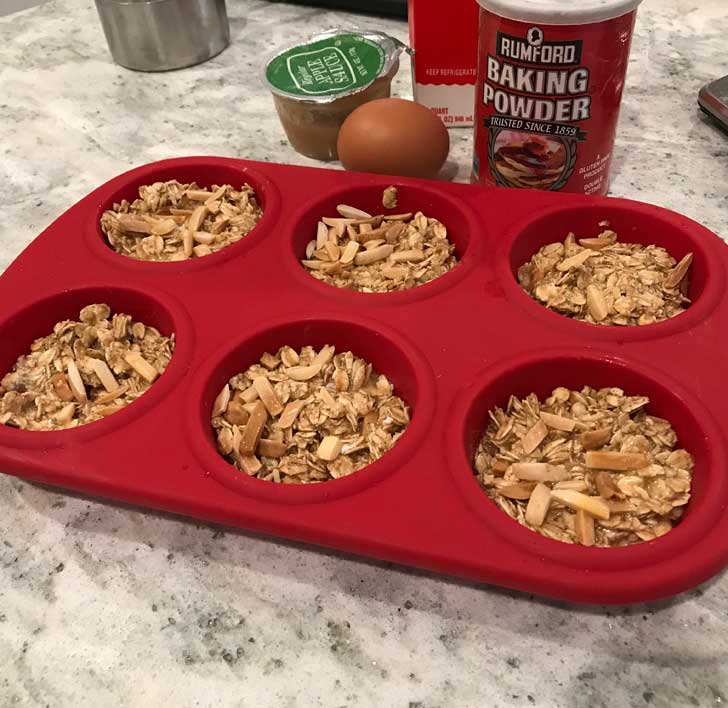 Recipe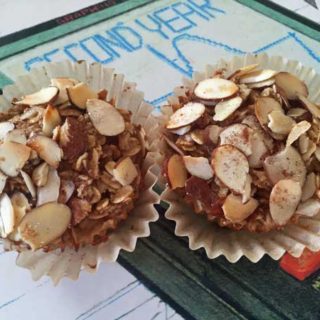 Baked Oatmeal Cups
You can make these with or without blueberries.
Ingredients 
1 ½

cups

quick-cooking or old fashioned oats

(150 grams)

2

tablespoons

brown sugar

(25 grams)

1

tablespoon

granulated sugar

(12 grams)

Pinch

of salt

¾

teaspoon

baking powder

½

teaspoons

ground cinnamon

1

large

egg

lightly beaten

¼

cup

plus 2 tablespoons milk

(84 grams)

3

tablespoons

chunky applesauce

(36 grams)

½

teaspoon

vanilla extract

1 ½

tablespoons

melted butter

(22 grams)

1-3

tablespoon

chopped walnuts or any other nut

⅓

cup

fresh blueberries (optional)
Instructions 
Preheat oven to 375°. Grease six muffin cups or line with paper liners. a six cup silicone pan also works well.

Mix the oats, sugar(s), baking powder, salt and cinnamon in a bowl.

Make a well in the center and add the egg, milk, applesauce, vanilla, and melted butter.

Stir everything together. Stir in the nuts. If using berries, you can stir them in as well.

Divide oat mixture between the muffin cups. Sprinkle tops with more nuts if desired.

Bake at 375° for 20 minutes or until muffins appear set..

While the muffins are still warm, gently loosen sides from muffin tin. Let cool to warm and carefully remove from muffin tin. Let cool completely, then put in a large freezer bag.

Put the muffins in a freezer bag and store in freezer. The night before serving, take however many you need out of the freezer. Warm in the toaster the next morning.
Notes
In my opinion, these actually taste better after being frozen, thawed and re-heated.
Do you have a favorite version of Baked Oatmeal Cups?