If you have one egg yolk and don't want to toss it in the trash or give it to your dog, here's an alternative -- One Egg Yolk Chocolate Chunk Cookies.
Jump to Recipe
One Egg Yolk or Pour Over Cookies
I also call these Pour Over Cookies, because there's no creaming. Instead, you just mix all the dry ingredients, then pour in a mixture of egg yolk, water and vanilla. A little milk helps round out the dough, which you then load it with chopped chocolate. The goal is to use as much chocolate and as little dough as possible. Or at least that's my goal.
Chocolate Chunk vs. Chocolate Chips
One of my pet peeves is when people say chocolate chip cookies should only be made with chopped chocolate rather than chips. You can like both cookies with chips and cookies with chunks. What makes a cookie good depends on so much more than whether it has just chips or just chunks, so it really depends on the dough recipe. With that out of the way, I will say that in this particular recipe, chopped chocolate wins. It just goes better with the texture of the cookie. Or if you'd rather use Guittard wafers which are smooth and melty, they're perfect too. But I don't think these are great with the usual small chocolate chips. Then again, that's your call. But this dough is super good with chopped chocolate.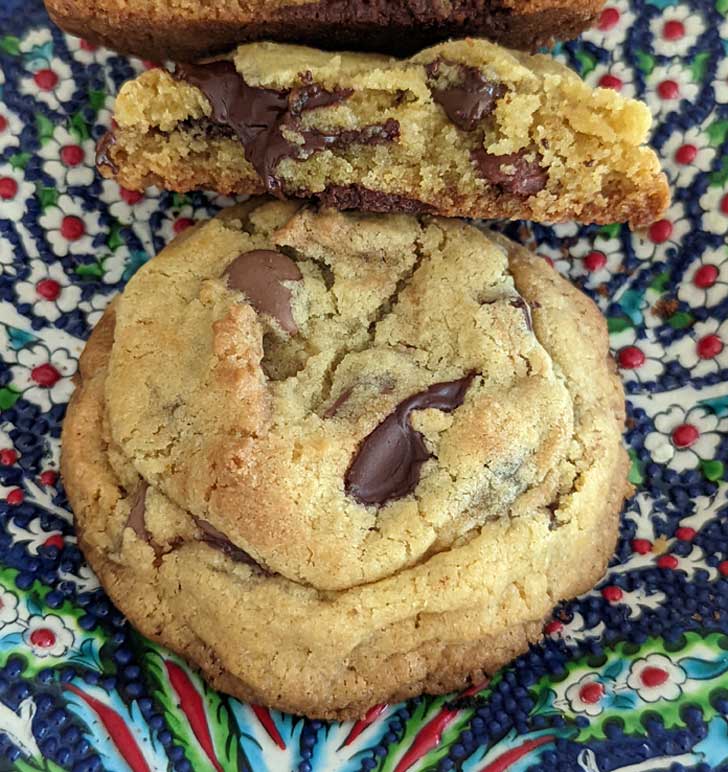 Ingredients
Butter -- Any kind of butter. The ones in the first photo were made with American butter. For my latest batch (photo directly above this) I used Président, which is a salted French butter. It was fine, but these are just as good with American butter. If you do have Président and want a REALLY good chocolate chip cookie, make the recipe on this link.
Flour -- You can use bread flour, all-purpose or a mix of bread and cake. Each flour will give you a slightly different result. Even unbleached vs. bleached AP can change the result. Here all that matters is that it weighs 95 grams. I haven't tested with gluten-free flour.
Baking Soda -- The white powder used for making science fair volcanoes. Comes in an orange or yellowish box.
Salt -- Use ¼ teaspoon if using unsalted butter, but cut to a pinch if using salted.
Light Brown Sugar
Granulated Sugar
Egg Yolk -- Not much to say about an egg yolk. My yolks usually weigh between 16 and 18 grams, btw.
Water -- Feel free to substitute Vodka.
Vanilla
Milk -- I sometimes forget to add it, but it tenderizes the dough a little and aids in browning.
Recipe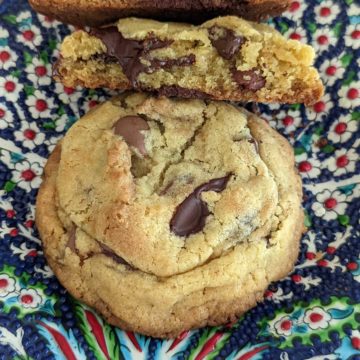 One Egg Yolk Chocolate Chunk Cookies
A good way to use leftover egg yolks.
Ingredients 
4

tablespoons

plus 2 teaspoons unsalted butter

(66 grams)

¾

cup

bread flour or all-purpose flour

(95 grams)

¼

teaspoon

baking soda

¼

teaspoon

salt (omit or use just a tiny pinch if butter is salted)

¼

cup

packed light brown sugar, tightly packed

(50 grams)

2

tablespoons

granulated sugar

(25 grams)

1

large

egg yolk

(15 to 18 grams)

½

teaspoon

water (or Vodka)

½

teaspoon

vanilla

1

teaspoon

milk as needed (optional)

½

cup

chocolate chunks or a chopped up chocolate bar
Instructions 
Melt the butter in the microwave using 50% power (or melt gently over the stove). Set aside to cool slightly.

Meanwhile, stir together the flour, baking soda, salt, and both sugars until mixture is uniformly blended. This part is important! Make sure mixture is evenly mixed.

Stir together the egg yolk, vanilla, water and melted butter, then pour over the flour mixture. Stir until the dough comes together, then add about a teaspoon of whole milk. Stir in the chocolate chunks.

Shape dough into 4 giant (about 3 oz each, depending on how much chocolate you used) mounds and put them in the refrigerator, loosely covered, for several hours OR bake right away.

There are different ways to make these.

For taller, thicker cookies: Preheat the oven to 400 degrees F.

Place dough mounds on an ungreased baking sheet, spacing 5 inches apart, and bake at 400 for 6 minutes. After 6 minutes, reduce heat to 350 and continue baking cookie for another 6 minutes or until they appear set. Let cool on cookie sheet briefly, then transfer to a wire rack.

For medium thickness: Preheat oven to 350 degrees F. Bake at 350 for about 15 to 18 minutes. Let cookies cool.