Hey, guess who we ran into this morning at Target? The Governor. We needed a glue stick but he was in the middle of the school supply section signing a bill. Gee, I know the state needs to stay on budget but is setting up an office at Target really the answer? Hardy, har, har. Seriously, it was one of those moments when a camera phone would have come in handy.
So anyway, reporters were blocking the glue sticks and we had to wait. I finally just shoved Fuzz into the crowd and said "Hurry, get an Elmer's one!" and she did. Then we sort of waited around to see if there was going to be hand-shaking and such, but there wasn't. We went home, baked cookies, and watched the Schoolhouse Rock "I'm Just a Bill on Capitol Hill" video on You Tube.
That's the most exciting thing that's happened this week.
As for the cookies, these were a huge hit when I made them a while back for a school function. Today I just needed a few, so I cut the recipe in half and used some leftover Spanish wine from Costco. I hate pouring it out and you can sort of taste it in these cookies. This recipe is adapted from Ashley Berman who entered it into a Food TV contest.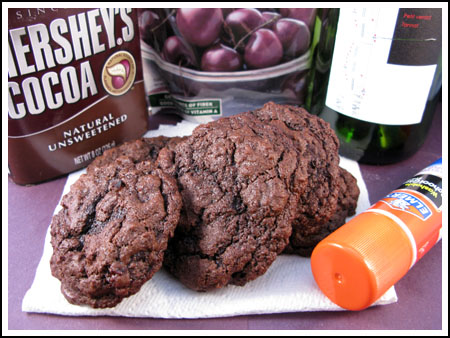 Half Batch Red Wine Chocolate Cherry Cookies
3/4 cups all-purpose flour (98 grams)
1/4 cup plus 2 tablespoons natural cocoa powder (30 grams)
1/2 teaspoon salt
1/2 teaspoon baking soda
4 tablespoons unsalted butter (60 grams)
1/4 cup plus 2 tablespoons granulated sugar (72 grams)
1/4 cup plus 2 tablespoons packed brown sugar (80 grams)
2 tablespoons lightly beaten egg
1/2 teaspoon vanilla extract
1/4 cup dry red wine
1 cup bittersweet chocolate chips
1/2 cup dried tart cherries
Preheat oven to 375 degrees F.
Combine flour, cocoa powder, salt and baking soda; set aside.
Beat the butter with an electric mixer until creamy. Add both sugars and beat until well mixed. Beat in the egg, vanilla and wine. By hand, stir in the flour mixture. Fold in the chocolate and cherries.
Scoop up rounded tablespoons of dough and drop, shaping into small mounds, onto an ungreased or parchment lined cookie sheet spacing about 2 inches apart.
Bake 8 to 10 minutes, or until tops are still soft looking but edges look firm. Remove from cookie sheet to cool.
Makes 18