This recipe for Cherry Chocolate Red Wine Cookies is one of my favorite ways to use leftover wine. Not that that's been a problem lately, but it's always good to have recipes that call for wine, and this one is pretty reliable. It's originally from Ashley Berman and was published on Food Network.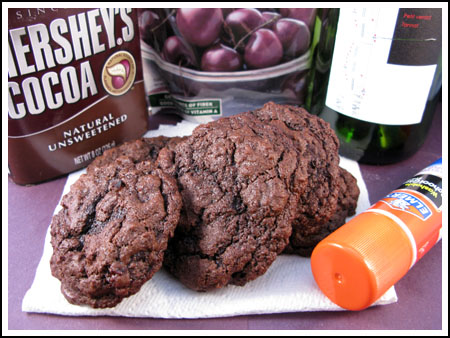 Best Red Wine for Cookies
Over the years I've made these with Merlot, Cabernet, Pinot Noir and Sangiovese. Just about any varietal will work, but I particularly like the Sangiovese, as it puts a little Italian spin on dessert. But really, I use whatever wine is available.
Small Batch Recipe
This is a rather small batch recipe, but you can easily double it. If you double it you will use 1 whole egg.
Cherry Chocolate Red Wine Cookies
¾ cup all-purpose flour (98 grams)
¼ cup plus 2 tablespoons natural cocoa powder (30 grams)
½ teaspoon salt
½ teaspoon baking soda
4 tablespoons unsalted butter (60 grams)
¼ cup plus 2 tablespoons granulated sugar (72 grams)
¼ cup plus 2 tablespoons packed light brown sugar (80 grams)
2 tablespoons lightly beaten egg
½ teaspoon vanilla extract
¼ cup dry red wine (or any red wine)
1 cup bittersweet chocolate chips
½ cup dried tart cherries
Preheat oven to 375 degrees F.
Combine flour, cocoa powder, salt and baking soda; set aside.
Beat the butter with an electric mixer until creamy. Add both sugars and beat until well mixed. Beat in the egg, vanilla and wine. By hand, stir in the flour mixture. Fold in the chocolate and cherries.
Scoop up rounded tablespoons of dough and drop, shaping into small mounds, onto an ungreased or parchment lined cookie sheet spacing about 2 inches apart.
Bake 8 to 10 minutes, or until tops are still soft looking but edges look firm. Remove from cookie sheet to cool.
Makes 18
More Desserts with Red Wine!