A few weeks ago I got an email from Gloria who'd been tinkering around with a brownie recipe for the Minnesota state fair. Since about a third of the judging is based on appearance, Gloria wanted hers to stand out and asked if I had any good recipes for brownies with shiny tops. Long story short, Gloria played around with her idea, made adjustments, and won a third place ribbon with her Chocolate Banana Brownies.
This weekend, after making the brownies again for co-workers who said they were the best she'd made all year, Gloria sent over the recipe. I'm not the biggest fan of banana in chocolate, but these were phenomenal. Along with flavor, the banana changed the texture and gave it this light, almost fluffy but still dense quality.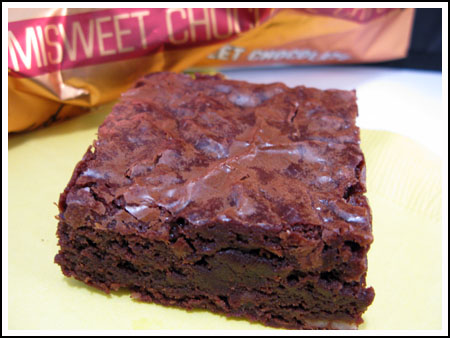 I made the brownies twice. First, I went against the directions and used 5 oz Ghirardelli 72% extra bittersweet chocolate plus 1 oz Guittard dark chocolate chips in place of the 5 oz semi-sweet chips and 1 oz bittersweet chips. The brownies made primarily with bittersweet chocolate were very good. They didn't have the shiny top like Gloria's, but they had a soft, almost pillowy, texture and a bittersweet flavor – not too sweet at all.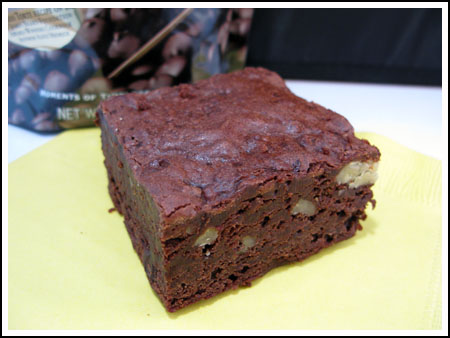 For the second batch, I decided to follow directions and used 5 oz Guittard semi-sweet chips and 1 oz Guittard extra dark chocolate chips (melted). These brownies were a tiny bit sweeter, but not overly so, and about as shiny as a brownie can be.
I can't pick which one I like best, but the version below is what won.
Shiny tops aside, the banana is what makes these special. It's not used as a fat replacer, but rather a texture and flavor enhancer. And in this case, there's just enough banana for the flavor to be subtle.
Gloria's State Fair Chocolate-Banana Brownies
5 oz semi sweet chocolate (or a little less that 1 cup chips)
1 oz bittersweet chocolate (or 3 tablespoons chips)
6 tablespoons salted butter
1 cup packed light brown sugar
2 large eggs
1/2 t vanilla (optional) – Gloria leaves it out, anna added ½ tsp
1/2 of a small banana-well mashed
3/4 cup sifted flour
1 T unsweetened natural cocoa powder
1/4 teaspoon salt (if using unsalted butter, add an extra pinch)
1/2 cup semi sweet chocolate chips
1/2 cup lightly toasted chopped pecans
Preheat oven to 325 degrees F. Spray cooking spray on bottom only of an 8 inch metal pan. Gloria noted that for the fair, she used non-stick foil to line the pan.
Mix flour, cocoa, and salt together and set aside.
Combine sugar, eggs, and banana in a separate bowl-stir until combined. I did this with a fork.
Melt butter in a saucepan over medium low heat, then reduced heat to low and add 5 oz and 1 oz of chocolates. Cook and stir over low until smooth. Cool 5 minutes.
Add chocolate to sugar egg/banana mixture-stir until combined.
Stir in dry ingredients until just combined.
Fold in that last 1/2 cup chips and nuts. Bake 35-40 min, check at 35 (Anna's note: I baked a full 45 min)
Cool completely before cutting. Anna's note: I like to chill before cutting
Yield: Obviously, this makes 1 8 inch pan. How many brownies you get is up to you. I cut mine into 9 giant squares, but if you chill the brownies before slicing, you should be able to cut the brownies as small as you'd like. You might even want to try cutting 36 squares and serving them in mini cupcake holders.