Chocolate Banana Brownies is a recipe created by my friend Gloria, who is a regular at the Minnesota State Fair. She gave me this recipe years ago, and it's become a favorite. Or at least personal favorite. My husband doesn't care for bananas, but everyone else who tries the brownies seems to love them.
Flavor & Texture
Along with flavor, the bananas add a bit of fluffiness and lightness to the texture. I wouldn't say the brownies are cakey, but the bananas do lighten the fudgy texture in a pleasing way. The brownies are fudgy, but less dense. In some recipes bananas are used as fat replacement, but I think in this recipe they'd be more of an overall enhancer. And I'm not super keen on banana flavored things!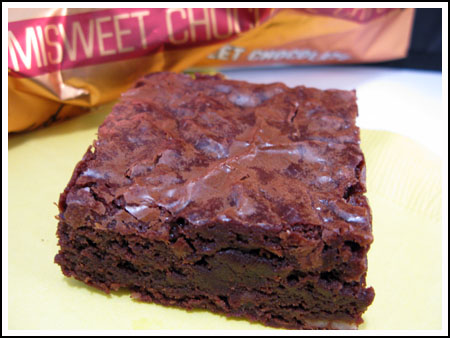 Semisweet and Bittersweet
I've tested the recipe using different combinations of bittersweet and semisweet chocolate as well as chocolate chips. All of the versions are good, but changing the type of chocolate affects how shiny to tops are. Incorporating chocolate chips makes the tops shinier, but using chopped chocolate makes the brownies taste a little better. The best combo is the one in the recipe.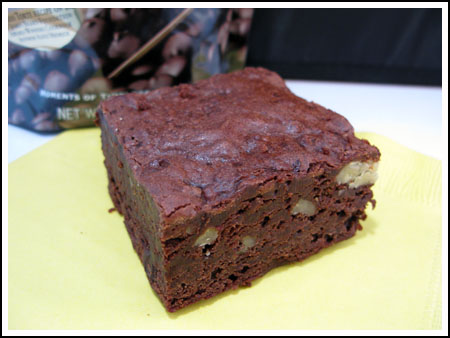 Shiny tops aside, the banana is what makes these special. There's just enough banana for the flavor to be subtle.
Chocolate Banana Brownies
Gloria's State Fair Chocolate-Banana Brownies
5 oz semisweet chocolate (or a little less that 1 cup chips)
1 oz bittersweet chocolate (or 3 tablespoons chips)
6 tablespoons salted butter
1 cup packed light brown sugar
2 large eggs
½ t vanilla (optional) – Gloria leaves it out, anna added ½ tsp
½ of a small banana-well mashed
¾ cup sifted flour
1 T unsweetened natural cocoa powder
¼ teaspoon salt (if using unsalted butter, add an extra pinch)
½ cup semi sweet chocolate chips
½ cup lightly toasted chopped pecans
Preheat oven to 325 degrees F. Spray cooking spray on bottom only of an 8 inch metal pan. Gloria noted that for the fair, she used non-stick foil to line the pan.
Mix flour, cocoa, and salt together and set aside.
Combine sugar, eggs, and banana in a separate bowl-stir until combined. I did this with a fork.
Melt butter in a saucepan over medium low heat, then reduced heat to low and add 5 oz and 1 oz of chocolates. Cook and stir over low until smooth. Cool 5 minutes.
Add chocolate to sugar egg/banana mixture-stir until combined.
Stir in dry ingredients until just combined.
Fold in that last ½ cup chips and nuts. Bake 35-40 min, check at 35 (Anna's note: I baked a full 45 min)
Cool completely before cutting. Anna's note: I like to chill before cutting
Yield: Obviously, this makes 1 8 inch pan. How many brownies you get is up to you. I cut mine into 9 giant squares, but if you chill the brownies before slicing, you should be able to cut the brownies as small as you'd like. You might even want to try cutting 36 squares and serving them in mini cupcake holders.