I brought this recipe for Pumpkin Chocolate Chip Cookies home from San Francisco. It's from the California Milk Advisory Board, who recommend using "real California butter".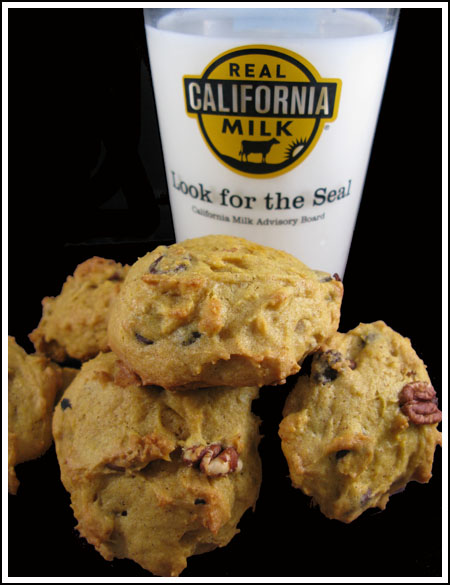 I made my batch with Texas butter and they were still delicious. They are very cakey, and in a good way. They almost like little pumpkin chocolate chip loaves in cookie form, and have a feeling they'll stay fresh for a long time and ship well. Not that I'm sending them to anybody.
So let me know what you think of these Pumpkin Chocolate Chip Cookies.
Pumpkin Chocolate Chip Cookies
4 oz real butter (salted), softened
1 1/2 cups granulated sugar
1 cup canned pumpkin
1 large egg
1 teaspoon vanilla extract
2 1/2 cups flour, all purpose
1 teaspoon baking powder
1 teaspoon baking soda
½ teaspoon salt (add an extra pinch if using unsalted butter)
2 teaspoons pumpkin pie spice
1 teaspoon cinnamon
1/2 cup toasted nuts
1 cup semi-sweet chocolate chips
Preheat oven to 350 degrees F.
Cream the butter and sugar with an electric mixer. Beat in the pumpkin, egg and vanilla and beat until smooth.
Mix the flour, baking powder, baking soda, salt, pumpkin pie spice and cinnamon together in a second bowl, then gently stir into pumpkin batter. Stir in the nuts and chocolate chips.
Drop by tablespoons onto parchment lined cookie sheets and bake on center rack for 15-17 minutes.
Makes about 36 cookies